"He looks like he's going to be a good one." - 99-00 Vezina Trophy winner Olaf Kolzig on Brent Johnson






~First Ever Brent Johnson Fan Page - Since August 99~
Unfortunately, due to lack of time, I am unable to continue updating this site. However, due to the large number of Brent Johnson fans who have contacted me since I started it and let me know how much they appreciate the site, I will be keeping it up. Thank you to everyone who has contributed to this site and I hope the fans of Brent Johnson continue to enjoy it.

Sign my Guestbook:



PLEASE NOTE: Accessing images or other material provided on web sites does not give you rights to use them as you wish. Only the copyright owner (normally the photographer and/or artist) or the owner's legal representative can give you permission to use these materials. Without such permission, you may be liable for copyright infringement. To request permission to use original images or other material from this web site that belongs to me, contact me at BrentJohnsonSite@aol.com, thank you and enjoy the site.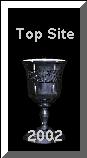 Disclaimer: In no way am I associated with the St. Louis Blues, Brent Johnson, or the NHL. If there are any problems with my page let me know and I will change it, thanks.