HEAVEN'S BASEMENT 'UNBREAKABLE' (INDEPENDENT/UK IMPORT)
This could well become the biggest newcomer of the year! HEAVEN'S BASEMENT are coming out of the UK and they sent me their freakin' sensational 7-tracks counting mini-CD 'Unbreakable'. If you're looking for the next band to beat up well-established 2000s acts like FOO FIGHTERS, WOLFMOTHER and THE ANSWER, well then this HEAVEN'S BASEMENT might be the band you're looking for. Actually they used to be called ROADSTAR, under which they released 2 albums, but somewhere along the way they started all over again under this new bandname. They play the big festivals this summer down in their homeland of the U.K. and this new mini-CD sounds huge, partly thanks to the help of legendary US Grammy nominated producer BOB MARLETTE (OZZY, THE STORM, ALICE COOPER, BLACK STONE CHERRY…). The guitarsound is massive and happily the melodies of the choruses are damn catchy and personally speaking this album sounds like one of the best Modern Hardrock albums of the past few years. They modernize the Classic Hardrocksound of the past with today's distorted guitarsound and inject the whole thing with some damn fine memorable melodies. If you can only imagine a mixture of the HAREM SCAREM album 'Mood swings', FOO FIGHTERS, SOUNDGARDEN and some slight 80s Hair Metal/Melodic Hardrock, well then with songs like "Unbreakable", "Guilt trips and sins" and "The long goodbye" this HEAVEN'S BASEMENT presents this perfect guitar-orientated Melodic Rock and Roll sound a lot of people will enjoy. Check out this band asap at: http://heavensbasement.com
(Points: 8.7 out of 10)
EVE TO ADAM 'BANQUET FOR A STARVING DOG' (3 FOR 5 RECORDS/FONTANA DISTRIBUTION/UNIVERSAL MUSIC USA IMPORT)
When your latest CD is produced and engineered by PAUL LANI and it has been mastered at the legendary STERLING SOUND studios in New York City by GEORGE MARINO, it is hard to go wrong and happily, the New York City based band EVE TO ADAM has released a gem of an album with 'Banquet for a starving dog'. They have been active for quite a while now and also released a few albums before this new record, but it is the first time they are able to take it to a much higher level, thanks to the massive production/mastering of their new album and the release through a UNIVERSAL MUSIC distributed label. The music of EVE TO ADAM is typical modern day American Melodic Heavy Rock with big Nu-Metal riffs and catchy melodies. What makes them standout between the rest is the excellent Rockvoice of guitarist TAKI SASSARIS, who sings the songs as if he is the next Rockgod, which of course could happen! He is a really amazing singer, who is able to sing in many different ranges, besides screaming out loud. Besides, I personally absolutely love the 'old fashioned' drumsound of the album and also the intriguing guitar arrangements during each and every song is done remarkably well. This album is without a doubt as good as all the other American bands in this genre, so you can put this new EVE TO ADAM album right next to BLACK STONE CHERRY, 3 DOORS DOWN, SALIVA, ALTER BRIDGE, STONE SOUR and such. Highlights are "My vanity", "Fault line", the superb "In a hurry" (one of the finest pure rocksongs of 2011, because this tune has basically got it all in the right place and the catchy chorus is irresistible!), "Banquet for a starving dog", the DAUGHTRY sounding kick-ass uptempo rocker "Little says" and "Stay" (an almost pure Melodic Rocksong that reminds me a bit of GUN and even HIM and once again shows the incredible strength of the band's lead singer), but any of the 12 included tracks rock hard, but never lose the melodies in both the instrumental parts and especially the vocal department. This is Rock with a big "R"! But of course we should not forget to mention the beautiful ballad "Getting weird without you", which is a moment of silence between all those cranking rockers! Definitely a band that could become really huge if they just have that lucky break! This CD belongs to the best 'still undiscovered releases of 2011', so let's hope it will get major exposure soon! In the meantime, more at: www.evetoadam.com
(Points: 8.9 out of 10)
VOODOO HIGHWAY 'BROKEN UNCLE'S INN' (INDEPENDENT/ITALY IMPORT/ROCK N GROWL PROMOTION)
Bands with VOODOO in their bandname are quite common and recently we of course had a very strong Melodic Hardrockalbum in the shape of the new VOODOO CIRCLE release 'Broken heart syndrome'. Now we welcome the CD 'Broken uncle's Inn' of the Italian band VOODOO HIGHWAY, whom musically play the same kinda Classic Melodic Hardrock as VOODOO CIRCLE, with clear influences from the Classic British bands WHITESNAKE, RAINBOW and URIAH HEEP. Production is quite good and both instrumental and vocally all seems to sound quite strong. FEDERICO DI MARCO has a great 'Rock' voice, which is truly needed for VOODO HIGHWAY's Classic Melodic Hardrock. 10 track are included and songs like "Till it bleeds", "The fire will burn away" and "In fact it's the worst" are Classic Hardrock type of tunes that will definitely wet the appetite of fans of the old DEEP PURPLE, RAINBOW, URIAH HEEP, WHITESNAKE records. This style is very much in demand the past few years and this Italian band VOODOO HIGHWAY can easily be ranked alongside bands such as WOLFMOTHER, THE ANSWER and RIVAL SONS. Go check them out at: www.myspace.com/voodoohighway
(Points: 8.2 out of 10)
ROB MORATTI 'VICTORY' (ESCAPE MUSIC)
Canadian singer/songwriter ROB MORATTI has already quite an interesting music history behind him, which started in the early/mid 1990s with his project MORATTI, under which he released 2 CDs. We reviewed them also 15 years ago, which was in the very beginning of our magazine, so for me personally there are also bits and pieces of nostalgic thoughts regarding those albums. Anyway, Rob moved on to form and record 4 great AOR/Melodic Rockalbums with FINAL FRONTIER and eventually was chosen to replace MICHAEL SADLER in SAGA as their new frontmen for several years both live and in the studio (during the years 2008/2009), even ending up recording a full-length CD with them. However Michael returned to SAGA and so Rob stood on his own feet again, which gave him the chance to record his official first solo-CD, which is titled 'Victory'. It is perhaps his most consistent and well-balanced album release so far. The included music is pure JOURNEYesque AOR, so not far removed from FINAL FRONTIER, yet the major difference is that Rob does not constantly sing in the higher register now, which makes this album a lot more interesting for the people who were a bit tired of the (in their ears!!!) Mickey Mouse ish melodies of Rob's former band. The presence of guitarist REB BEACH (WHITESNAKE, WINGER), keyboardplayer FREDRIK BERGH (STREET TALK), bassist TONY FRANKLIN and SAGA drummer BRIAN DOERNER of course helps when recording an album. Together with the rather unknown guitarist CHRISTIAN WOLFF, Rob recorded a great album with some memorable AOR melodies, such as during the catchy tunes "Life on the line", "Power of love", "On and on", "Jennie" (pure 80s dut-dut AOR, SURVIVOR/PRIDE OF LIONS touch!), "Standing on top of the world" and the beautiful AOR ballad "Take it all back" (perhaps the finest song here, has a real classic 80s Canuck AOR feeling, STAN MEISSNERish). Actually the album reminds me a lot of BLANC FACES and that is a good thing I can assure you! This album surprised me, because after all, Rob had just left SAGA, so a lot of courage is needed to make a comeback on your own and with this album Rob delivers perhaps his finest work ever!
(Points: 8.6 out of 10)
FULL TURNOUT 'ADVERSITY' (INDEPENDENT/TSM SLW PROMOTIONS)
The Canadian band FULL TURNOUT is described as a mix between RADIOHEAD, PINK FLOYD and LINKIN PARK, but actually forget about all those influences and comparisons, because the band is actually a Melodic Rockband. Yes they have a modern touch, with a somewhat downtuned guitar, but this is made up with strong clean vocalwork and catchy melodies in both the guitar and chorus department. Opener "Adversity" shows right away we are dealing here with a band that is able to write a song that can appeal as both a modern radiohit and become in the near future a Classic Rocktune. Most of the songs are midtempo based, with a somewhat dark sound, yet with some really great melodies that will definitely appeal to the Melodic Rockfans out there! On the other hand, fans of LIVE, CREED and such modern bands will love this kind of stuff as well. After several spins it becomes clear that this band has an own sound and their first CD sounds very impressive for an independent release. Who knows we might be talking about the next sensation here! One way or the other, this Canadian band has released a great album that might be the start of a long journey in becoming a well-established act. More info at: www.myspace.com/fullturnout
(Points: 8.4 out of 10)
JOHNNY BENNETT 'GONE MISSING' (INDEPENDENT/USA IMPORT)
Vocalist/guitarist JOHNNY BENNETT is coming out of Nashville and playing classic traditional American rootsy Rock and Roll on his 2nd CD 'Gone missing'. Johnny has got an impressive vocal style and his singer/songwriter style would really go down well here in Holland, where they absolutely love anything that sounds like JOHNNY CASH, BRUCE SPRINGSTEEN, TOM PETTY, RYAN ADAMS, BOB DYLAN and such. It's a very honest album that a lot of times goes for a mystic semi-acoustic direction, but also rocks a few times, such as during the uptempo almost THIN LIZZYish rocker "I'll never be this high again". However, most of the time we get to hear rootsy semi-acoustic Classic Midwestern Rock that also contains Soul, Blues and Funk influences, with an important part for Johnny's soulful vocals. Check it out for yourself at: www.myspace.com/johnnybennett and http://www.johnny-bennett.com and e-mail at: violethush@gmail.com
(Points: 8.1 out of 10)
ANCIENT WISDOM 'A GODLIKE INFERNO' (SHINEBOX RECORDS/GORDEON MUSIC)
Founded in late 2009, the Austin, Texas based band ANCIENT WISDOM is formed around IRON AGE members and musically with this new band they offer an own sort of style that contains influences from Doom, Stoner Rock, Psychedelica, Gothic Rock to Neo-Folk, sounding quite unique actually on their first full-length CD 'A Godlike inferno'. The vocals are quite strong and the overall sound is somehow catchy, despite the very dark and modest approach. Think a little bit of a cross between DEPECHE MODE, TYPE O NEGATIVE, RUNRIG and HIM, yet more melodic and also with a massive bombastic 'Folk' ish drumsound. Actually impossible to compare and that is making this band highly recommended. Go check them out for yourself at: www.myspace.com/ancientwisdom
(Points: 8.4 out of 10)
ANCESTORS 'INVISIBLE WHITE' (TEE PEE RECORDS/GORDEON MUSIC)
The label TEE PEE RECORDS is known for it's very original releases. Musically speaking the albums of this label are sometimes very hard to describe, but that makes them also very interesting. For example the new mini-CD of the LA based band ANCESTORS. 'Invisible white' is the title of that 3-tracks counting CD, which still has a playing time of 30 minutes. The included music is 1970s melancholic almost PINK FLOYDish Psychedelic Progressive Rock, but I think also fans of PORCUPINE TREE and OZRIC TENTACLES will absolutely love this very original material. The songs are slow, based around a Moog/Mellotron sound with melodic almost Doomish vocals. The 4 members of ANCESTORS are really creating an interesting almost hypnotizing sound that is atmospheric slow doomish progressive rock orientated and definitely a must-hear for fans of mentioned bands. Hear it for yourself at: www.myspace.com/ancestorsband
(Points: 8.4 out of 10)
HUMAN ZOO 'EYES OF THE STRANGER' (FASTBALL/SONY MUSIC/GERMANY IMPORT)
The German band HUMAN ZOO released 2 full-length CD's in the mid 2000s, but afterwards it became a little quiet around them, until the release of their new CD 'Eyes of the stranger'. Musically no changes and once again typical German Melodic Hardrock in the style of VICTORY, CRAAFT, VICE, DOMINOE, BONFIRE, JADED HEART, AIDEAN, etc. etc. Vocally not without an accent and also songwise very cliché tingled, but nevertheless quite enjoyable, although absolutely nothing new is brought on this disc, because every included song reminds one way or the other of some past German MHR band. The only thing that sets them apart is the addition of a Saxophone player in the line-up, something we also saw in the original line-up of the band SUBWAY. The production is excellent, thanks to BONFIRE singer CHRIS LAUSMANN and the 12 included tracks will please any fan of the mentioned bands. Most of the tracks are uptempo/straight-ahead with a melodic harmonyvocalized chorus that is so typical 80s German MHR orientated any fan of VICTORY or BONFIRE will recognize something familiar. Check the band out at: http://www.human-zoo-music.de
(Points: 8.1 out of 10)
NAIL 'POWER AND GREED' (INDEPENDENT/TWO SIDE MOON PROMOTIONS)
2 of the members of the Canadian band NAIL used to play in HELIX, the legendary Hair Metal band from Canada ("Rock you", "Heavy Metal love"), but they decided to start a new band and after hearing the first song of their first CD 'Power and greed', I think they did the right thing, because it sounds very impressive. First of all, the guitarwork is excellent and the melodies of the songs are very strong, while the overall sound of NAIL is mixing a modern day almost DISTURBEDish groovy Metal sound with classic 80s melodies/choruses of Melodic Hardrock/Metal. The band has a female singer CINDY WEICHMANN and she is making this album a winner, because her voice is Metal Queenish a la LEE AARON, DARBY MILLS, HOLLY WOODS and CHRISSY STEELE, so in the classic female fronted Canadian style, but the music is mixing the old with the new like already mentioned. Highlights are opener "King of fools" (excellent chorus, very melodic), the ROUGH/DORO/WARLOCKish "Superhuman", "Bottom feeder" (with BLACK SABBATH riffs, combined with a strong intelligent melodic chorus) and the uptempo "Power and greed". Quite a surprise this Canadian band… very sensational actually and of a very high level! Female fronted, yet different than any other ff band at the moment, as they have a huge modern Metal approach that combines heavy groovy guitar riffs and a funky bass with superstrong Melodic Rock vocals and choruses straight out of the Classic Hardrock/Metal book. Check them out asap at: www.nailband.com
(Points: 8.4 out of 10)
ELECTRIC BOYS 'AND THEM BOYS DONE SWANG' (ESCAPE MUSIC)
The Swedish band ELECTRIC BOYS enjoyed a cult status back in the late 1980s, eventually releasing 3 albums, although by 1994 the band's Funk-Rock/Hardrock was completely ignored by the then trendy Grunge-Rock. When the band started bands like EXTREME, LIVING COLOUR and RED HOT CHILI PEPPERS were extremely popular and so it was very easy for this band to have a breakthrough with their major label 1989 released debut album 'Funk-O-Metal Carpet Ride'. The band had a big high level sound and despite the fact they had a short amount of success, they are well remembered by many musicfans out there. The abnd split up in the mid 1990s, with some of the members ending up playing in HANOI ROCKS, but recently they reformed and now in 2011 on ESCAPE MUSIC a new album has been released. The album is titled 'And them boys done swang', which musically continues the Funky Hardrock of their first 3 records from 20 years ago. I wouldn't call this a classic, but everything is done well and for fans of mentioned bands this is surely a must-have to check out. Highlight is the 1970s groovy melodic rocker "Put your arms around me", which also could well have been a late 90s TALISMAN tune. If EXTREME is your favorite band, then you will also love this band and for the people who are already familiar with the ELECTRIC BOYS from back in the day, this is a really nice comeback-album of this legendary Swedish band. More at: http://www.electricboys.com/
(Points: 8.1 out of 10)
SKANSIS 'LEAVING YOU' (ESCAPE MUSIC)
SKANSIS is a Swiss band and with 'Leaving you' they release their 2nd album. They were formed 10 years ago and released their debut in 2007. Musically speaking nothing new is brought here, because SKANSIS is playing typical Swiss Melodic Hardrock in the style of SHAKRA and GOTTHARD, but they are doing it very well on this new CD, so we can easily give it a big recommendation if you like the mentioned bands. Most of the songs are uptempo, straight-ahead with a catchy melodic chorus to sing-a-long and some great guitarwork and the highlights are "Leaving you", "Never walk alone", "Hear now" and "Heaven tonight". Good quality album with many no surprises, but still a must-hear for any SHAKRA/GOTTHARD fan out there! More at: http://www.skansis.ch/
(Points: 8.2 out of 10)
TOKYO BLADE 'THOUSAND MEN STRONG' (FASTBALL/SONY MUSIC/GERMAN IMPORT)
When you would listen to the new album of TOKYO BLADE, it would be impossible to guess it is the same bands as the 1980s outfit, because the sound is very different. The 80s version of TOKYO BLADE was a typical NWOBHM type of band, yet they were nowhere near the high level of IRON MAIDEN and eventually disappeared. However, from out of nowhere lands a new CD of the band on my desk and I must say that it sounds very impressive. Musically the band switched to pure US Melodic Power Metal with high pitched vocals, very different from their old albums. 10 tracks are included and it is only closing track "Night of the blade", a re-recording of an old TOKYO BLADE song, we can hear a bit of their old style. However, in this case it is a good thing, because without a doubt, this new comeback album of TOKYO BLADE is their finest effort by far, with as highlight the fantastic uptempo "No conclusion". The band's new lead singer is DOMAIN vocalist Nicolaj Manuel Ruhnow and as he is a very good pure Classic Metal type of high-pitched singer, this has had a huge but impressive impact on the band's overall sound. Check it out for yourself at: www.tokyoblade.com
(Points: 8.4 out of 10)
THE LIFELINE 'REFLECTIONS OF HOPE' (INDEPENDENT/USA IMPORT)
Here we have a sensational band from Chicago called THE LIFELINE. The band is playing superb hookladen melodic Progressive Rock and they do remind me a bit of the band DAYS BEFORE TOMORROW, somehow combining classic AOR melodies with Progressive Rock twists and still sounding modern. Opener "Why so serious?" shows right away that we are dealing here with a high quality band that could well become the next big thing, because they have an own sound that might appeal to any music fan out there. The band has a female violin player in the band and what impresses me most are the beautiful melodies we can hear in each and every song, which are created by mostly high-pitched harmonyvocalized hooks and choruses that sound like absolute perfection with similairities to COHEED AND CAMBRIA and RUSH, so basically this is modern day Melodic Progressive Metal at it's best, yet sounding more American thanks to the slightly distorted modern guitarsound instead of the Neo-Classical keyboard influenced European counteracts. Also the KANSASish violinparts contribute to the band's original sound and the super melodic choruses might even appeal to fans of bands like 30 SECONDS TO MARS. One way or the other, this is an incredible band that simply blows away most of the newly signed major label bands and without a doubt we will have to look out for them in the future, so for more info please go to: http://www.reverbnation.com/thelifeline and http://thelifelinemusic.com and e-mail them at: thelifelinemusic@yahoo.com
(Points: 8.8 out of 10)
THE OBJEX 'RESERVATIONS FOR DEBAUCHERY' (INDEPENDENT/USA IMPORT)
THE OBJEX are a female fronted rock and roll band from Las Vegas and their independent album 'Reservations for debauchery' is a very strong album that contains a classic punky rock and roll sound not too far away from classic THE RUNAWAYS and THE DONNAS, yet including some more Metal ish riffs here and there. The band has a great strong female singer and most of the 10 included songs are catchy uptempo rock and roll pieces that would do well live with the crowd to sing-a-long to. This is how real raw rock and roll should sound like and combined with some great vocalwork and a probably cool live performance, this THE OBJEX is a recommended band to check out at: http://www.facebook.com/pages/The-Objex/42715946066 and http://www.myspace.com/objexlv
(Points: 8.1 out of 10)
RHYTHM OF MARS 'ROMANCING THE SNAKE' (INDEPENDENT/USA IMPORT)
RHYTHM OF MARS is a 3-piece band from Springdale, Arkansas, USA and they sent me their CD 'Romancing the snake', which is a high quality instrumental Melodic Progressive Rockalbum. The band takes you on a journey throughout 8 lovely instrumentals that will please any fan of classic 70s RUSH, YES, STARCASTLE, KANSAS… You will always wonder how good it would be if vocals were added, but in this case the 3 members of RHYTHM OF MARS create some beautiful melodies with the help of their instruments (guitar, keys, synths) and will impress any prog or should I say Symphonic Rockfan, because the band is actually a pure Sympho based band. It is quite a pleasure to listen to such wonderfully created music and to wonder how many more of such quality independent bands are still out there, waiting to be discovered. In the meantime, do check out this RHYTHM OF MARS at: www.reverbnation.com/rhythmofmars
(Points: 8.2 out of 10)
SOULS OF DIOTIMA 'MAITRI' (COPRO RECORDS/CASKET/PLASTIC HEAD/UK IMPORT)
SOULS OF DIOTIMA is an Italian (actually from the Isle of Sardinia) band on a UK based label and without a doubt the band's debut CD 'Maitri' is a lovely typical modern day female fronted Melodic Gothic Metal record that can easily be ranked alongside DELAIN, XANDRIA, WITHIN TEMPTATION, LACUNA COIL etc. etc. Despite the fact that nothing really new to the genre is brought here, SOULS OF DIOTIMA are doing things at a very high level and therefore it makes them a highly recommended band. In fact, the song "Freedom inside you" overwhelmed me so much that I rank it as one of the top female fronted songs of 2011, because this particular song has an incredible catchy chorus and some remarkable instrumental melodies. Like already mentioned, to some it might all sound quite familiar, nobody can deny the fact that this band is providing us some really nice 'catchy' melodic gothic metal. The sound/production is very good and besides the already mentioned "Freedom inside you", other highlights are "Maitri", "Killing me enemies" and the instrumental closing track "Nox". Vocally it is very much in the DELAIN/current NIGHTWISH territory, so do not expect any extraordinary soprano vocals here, because this band is all about catchy melodies that are combined with a smooth Metal guitar riff and some beautiful guitar solos, basically from start to finish of the album. Hear for yourself at: www.myspace.com/soulsofdiotima
(Points: 8.6 out of 10)
AT EAZE 'FACING THE ODDS' (OXOX RECORDS/GERMAN IMPORT)
AT EAZE is a female fronted band from Germany and their first CD 'Facing the odds' sounds quite impressive. The band has a great singer called LAURA FINK, who also plays bass and together with 2 male musicians for the drums and guitars, they recorded a very nice album that despite the very young age of the members is musically going for the Classic Rock style. It is quite remarkable to hear them doing the Classic Rock style this good and this AT EAZE is really a promise for the future. They remind a bit of SAINT JUDE and ALANNAH MYLES, yet a little more straight ahead Melodic Rock/Hardrock orientated. 12 songs are included and the material varies from semi-rockers, ballads to uptempo pieces, combining strong melodies with passionate vocals and some nice guitarwork in the Classic Rock style. "If you only knew" is one of the highlights, because here we can hear some really great melodies in both the chorus and guitar department. I think in the near future this band could become bigger, because they clearly have potential and with 'Facing the odds' they have released a really nice album. More at: http://www.at-eaze.de/
(Points: 8.2 out of 10)
EAT THE GUN 'RUNNER' (METALVILLE RECORDS/FLYING DOLPHIN ENTERTAINMENT GROUP/GERMAN IMPORT)
'Runner' is the 3rd album of the German band EAT THE GUN and without a doubt this is a strong quality album, basically providing us big time Melodic Heavy Rock and Roll. They sound like a somewhat more polished (but still edgy) and catchier version of HELLACOPTERS and THE BACKYARD BABIES. The guitarsound is raw and quite massive, but EAT THE GUN also adds some catchy melodic choruses in their Rock and Roll, which makes it enjoyable to listen to from start to finish. Maybe not a groundbreaking record, still worth checking out. More at: www.eatthegun.com
(Points: 8.0 out of 10)
SCREAMA BALLERINA 'RICH KIDS CD-SINGLE' (VELOCITY RECORDINGS/BELIEVE DIGITAL/UK IMPORT)
SCREAMA BALLERINA is a new band from Brighton, UK and despite only 1 song is included on their CD-single, the included song "Rich kids" shows this is a very promising band. Punky Rock and Roll is the name of the game and thanks to a strong charismatic female lead singer CHARLIE O'CONNOR, this band has something extra to offer and who knows a full-length CD in the future might bring them to higher places. Check it out for yourself at: http://www.facebook.com/pages/Screama-Ballerina
(Points: 8.2 out of 10)
THE NEON MILE 'WEIGHT IN GOLD CD-SINGLE' (VELOCITY RECORDINGS/BELIEVE DIGITAL/UK IMPORT)
Pity only one song is included, because the Bournemouth/UK based band THE NEON MILE sounds like the next big thing. They play pure retro-early 80s inspired New Wave-Rock and are also not far away from other well-established new bands in this genre (WHITE LIES!). Their debut album will be released in early 2012, but any fan of classic THE CURE, ECHO AND THE BUNNYMEN, WHITE LIES, etc. etc. will need to check out the first single of this band at: http://www.myspace.com/coastaltowns
(Points: 8.2 out of 10)
DEFUSE 'BANGKOK ADDICTION' (FASTBALL/SONY MUSIC/GERMAN IMPORT)
DEFUSE is a Finnish band, but they sound like an American band, not only musically speaking, but also their CD 'Bangkok addiction' could have easily been one of those major label releases in the USA. The mix of a massive guitarsound and melodic choruses do sound a lot like SHINEDOWN, with also STONE SOUR and ALTER BRIDGE influences shining through here and there. However, there still seems to be missing something and after several spins I don't really know what it is… DEFUSE does not sound really original, so to speak, but what they do is definitely at a decent level, but somehow the high level of mentioned American bands is nowhere reached on the album, despite the fact it is a nice album to listen to. Hear for yourself at: www.defuse.fi
(Points: 8.0 out of 10)
BLOWSIGHT 'DYSTOPIA LANE' (FASTBALL/SONY MUSIC/GERMAN IMPORT)
The Swedish band BLOWSIGHT sounds and looks like the typical modern day rockband and if the Radio/TV media is looking for a hot new act that might appeal to the younger rockfans, well then look no further, because BLOWSIGHT has got it all. One listen to the opening track "Wish you 666" and you're hooked, because this is Melodic Rock for the 21st century! This is like all Rock and Metal genres of the past 4 decades put into 1 ass-kickin' and damn catchy uptempo Melodic Heavy Rocker. OK, what BLOWSIGHT basically is doing is combining the sound of 1980s DEF LEPPARD, GREENDAY, HIM, ALTER BRIDGE and AVENGED SEVENFOLD into a fun catchy but rocking style. 14 songs are included and thanks to the huge production and also the fact most of the songs are really catchy, this BLOWSIGHT CD is something worth checking out. One look at the band's image it is quite safe to say that this is one of those bands that should be covered in all teen magazines out there, playing huge Arena shows to thousands of young rockfans. Not sure if they can cut it live, but their new CD 'Dystopia lane' definitely is a major label sounding album that combines the best of Rock, Metal and Punk, yet with very catchy melodic rock/glamrock choruses ("Blue hair" sounds like PRETTY BOY FLOYD being covered by HIM!). To some they might look and sound a bit too fabricated or 'plastic', but nevertheless the album really isn't that bad, so don't be afraid to check it out for yourself at: http://www.myspace.com/blowsight
(Points: 8.4 out of 10)
DRAVEN 'MIRROR' (FASTBALL/SONY MUSIC/GERMAN IMPORT)
Although the Swiss band DRAVEN sounds quite impressive and easily reproduces the typical American Post-Grunge melodic Nu-Metalsound of bands like DISTURBED, SHINEDOWN, ALTER BRIDGE, RA and CREED on their album 'Mirror', somehow the band's vocalist has not yet got the type of voice needed to win over the audience. Somehow it sounds a bit unstable, but that doesn't mean this record is not good, because there are quite some nice songs to be found here and there. However, I feel all is done a little safe and radio-ready, because the guitars are produced to the background and at one certain point during the CD the sound gets a little too monotone and just misses the strength of the earlier mentioned bands. However, perhaps a future record might see some improvement, as I really feel that if these guys would go the US of A and learn from the big boys over there how to cut a sensational record, DRAVEN might actually be able to release something memorable. For now, their album 'Mirror' is just a nice typical modern day American Rock influenced album that listens away quite well, but probably will not become a classic one day. Check for yourself at: www.draven.ch
(Points: 8.0 out of 10)
FAIRYTALE 'ANYWHERE FROM HERE' (FASTBALL/SONY MUSIC/GERMAN IMPORT)
Somehow there's something completely wrong with the production of the new CD of the German band FAIRYTALE, because 'Anywhere from here' sounds really flat. A pity, because musically speaking the Melodic Hardrock/AOR sounds quite nice, with some good tunes here and there and even the guitarwork is quite well, but as already mentioned the production is just not good. And sadly there is one more problem with this band, because I have never heard someone singing so uninspiring as on this CD. Female lead singer RAMONA JAKOBS is able to sing, but she needs a vocal coach to make her aware of her lows and her strengths, because now she sounds lost sometimes and also on a few songs it's like she's just doing her own thing without keeping in line with the music. Did she record her vocals in one take???? A song like "Atque in perpetuum" could have been a very impressive song, but with a terrible production and way-out-of-tune vocalwork, it isn't going to work I'm afraid. FAIRYTALE exists for 17 years now and already released a few albums in the past, of which I even reviewed one way back in 1997 (can't remember though!) and one would have thought that in 2011 the band would have been able to come up with a high quality CD. Sadly we will have to wait for a next CD I'm afraid, because 'Anywhere from here' is missing a lot… Musically it is good, but production wise and vocally it is far below average and actually sounds like an independent CD from 1995… More at: http://fairytale-online.eu/
(Points: 6.0 out of 10)
SUBWAY 'LOLA'S THEMES' (FASTBALL/SONY MUSIC/GERMAN IMPORT)
Lead singer FRANCIS SOTO reformed the German band SUBWAY a few years ago and the result is the 5th CD 'Lola's theme'. The band was formed way back in 1986, released 4 albums through the 1990s, of which we even reviewed a couple all the way back in 1995 (!), but eventually the band broke up in 2003. However, now in 2011 we welcome SUBWAY back! Heavier than anything they have done before (in the beginning they were AOR/Poprock ish with even a Saxplayer in their line-up), the band is now playing Melodic Heavy Rock (with some metal riffs) like a mix between PINK CREAM 69 and SARGANT FURY. There's some great material on this new SUBWAY CD, which thanks to a massive production, great vocalwork by Francis and lovely 80s shredding guitarwork of Mathias Holm is a pleasure to listen to from start to finish. The cover of the Classic 1980s COREY HART song "Sunglasses at night" (a very underrated song!) is quite remarkable and reminds me of the SARGANT FURY cover of that other 80s classic "Maniac". Back to the original songs of the band, this sounds quite good and taps out of the Melodic Hardrock/Heavy Rock book, with as already mentioned some really great guitarwork that finishes the album as a 'recommended' one. Go check out all info at: www.myspace.com/subwaymaniac
(Points: 8.6 out of 10)
CLASSIC PETRA 'BACK TO THE ROCK' (CLASSIC PETRA BAND/INDEPENDENT/USA IMPORT)
Without any doubts, PETRA is the ultimate Christian Rockband, because they were one of the first real active Christian Rockbands during the 1970s. They had a major influence on the whole Christian Rockscene that followed during the 1980s, 1990s and 2000s. Especially during the 1980s PETRA established themselves as a Christian Rock institute. Even non-Christians became PETRA followers or should I say believers! In fact, undersigned discovered PETRA back in 1989, but it took many full moons before I got to learn about the real PETRA, because they had a switch of lead singers somewhere in the mid 1980s. GREG X VOLZ was PETRA's lead vocalist during the early 1980s and it was his voice that I personally later discovered to be PETRA's finest. Unfortunately he left the band in 1986 and also musically the band changed their pure 80s keyboardladen AOR sound for a more standard Melodic Hardrocksound after that and during the 90s even went for a basic rock approach. However, 25 years after his departure Greg returns and together with other long-time and original PETRA members of this classic early 80s PETRA line-up, there is now CLASSIC PETRA and their release of the CD 'Back to the rock', which is a collection of new re-recorded early 80s PETRA classics (original versions can be found on their albums 'Never Say Die' (1981), 'More Power to Ya' (1982), 'Not of This World' (1983) and 'Beat the System' (1985)) and even 2 new songs. Words can't describe how good this material sounds and compared to the original recordings, the sound of this CD is much bigger and rockier and should win the hearts of any rockfan out there, although it still captures that classic early 80s AOR sound of PETRA. Especially Greg's voice is just so amazing and perhaps he is one of the greatest Christian Rocksingers ever, along with BOB CARLISLE, MATTHEW WARD and several others. It is really great to hear Greg sing again such timeless AOR Classics like "Adonai", "Bema Seat", "Angel of Light", "More Power to Ya" and the lovely KANSAS orientated "Grave Robber". This last mentioned song is a true classic with some very strong lyrics and perhaps it is even the finest PETRA song ever recorded, thanks to some incredible melodies that are sung by Greg. Together with the SURVIVOR/JOURNEYish "Adonai", this is PETRA (or in this case CLASSIC PETRA) at it's very best and also showing their most pure AOR direction. Hopefully in the near future we will see more new material in this style and also the band doing a full Tour. A DVD will be reviewed here shortly, but in the meantime check out this hidden AOR gem secret that is now revealed in a newly recorded CD. Many Classic Rockbands re-record their old classics nowadays, mostly for the copyrights (JOURNEY, FOREIGNER, FIREHOUSE…), but in the case of PETRA we now have the perfect best of their early 80s period sounding like it's 2011 and guess what, it is 2011, so welcome back PETRA! Available through www.classicpetra.com
(Points: 8.9 out of 10)
WISDOM 'JUDAS' (NAIL RECORDS/HUNGARY IMPORT)
Out of Budapest, Hungary comes the band WISDOM, whom are playing typical RHAPSODY influenced Italo Power Metal and although at first sight it all might not sound that original, they are playing the style at a high level. The sound/production of their CD 'Judas' is top-notch, instrumental it all sounds quite nice, vocally it sounds better than anything I have ever heard from a Hungarian band and even most of the 10 included songs sound really catchy and melodic, coming across like a mix between the old faster EDGUY/AVANTASIA and especially RHAPSODY. The band also adds some Melodic Rock in their music, which can best be heard in the catchy "Heaven and hell" that 'borrows' the melody line of the classic "Because the night" by PATTI SMITH. Although the music is far from original, it is done quite well and fans of the old RHAPSODY will probably eat this alive. Together with high quality artwork, this is a good recommended CD to fans of Italo Power Metal, done by a Hungarian band. More at: www.wisdom.hu
(Points: 8.2 out of 10)
MIRIAM 'KARU MAA' (BULLROSER RECORDS/FINLAND IMPORT)
Although sung in the Finnish language, the band MIRIAM delivers a great piece of Melodic Metal with their CD 'Karu maa'. They are actually a Christian Rockband, but of course if you're not speaking the Finnish language, then you wouldn't have a clue. The music is modern, typical Finnish Heavy Rock with a strong focus on downtuned guitars, Gothic like keyboards and uptempo Melodic Rock choruses. It is not that far away from HIM, LOVEX, CARMEN GRAY, ENTWINE, SARAH LEE, but then with Finnish lyrics. 12 songs are included and the sound/production is very impressive, so it is a pleasure to listen to this quality CD from start to finish. Especially if you're a familiar with the dark and heavy but also very catchy and melodic modern day Finnish Heavy Rockstyle, then this MIRIAM is a must-have. Go check it out for yourself at: http://www.miriammetal.com
(Points: 8.4 out of 10)
THOMAS TOMSEN 'SUNFLICKERS' (ROCKWERK RECORDS/GERMANY IMPORT)
It is quite stunning to mention the list of guest musicians on the CD of the German guitarist THOMAS TOMSEN, because not many musicians are able to have people like DEREK SHERINIAN, DOUG PINNICK, TONY FRANKLIN, STUART HAMM and BOB DAISLEY guest on their CD. Thomas has already been recording music for almost 20 years, starting with the release of a CD with his first band ACARI in 1993 and since 1998 he has released already 5 solo-albums, which includes his most recent 'Sunflickers'. Thomas is a great Classic Rock influenced guitarplayer and his solo's sound very melodic and memorable, very RITCHIE BLACKMORE and ULI JOHN ROTH/ZENO ROTH orientated. Basically the album is a full-blown instrumental Neo-Classical Melodic Rockalbum that reminds one a lot of ZENO, yet then without any vocals. Thomas is a great guitarist and delivers a fine instrumental record with 'Sunflickers'. More info at: www.facebook.com/thomas.tomsen
(Points: 8.2 out of 10)
TURBULENCE 'KEEPERS OF THE LIGHT' (INDEPENDENT/SWEDEN IMPORT)
The Swedish AOR band TURBULENCE returns with a new mini-CD titled 'Keepers of the light'. Musically speaking it is pure 1980s based keyboard/hookladen friendly AOR with the typical JOURNEY influences and actually reminding a lot of HOUSTON. OK, have to admit that the material is very cliché-tingled, also with songtitles like "Hold on", "Never surrender" and "Too many nights", this 5-songs counting CD of TURBULENCE is not really original. However, the fans of 80s AOR a la JOURNEY, SHY, TOBRUK, FATE and such will like this band a lot I think. More info at: www.myspace.com/turbulence0
(Points: 8.1 out of 10)
ANGELICAL TEARS 'ANGELICAL TEARS' (INDEPENDENT/USA IMPORT)
Based in a suburb of Oklahoma City is the pure European Neo-Classical female fronted Melodic Gothic Power Metal orientated band ANGELICAL TEARS. If no additional info was supplied to me, I would never have guessed this band is from the USA, because this sounds like a typical Dutch band to me and comparisons to the Dutch bands EPICA, AFTER FOREVER, DELAIN, THE GATHERING, KINGFISHER SKY, STREAM OF PASSION, WITHIN TEMPTATION, MORNING, AUTUMN, etc. etc. are quite easy to make. Without a doubt, the band's debut mini-CD is a high quality release that can easily compete with the aforementioned bands. Happily, the production is also very good and it is thanks to the excellent musicianship of the band and the 'angelic' voice of Russian born singer JULIA FLANSBURG, this ANGELICAL TEARS is receiving the highly recommended mark. It might not sound very original and especially in Holland, there are a lot of similar bands playing this genre, nevertheless ANGELICAL TEARS sounds really good and especially the song "Darkness" would make WITHIN TEMPTATION jealous! The band was formed in 2006 and are currently working on their first full-length CD, to be released sometime in early 2012 and without any doubts, that will be a very interesting CD to look forward to! Check them out at: www.angelicaltears.com and e-mail them at: glenn@angelicaltears.com
(Points: 8.6 out of 10)
THE ANDROID MEME 'ORDO AB CHAO' (MAGNA CARTA RECORDS/USA IMPORT)
Out of Toronto comes the band THE ANDROID MEME, a rather new band with a high quality full-length debut CD titled 'Ordo ab chao' on the proglabel MAGNA CARTA RECORDS. They are playing quite impressive Progressive Metal, which sounds a bit like RUSH and COHEED AND COMBRIA, yet with an own identity. There's also a touch of the typical modern day American Metal approach during the choruses that even have a bit of ALTER BRIDGE/CREED influences, although overall THE ANDROID MEME is a pure Progressive Metalband with a good ear for a catchy melody and also high level instrumental breaks. They could easily have a major break, although not the whole CD reaches the level of mentioned bands and perhaps a future CD might see them shaping up for something sensational. Also vocally it is not as strong as we want it to be, but as already mentioned, a next album might see the band improving. Nevertheless, we have here a really nice debut from this Canadian band. More info at: http://www.theandroidmeme.com
(Points: 8.1 out of 10)
X OPUS 'THE EPIPHANY' (MAGNA CARTA RECORDS/USA IMPORT)
Although compared to SYMPHONY X, PAGAN'S MIND and ADAGIO, the Neo-Classical band X OPUS from Texas is not reaching that incredible high level yet on their debut CD 'The epiphany'. The guitarwork of bandleader JAMES WILLIAMS is however incredible and he sounds like he might be the next guitar virtuoso. James also plays bass and keys by the way, but for the lead vocals he got help from 2 singers, BRIAN DIXON and DAVID CROCKER. Both got a great high pitched typical 80s American Power Metal kinda voice (LANCE KING/GEOFF TATE/MIDNIGHT style), although Brian's high pitched vocals are definitely better than David. Like I said, the band is not there yet, but songs like "I will fly" and "Pharaohs of lies" show we are dealing with a very special band that actually sounds like a perfect mix between SYMPHONY X and PAGAN'S MIND, with some stunning guitarwork. The drums and also the production are not really great and that is a shame, because it now sounds like a small independent release, despite the fact it is released on MAGNA CARTA RECORDS. However, if this band goes into a major studio with a major producer for their follow-up, we might be looking at something very sensational, because all the elements are there (songwriting, vocals and instrumental). I am convinced we will hear more from this band in the future. In the meantime, check them out at: http://www.xopusband.com
(Points: 8.3 out of 10)
DE VAN 'PLANET BOTOX' (JAMSYNC MUSIC/ROCKSAM AGENCY/FINLAND IMPORT)
DE VAN is a hot new Swedish band with a fantastic debut CD that sounds modern and very catchy, containing elements from a lot of Rock and Metal genres, but always coming across as a very melodic band. They combine the typical Americanized down tuned/slightly distorted modern guitarsound with European Gothic/dark wave influences and add a bunch of catchy hooks and memorable melodic choruses as well as almost Neo-Classical type of keys here and there. Songs like "Another perfect day" and "Plastic surgery" are almost pure Melodic Rocksongs that you can't help but sing-a-long. It's like this band is mixing the guitars of DISTURBED/SHINEDOWN with the Goth of HIM/PAIN and add choruses a la THE POODLES/WIG WAM! It sounds quite impressive and very listenable, with some potential hitsingles and if they are lucky they could have a big break in both Europe and the US of A. 6 young guys are in the line-up of DE VAN, including a really great sounding lead singer, who lifts up the level of the band to a higher degree. They play exactly the kind of Rock the young kids of today will adore, but in the world of an overcrowded scene, it takes time, patience and a bit of luck to become the next big thing. Although it sounds modern and up-to-date and might even appeal to fans of 30 SECONDS TO MARS, THE KILLERS, FOO FIGHTERS or any other popular modern rockband, this DE VAN is even worth checking out for a regular Melodic Rockfan, because a song like "Feed me" has such a catchy chorus that is not even far removed from a band like SAINT DEAMON or ENBOUND, so I guess this DE VAN has somehow still got that typical Swedish catchiness we can hear in almost any rockband from that country! If you're looking for a high quality band that sounds and modern and melodic, then look no further than these guys! The only slight negative remark I can make is that the second half of the CD is not as good as the first couple of excellent tracks, but nevertheless check out this band at: www.devanband.com
(Points: 8.4 out of 10)
P.Y. MARANI 'OUTLINE' (INDEPENDENT/FRANCE IMPORT)
P.Y. MARANI is a guitarist/bassist/keyboardplayer from the 'Tour De France' hosting city of Pau and he sent me his debut CD, on which even DREAM THEATER keyboardplayer makes a guest appearance with a keyboardsolo. Musically speaking this CD is filled with high quality instrumental Progressive Rock/Progmetal with strong Neo-Classical influences and I must admit that P.Y. is a very gifted musician. For the fans of instrumental prog, this is quite a must-have CD and thanks to a great production, it is a very enjoyable album from start to finish. Go check it out at: www.myspace.com/pymarani
(Points: 8.4 out of 10)
LORDS OF THE TRIDENT 'CHAINS ON FIRE' (JUNKO JOHNSON RECORDS/USA IMPORT)
The revival of the early 1980s NWOBHM sound has been quite stunning the past few years. If you consider the fact that this kind of twin-guitar uptempo based Metalsound from 30 years ago has stayed in the Underground for nearly 3 decades, it is quite remarkable to see so many new young bands playing this Metalstyle and also old bands reforming and releasing new records. CAULDRON, VANDERBUYST, TOKYO BLADE, HELL, JAGUAR, AXIS, IN SOLITUDE, TWISTED TOWER DIRE, ENFORCER, SKULL FIST, WHITE WIZZARD, METAL INQUISITOR, RAM, etc. etc. … it seems time has stand still for all these bands and we're back in the UK clubscene from 1980 when upcoming bands like IRON MAIDEN and SAXON were winning new fans every week. Now in 2011 the bands playing this style are coming from all over the world and one of them is LORDS OF THE TRIDENT from the city of Madison, Wisconsin, USA. Their 2nd CD is titled 'Chains of fire' and without a doubt any fan of NWOBHM will absolutely love this record, which blasts out twin-guitars/shredding guitarsolos all throughout the album and thanks to a superstrong production, great vocalwork (FANG VON KILLENSTEIN is the band's singer and he can sing very clean, almost soulful like in the midtempo "Beauty of the blade", but also high-pitched at times and then changing into an almost KING DIAMOND kinda direction, which might not work for everyone, but he is really an excellent singer, such as can be heard at best during the song "Foggy Harbor Town") and some really catchy melodic choruses, we have a winner here for all the fans of Classic Melodic Metal out there. The songs vary from mid to uptempo and especially the songs "Face of the enemy", "Chains on fire" (fists in the air and shout it out loud!), "Stranded" and "Foggy Harbor Town" (now this is what I call PICTURE PERFECT!!!) are highly recommended pieces to fans of good clean NWOBHMish Melodic Metal! Surprisingly, LORDS OF THE TRIDENT also throws in one awesome fun melodic rocker in there as well, namely the pure 1980s DOKKEN/VYPER/BONFIRE/RIGGS/KNOW ILLUSION/BILOXI/FIREHOUSE/EDEN'S CURSE sounding "Fighting for love", a song that will wet the appetite of any fan of classic 80s US catchy hookladen Melodic Hardrock and somehow this sounds like one of the best tracks on the CD, although NWOBHM fans will of course disagree! If this all sounds interesting to you and you enjoy the likes of ENFORCER, WHITE WIZZARD and CAULDRON, then go check out this band asap at: www.LordsOfTheTrident.com and e-mail them at: mshabooboo@gmail.com and LordsOfTheTrident@gmail.com
(Points: 8.7 out of 10)
BRIDGER 'BRIDGER' (ESCAPE MUSIC)
The new band BRIDGER is based around guitarist GLEN BRIDGER, who is settled in the Kansas City area and is also a member of the legendary band HEAD EAST. He also was once a member of such obscure Classic AOR/Melodic Rockbands like FAZE ONE, TOYMAKER'S DREAM and LONDON DRIVE, which were reviewed in the past by us. Anyway, he formed a new band called BRIDGER, which not only features musicians whom played with acts like MONTROSE, MICHAEL SCHENKER, CARMINE APPICE, XYZ and the already mentioned HEAD EAST, the lead vocalist on this CD is the fantastic legendary lead singer TERRY ILOUS. Terry sang with XYZ and is really an excellent singer, sounding as good today as he did way back in the late 1980s when he released his debut with XYZ. He has a voice that sounds quite unique, although not far removed from DAVID COVERDALE and STEVE LEE (R.I.P.). The music of BRIDGER is lighter than XYZ and actually more going into a classic 80s melodic rock/us aor direction, with a slight bluesy and modern touch as well. Songs like "How long", "Without a sound" and "Don't push me" are very impressive, especially thanks to Terry's superb vocals. The songs are very melodic and could almost be called AOR, but then again the somewhat more 'Rock' orientated production is giving it a sound that should be put somewhere between HEAD EAST and MR. BIG as the bio also mentions, although perhaps the best comparison could be 2000s FAIR WARNING and late 90s GOTTHARD. BRIDGER delivers a great album here that needs a few more listens, but nobody can deny that Terry remains to be an amazing lead vocalist. More info at: http://www.myspace.com/glenbridger
(Points: 8.3 out of 10)
CRUXITER 'PROMO CDR' (PROMO CDR/USA IMPORT)
Now this is really Classic 80s Melodic Metal at it's very best, although only 3 songs are included and the sound is really like it is 1985 or something, but that is exactly the thing that is making this band so interesting. I am aware that there are many people out there who will be eating this band alive, because CRUXITER from Texas/USA sent me this 3-tracks containing promo CDR that musically sounds dangerously close to bands like OMEN, HEIR APPARENT and RIOT. There's a NWOBHM influence, 80s US Power Metal and it just sounds like the countless rare 1980s US Midwest Metalbands. The vocals are clean, sometimes higher pitched and harmonized here and there during the somewhat catchy melodic choruses, while the uptempo rhythm is the classic 80s horse-riding IRON MAIDEN guitarstyle, with also classy twin-guitars and even a few proggy breaks as well as some really cool arrangements (check out "From her eyes" for some amazing various guitarwork), so all together pure 1980s US Melodic Metal and the finest of the 3 cuts here is "Traveler", which sounds a lot like TWISTED TOWER DIRE. If these guys would be able to get into a major studio with a major producer, then they might release perhaps a super sensational record. They are currently working on their debut full-length CD and I am sure any fan of Classic traditional Melodic Metal will be interested in that release. Hopefully a review of that to follow soon here. Songwise and instrumentally speaking they are delivering high class Metal, but I do hope the sound/production of their upcoming CD is a little better than this promo CDR, although this is just a promo of course, so can't judge on the sound/production yet of their first CD. We'll have to wait for that I guess... In the meantime check them out at: www.cruxiter.com
(Points: 8.0 out of 10)
LOIS BLAISCH 'THROUGH THICK AND THIN CDR' (BLAISCH PUBLISHING/USA IMPORT)
Although this album was released way back in 1997, it took 14 long years before I would discover this fantastic Californian female singer/songwriter LOIS A. BLAISCH, who by the way has appeared/played on many records as well as touring with a lot of famous musicians (check out her website for that!). She has a really great 'AOR-Rock' voice that reminds me a lot of ROBIN BECK, yet musically it is less rocking', but nevertheless the 1980s keyboardfriendly AOR/Pop balladry on her record 'Through thick and thin' will especially please fans of KAREN BLAKE ('Just one heart'), NANCY NASH, although also during the rockier moments ROBIN BECK comes to mind of course. A few guest spots need to be mentioned here, because several of the songs are co-written and/or feature guest appearances by STEVE KIPNER, ANDREW GOLD (who sadly recently died), JOE TURANO and guitarist DANNY JACOBS (SIGNAL), all 4 of them are well-established musicians in the AOR/Westcoast/Pop department. The music is sometimes on the light side, even touching the 80s Pop/Westcoast direction, yet thanks to the incredible vocals of Lois lifted up to a higher degree quite easily and later on the CD there is a rockier switch notable, even closing the CD with the DARBY MILLS/HEADPINS sounding bluesy rocker "Put it there". Most remarkable song here is "Could've been", made popular by teenage star TIFFANY way back in the 1980s, but actually written by Lois herself and included here as the real original version that easily blows away the cover by TIFFANY. The absolute highlights however are the midtempo 80s pure AOR tune "Look me in the eye" that sounds a lot like the Randall Sisters (Judith/Robin) compositions (MARK FREE, STARSHIP, THE STORM, VENUS AND MARS) and the AOR ballads "When it's right", "Living without your love" and "A matter of time" (hello ROBIN BECK!), but the only rockers on this CD are by far the finest songs to be found, because both "Get out of my heart" and "All the way" have got that perfect female fronted AOR Classic sound. These 2 songs are uptempo rockers with great guitarsolos, catchy choruses and superb vocals by Lois (a la ANN WILSON/ROBIN BECK/DARBY MILLS) and is basically pure pure AOR in the style of 80s HEART/ROBIN BECK/DONNA CRISTY/WITNESS/STAN BUSH!!! If only Lois would lend her vocal talents to the great AOR songwriters/musicians out there and FRONTIERS RECORDS would give her a record deal, she might easily record one of the finest female AOR albums of the past few years, because her voice is pure AOR bliss and more songs in the style of "Get out of my heart" and "All the way" would make her a major star in the female fronted AOR world! Although this album is not a full-blown rockalbum (except for those 2 giant AOR rockers), it still is a really great enjoyable light AOR/Westcoast record with superb vocalwork and who knows Lois will someday be able to record a full-blown AOR-Rock Classic… let's just hope so… Must-have record for people who like ROBIN BECK, VENUS AND MARS… If only I would have received this record 14 years ago, it could have been featured on one of our first pages right next to the similar sounding VENUS AND MARS (https://www.angelfire.com/ma/strutteraor/REVIEWSPAGE3.html) Anyway, more info and CDR availability of the album at: www.loisblaisch.com
(Points: 8.5 out of 10)
4TH DIMENSION 'THE WHITE PATH TO REBIRTH' (CRASH AND BURN RECORDS/MASTERPIECE DISTRIBUTION/ITALY IMPORT)
Now this is what we can easily call Neo-Classical Italo Melodic Power Metal at it's best, with clear similarities to LABYRINTH, VISION DIVINE and SECRET SPHERE. The band switches between uptempo almost Melodic Rock orientated pieces, such as the wonderful "Everlasting", which features guest vocals by the beautiful Italian singer MELODY CASTELLARI to the typical faster Italo Power Pompous Metal songs that combine the best of LABYRINTH and RHAPSODY in a song like "A new dimension". Things slow down during the epic ballad "Winter's gone" that has almost majestic AOR chorus reminding of a mix between ROBBY VALENTINE, HELLOWEEN and WONDERLAND, while also closing track "Landscapes" offers a moment of silence being a piano-led Ballad. The best song however is the catchy "Labyrinth of Glass", an uptempo Melodic Power Metal tune with a very strong chorus and also featuring some excellent keyboards, reminding a lot of VISION DIVINE actually. Although it might not all sound very original, 4TH DIMENSION are doing it at a high level and fans of mentioned bands will absolutely instantly fall in love with this band. More info at: http://www.4thdimensionmetal.com
(Points: 8.3 out of 10)
VARIOUS ARTISTS 'EMBRACE THE SUN' (LION MUSIC/BERTUS)
4 months after the terrible disaster in Japan, there is now a 2-CD set with in total 28 new tracks by LION MUSIC signed bands, whom are paying tribute to the victims of the Tsunami and Earthquake that struck Japan in March 2011. 28 different bands have 28 different stories to tell, with all proceeds going directly to the Japan Red Cross. It is one of the finest compilation CDs released the past few years, because in each and every song you can really feel the emotion and bitterness about this sad tragic. Musically most of the material may be labeled as Melodic Rock meets Progressive Rock/Metal (semi-balladry to midtempo orientated) and of course what is so interesting here is that these are all tracks exclusively recorded for this 2-CD set and among them are some masterpieces. Highlights are the tracks by ANTHRIEL (excellent, an almost AOR sounding semi-ballad), MASTERCASTLE, MISSING TIDE, VENTURIA (superb, EPICA/AFTER FOREVER style), SECTION A, MISTHERIA and ASTRA (SUPERB song!), whom have a new lead singer. All together a very impressive 2-CD set here and all for a good course, so a BIG THANK YOU to all 28 acts for delivering their work to the Japanese victims! Now go and buy this double-CD set asap!
(Points: 8.4 out of 10)
REVENGINE 'THE ABSENCE' (INDEPENDENT/FINLAND IMPORT)
Out of Finland comes the band REVENGINE, whom are playing slightly modern Melodic Heavy Rock. All seems fine here, although vocally it is not that strong I'm afraid. 8 songs are on their official debut CD and most of them are based around big fat heavy guitar riffs with semi-aggressive vocals in a way that reminds me of bands like BLACK LABEL SOCIETY and METALLICA. The production/sound is very good and I do feel fans of a band like TOOL will love this a lot, although the material seems to be a bit more standard and less proggy. More info can be found at: www.revengineband.com
(Points: 7.5 out of 10)
FIREWOLFE 'FIREWOLFE' (INDEPENDENT/USA IMPORT)
Quite unbelievable that this is just an independent CD, because everything looks and sounds very professional here, but on the other hand that doesn't seem to be surprising if you consider the fact that this Grand Rapids, Michigan, USA based band called FIREWOLFE features lead singer DAVID FEFOLT (ANGELS OF BABYLON, MASI, HAWK, VALHALLA…) and drummer JAY SCHELLEN (HURRICANE, ASIA). David has got the voice of both a Rock and a Metal God, reminding sometimes of PAUL SHORTINO, but also with a typical Metal kinda voice. The music is a mix of mainly Classic 80s Melodic Hardrock and Melodic Metal, with a lot of stunning guitarwork by the 2 guitarists (NICK LAYTON and PAUL KLEFF). The band's music is very much comparable to FIFTH ANGEL, EDEN'S CURSE, ROUGH CUTT, VYPER, BANSHEE, RIOT, THE RODS, BARREN CROSS, ICON, etc. etc. Songs like "Firewolfe", "Back from hell" and "Feel the thunder" will absolutely be loved by fans of mentioned bands. These guys are setting the bar at a high level with this CD and records like these are usually only released on the metalized major labels in Europe! Here it is an independent CD release, which is available through: www.firewolfe.com and e-mail them at: firewolfe@firewolfe.com
(Points: 8.6 out of 10)
RIVERBEND 'SLEEPWALKER' (SHOWCASE MUSIC INDUSTRIES/EPI RECORDS/USA IMPORT)
Formed in 2005 in the Seattle area, we welcome the band RIVERBEND, whom sent me their 7 tracks counting promotional CD 'Sleepwalker'. The band has that typical American Post-Grunge sound, yet are clearly better than the usual wanna-be bands, thanks to strong melodies and some great punchy guitarwork. They remind a lot of SOUNDGARDEN, ALICE IN CHAINS and CANDLEBOX, yet also here and there of the more modern American wave of Hardrock (NICKELBACK, BUCKCHERRY, HINDER and SHINEDOWN). Leader of the band is lead singer/guitarist IZZY RIVERS and without a doubt, this band sounds like the typical all-American band and referring to catchy songs like "I can see through you", "Figure it out" (best song, uptempo rocker with an a very slight 80s Glamrock touch!!!) and "I am", who knows RIVERBEND could become the next big thing. Fans of the typical American Rocksound from the past 20 years will love this band for sure, so then better check them out at: www.riverbendrocks.com
(Points: 8.4 out of 10)
THIS IS LIZZARD 'WON'T GIVE UP' (STOLK MUSIC RECORDS/USA IMPORT)
THIS IS LIZZARD is a male/female duo whom are coming from a beautiful small island situated somewhere between Seattle and Vancouver, although multi-instrumentalist ROLAND STOLK is actually living in The Netherlands, where he and female singer LIZANNE HENNESSEY also recorded this first album titled 'Won't give up'. So they travel a lot together in order to promote their music project called THIS IS LIZZARD, which musically is very diverse, but 80s pop/rock is clearly a huge inspiration and somehow it all reminds me a lot of 80s acts like VIENNA, ANIMOTION, BOY MEETS GIRL songwise/chorus, although minus the Hi-Tech sound of those acts and THIS IS LIZZARD ads a lot of other music genres into their sound. 10 songs are included and it all sounds very professional and quite impressive. Lizanne is a great singer, with a strong soulful approach in her voice and despite each song is featuring a wide range of music influences that go from Reggae, Folk, Rock to even a bit of Country and Dance, the music has a feel-good summer poprock feeling all the time. The absolute highlights however are the AOR based tunes "How can I get you to stay" and "Be with you" that both remind a lot of earlier mentioned acts, but also closing Soul Ballad "Through your eyes" should be mentioned, because this song has got a classic early 80s US R&B/Soul Ballad feel (a bit like PEABE BRYSON, GEORGE BENSON, SERGIO MENDES). So a very diverse interesting record from this American/Dutch duo that also makes me think of another American/Dutch (and also female singer/male multi-instrumentalist) duo from a few years ago called CHALLENGE we also reviewed. Anyway, more info at: www.lizzard.nl
(Points: 8.4 out of 10)
PANNDORA 'HERETIC'S BOX' (WIND OF FAKE RECORDS/MCK/BRAZIL IMPORT)
PANNDORA is an all-female Metalband from Brazil and although they released an album a few years ago, 'Heretic's box' is their first official full-length CD with their current line-up. The band was formed way back in 2000 and through the years they have built up quite a following in Brazil and you can clearly hear that PANNDORA is a very professional band. They play Classic True Metal and for an all-female band they do it as well as most established acts in the Metal genre. In fact, they are as good as for example PHANTOM BLUE were back in the day and what makes them even more appealing is the incredible looks of the 5 girls, because you don't see a full Metalband looking like the beautiful girls from the TV-series BUFFY/ANGEL/CHARMED every day! Anyway, apart from the image, these girls can really play and sing too, which combined should work really well live. A song like "Prisoner" is a true Classic Metal anthem and actually I could mention every song here, because most of the time it's uptempo Melodic Metal with big guitar riffs and strong melodic choruses that are making up the sound of PANNDORA. Thanks to the superstrong vocalwork of REBECA RASTELLI, this PANNDORA is a highly recommended band to check out at: www.panndora.net
(Points: 8.6 out of 10)
HOLLOWICK 'BEAUTIFUL PEOPLE' (AQUARIUS RECORDS/UNIDISC CANADA/CANADA IMPORT)
The Canadian label AQUARIUS RECORDS has been a very important and legendary label for Canadian music for 40 years now, starting with the band APRIL WINE back in the 1970s and now under the UNIDISC label releasing new records of new Canadian bands, such as this HOLLOWICK. This young band comes out of the city of Oshawa and are releasing their 'debut' CD titled 'Beautiful people'. Actually they were originally called RIDES AGAIN, under which they released 3 full-length albums and even scored some big hits in Canada, but since 2010 they are now recording and performing under the moniker HOLLOWICK. Thanks to other successful Canadian bands like NICKELBACK, BILLY TALENT, THREE DAYS GRACE, SUM 41, SIMPLE PLAN, HAREM SCAREM and such, rock and melodies have been put back together again in the land of the maple leaf. HOLLOWICK is yet another strong Canadian Melodic Rockband, with an album that combines the typical modern rocksound with classic melodic rock choruses. 10 tracks are included and opener "Just Another day" is a really great catchy uptempo modern sounding Melodic Rocker, while the epic semi-ballad "Beautiful people" almost sounds like a classic little tune. The melodies are very strong here and especially during a song like "Not there yet" or "There goes another one", it isn't that far away from the later HAREM SCAREM sound. This is Modern Melodic Rock at it's best, sounding up-to-date and still very catchy, but also recognizable for the melodic rockfans out there. Without a doubt, HOLLOWICK is a high quality band with a bright future ahead of them and thanks to this new CD they have a whole string of potential hitsingles. Go check them out at: www.hollowickmusic.com
(Points: 8.4 out of 10)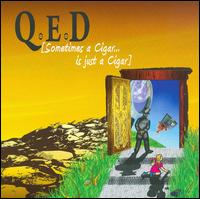 QED 'SOMETIMES A CIGAR IS JUST A CIGAR' (QEDMUSIC/CANADA IMPORT)
The band QED is coming out of one of the coldest major cities on the planet, which is Winnipeg in Canada, although on the other hand they also have very warm summers, but temperatures below -20 degrees Celsius during the winter months are very common. Anyway, QED has already released 2 albums and are now back with their 3rd CD 'Sometimes a cigar is just a cigar'. Musically speaking the album is filled with high quality intelligent Melodic Rock with RUSHish Progrock influences. They sound modern and still capture a Classic Melodic Rock at the same time. 8 tracks are included and from start to finish this is really a record you will enjoy and re-listening to it over and over again will keep you interested, as there is a lot to discover, because melodies are all over the place and also tempo changes, all to be found in each and every song. Modern Rock meets Melodic Rock meets Progrock is the name of the game here and QED is doing it all at a very high level, so make sure not to miss out this very fine album from this Winnipeg based band at: http://www.qedmusic.com
(Points: 8.6 out of 10)
(All reviews by Gabor Kleinbloesem except where noted)