DEGRADEAD 'A WORLD DESTROYER' (METALVILLE/FLYING DOLPHIN ENTERTAINMENT/GERMANY IMPORT)
DEGRADEAD is a Swedish band and they play the typical modern mix of Death and Melodic Metal, which we have seen the past decade also done by fellow Scandinavian bands like MERCENARY and SCAR SYMMETRY. It actually means you'll have to go through a lot of screaming and growling before you get to hear an extremely catchy melodic chorus. Funny thing about these bands is that what they do is very impressive and the choruses are really impressive, while also instrumental they take guitar riffs from Thrash, Prog and Neo-Classical Power Metal. The choruses of each of the 10 included tracks on DEGRADEAD's 3rd album 'A world destroyer' are almost sensational, but like already mentioned songs apart from the choruses it is a constant scream and growl fest. Fans of mentioned bands will dig this a lot, but if only the band had a melodic clean singer, then they would have released a killer album with this CD. Nevertheless, there's a market for this stuff, which I completely understand, but the combination here is taking it too extremes… More info at: www.degradead.com
(Points: 7.8 out of 10)
SHRAPHEAD 'BLIND AND SEDUCED' (METALVILLE/FLYING DOLPHIN ENTERTAINMENT/GERMANY IMPORT)
Wow! From out of nowhere this Norwegian band pops up and releases a very impressive debut CD titled 'Blind and seduced'. Guitarist JO JOHNSRUD has a great strong voice, a real Metal way of singing, but then in a melodic clean kinda way, while the material of the band is high class European Melodic Metal, with also here and there a Modern American Metal approach, sorta mixing DISTURBED with NOCTURNAL RITES. The choruses are very melodic and the guitar riffs are pure Heavy Metal, while as already mentioned the lead vocals are at a high 'melodic clean' level, which means all together this is a nice package SHRAPHEAD is bringing us on their first album. Highlights are "Stolen trust", "Blind and seduced", "The hundred" and "Ageless". The production/sound quality is also of a very high level, so this is a very nice surprise and for more info go to: http://www.shraphead.net
(Points: 8.5 out of 10)
LUCID DREAM 'VISIONS FROM COSMOS 2' (INDEPENDENT/ITALY IMPORT)
LUCID DREAM is a Melodic Hardrockband from Italy, with a very decent professional full-length debut CD out titled 'Visions from cosmos 2'. The band is clearly aiming for the Classic 1980s guitar orientated sound and reminds a little of KINGDOM COME, WHITESNAKE and BLUE MURDER for some reason. The guitarwork of SIMONE TERIGI is very impressive and clearly the absolute strongest point within the band, reminding one of JOE SATRIANI and STEVE VAI more than a few times. The lead vocals of ALESSIO CALANDRIELLO are quite good, although I do feel there should be some improvement possible in the higher octave range of his voice. Most of the songs go for a classic 80s guitar riff uptempo Melodic Hardrock approach, which really comes alive at best during "In the moment", in which they also try out a TNTish direction mixed with STONE FURY's debut album. Like mentioned, the guitarwork here is exceptional and I am convinced Simone will become quite well-known in the future to come, but for now check out his Melodic Hardrock CD at: www.luciddream.it and email them at: info@luciddream.it
(Points: 8.3 out of 10)
NEMO 'REVOLUSION' (QUADRIFONIC/FRANCE IMPORT)
The French band NEMO returns with already their 7th studio-album titled 'Revolusion'. Musically speaking the French sung Neo-Progrock follows the band's previous material, so we can listen to some wonderful melodies and quite some diversity actually, because the uptempo rocking titletrack is a very uplifting heavy rocker, while some of the other songs are really laid-back. The new album is a concept album about money and it's tragedies. The band seems unstoppable, because since 2002 they did not only release 7 studio-albums, but also 2 live CDs and in 2010 a double live-CD+ DVD. Now a new studio-album is released and recommended to the Neo-Progfans among us. More info at: www.nemo-world.com
(Points: 8.1 out of 10)
DAMIEN THORNE 'END OF THE GAME' (INDEPENDENT/USA IMPORT)
The Chicago based band DAMIEN THORNE was formed all the way back in 1983, so they are heading for a 30-year anniversary! They managed to release an LP titled 'Sign of the jackal' back in the mid 1980s on ROADRUNNER RECORDS, but during the recording of their 2nd album something went wrong with their record label and they moved to L.A. in the hope for more success. However times were changing and the band's pure Metal was not trendy anymore in the late 1980s, so the following decade became somewhat of an underground experience for the band. Meanwhile the band moved back to Chicago and started things up again during the mid 2000s with the re-issues of their 1st and unreleased 2nd album, while now in 2011 the band even releases a full new CD titled 'End of the game'. Musically nothing has changed and the band sounds like 1985 all the way, so basically this is pure Classic 1980s US Metal, not too far away from bands like ANVIL, EXCITER, RAVEN, RIOT and so on. Flashy guitarwork, double-bass drum pedal and high pitched vocals, that is what Metal is all about and DAMIEN THORNE are the living proof this kind of Metal still exists. 14 tracks are included and from the start until the end of the CD it is pure Metal all the way! Highlights are "Me against the world", "You'll come around" and "Fistful of regret". Any real Metalhead should get a copy of this CD asap! More info at: http://www.damienthorne.com
(Points: 8.3 out of 10)
THE SEWERGROOVES 'TROUBLE STATION' (SOUNDS OF SUBTERRANIA!/SONIC RENDEZVOUS)
Out of one of the oldest cities in Northern Europe, Vasteras in Sweden comes the band THE SEWERGROOVES, whom already have built up quite an extensive discography through the years, starting with a 7 inch EP back in 1997. Now 14 years later they release a new full-length LP/CD in the shape of 'Trouble station'. Musically speaking they bring us great high quality original Hard Rock and Roll, sounding modern and classic at the same time. A band like TRIGGERFINGER is praised in Holland for example, but personally speaking this THE SEWERGROOVES is much better, because they throw in some great melodies here and there, such as can be heard on the excellent "Oh trouble" or "Twist of faith". Short sharp uptempo rocking tunes with memorable almost 1960s meets early 1980s Fuzz Powerpop type of melodies can be heard all throughout the album (THE KINKS meets ROLLING STONES meets quite a bit early 1980s THE POP/THE KNACK/THE PLIMSOULS, DIRTY LOOKS) and I must say that it is a shame I had never heard of this band before, because they truly sound very original and dare I say catchy! Don't miss this excellent Swedish band with their stunning new album release 'Trouble station'! Now I gotta have to check out their impressive back catalogue asap! In the meantime, check out this band at: www.myspace.com/thesewergroovesband
(Points: 8.5 out of 10)
VIVIAN GIRLS 'SHARE THE JOY' (POLYVINYL RECORDS/SONIC RENDEZVOUS)
Out of Brooklyn, New York comes the all-girl band VIVIAN GIRLS. Their music is a very late 1960s type of Garage Rockstyle that somehow reminds me a lot of SHOCKING BLUE, yet with a dash of Alternative Rock from the 1990s (L7) and to finish it off, the melodies are somehow reminding of THE BANGLES. So, this band is sounding like a true Underground band with a clear 1960s approach and combine this with very sweet melodies and catchy choruses. A song like "Sixteen ways" sounds like THE RUNAWAYS doing a cover of an early SHOCKING BLUE/EARTH AND FIRE tune, which is of course very nice to hear, especially since it is done so well as on this record. They were formed back in 2007 and already managed to release 2 albums before this one, making 'Share the joy' their 3rd release. I noticed it is also available as LP, but sadly I have to play my copy on CD. Anyway, I am aware there are quite a few bands out there that play more or less the same kinda garage Pop/Rock and Roll as VIVIAN GIRLS, so they are not doing anything really new, but happily what they are doing on their new CD is of a very high level and a pleasure to listen to from start to finish. Therefore I can highly recommend this band, go check them out at: http://www.freewebs.com/viviangirls/
(Points: 8.2 out of 10)
TOMMY GUN 'ALWAYS TRUE' (WOLVERINE RECORDS/SONIC RENDEZVOUS)
TOMMY GUN is pure Melodic Punk Rock and Roll, with very raw vocals, but singable melodic choruses during each and every of the 12 included tracks. The band reminds one of ANTI-FLAG, RANCID, THE BUSINESS, BLINK 182 and you wouldn't guess they are from Germany, because this sounds really close to a UK or US band. Production/sound quality is of a high level and fans of mentioned bands will absolutely love the new record of TOMMY GUN. More info at: www.myspace.com/tommygunpunk
(Points: 8.2 out of 10)
TODD GRUBBS 'RETURN OF THE WORM' (GRUBBWORM MUSIC/USA IMPORT)
Guitarist TODD GRUBBS from Florida sent me a copy of his CD 'Return of the worm', which was recently released. The album is an instrumental guitar based album, but this time no big heavy neoclassical shredding power metal stuff like usually the case with instrumental releases. Todd delivers a calmer smooth, almost AOR/Westcoast kinda instrumental Progrock that sounds like RUSH meets NEAL SCHON meets SANTANA. A very relaxing album filled with 11 high quality instrumentals that are perfectly suitable as background music, with some really great melodic clean guitarwork by Todd, who also plays some keys here and there. The melodies Todd is creating on his guitar are very nice to listen to and any guitarfan will love his way of playing, as belting out melodies out of your guitar is basically something we all want to do! Check out Todd's music at: www.ToddGrubbs.com
(Points: 8.4 out of 10)
FURYU 'CHIO CHE L'ANIMA NON DICE' (INDEPENDENT/ITALIA IMPORT)
The Italian band FURYU was born in the year 2000 in the city of Bologna. Although they recorded several demos the whole 2000s decade, the official debut full-length CD is released in the year 2011. On the album we can hear a very high level of musicianship, which musically is semi-instrumental Progressive Metal, with also influences from Thrash, Techn-Metal and all kinds of other Metal styles, but as the music is mainly instrumental and very much focused on major guitar riffs and solo's it is safe to say here that this is an instrumental Progmetalalbum and a very good one actually! 6 lengthy tracks are included and from start to finish one will be blown away by the incredible musicianship of the band. Definitely worth checking out if you get a kick out of talented Metal musicianship. More info at: http://www.furyu.it/
(Points: 8.4 out of 10)
OBIYMY DOSCHU 'ELEHIA' (MALS/RUSSIA IMPORT)
OBIYMY DOSCHU is a Ukranian band with a very nice Progressive Rockalbum titled 'Elehia', which vocally speaking is in the typical Slavic/Balkan/Russian kinda style, which is very dramatic and sung in a low vocal range. Instrumental this band is very impressive, with some excellent guitarwork as well as nice additional violin work in several tunes. What makes this album even more interesting is the fact that the band offers it for free on their website, so to speak it is for anyone free to download and distribute, which in my opinion is the best opportunity to get some worldwide attention, because especially bands from the Russian/Balkan area otherwise will never get any recognition. Although you can call this a progalbum that has some PORCUPINE TREE similarities, the band definitely has an own sound, which is mainly due to the different way of singing and also of course the Ukranian lyrics make it sound differently. Nevertheless, go check it out for yourself at: http://www.rain.in.ua/en.html
(Points: 8.0 out of 10)
ROZ VITALIS 'REVELATOR' (MALS/RUSSIA IMPORT)
The Russian band ROZ VITALIS has an authentic 1970s influenced sound, which is sometimes Progrock, but most of the time actually combining elements from Folk, Classical Music, Church Music and some Jazz. Their album 'Revelator' is instrumental and somehow very hard to compare to any other band, because it has nothing to do with Rockmusic. The keyboards, Hammond and flute give it an almost ELP/UK/EARTH AND FIRE kinda feel, yet less proggy and more aiming for an atmospheric kinda approach, feeling like you're somewhere up in the mountains. Quite an experimental yet laid-back sounding album, but for more info go to: www.raig.nu/rozvitalis.asp
(Points: 8.0 out of 10)
BEYOND THE VORTEX 'ONE' (NON STOP MUSIC/SWISS IMPORT)
Although instrumental this Swiss band BEYOND THE VORTEX is doing things superprofessional, vocally they are not interesting for the 'melodic' fans, because it is endless screaming and growling from start to finish. No clean vocals involved here, although like already mentioned fans of MESHUGGAH, IN FLAMES, UNEARTH, HATEBREED will probably love this album. However, the 'melodic' part in the Melodic Death Metal of BEYOND THE VORTEX is only hearable in their instrumental parts, which sound pretty impressive. Hear for yourself at: www.beyondthevortex.net
(Points: -)
HAUNTING EDEN 'DELIVERANCE' (INDEPENDENT/USA IMPORT)
Yes, they are still out there, quality original bands in the Melodic Metal field within the USA. This band is called HAUNTING EDEN and they hail from the US state of Georgia, settled in a city called Duluth, which is not too far removed from the well-known Atlanta/Marietta metropolitan area. The band delivers Melodic Metal with class, some great guitar riffs and interesting female vocals of JO LEE. Actually hard to compare this band, but they sound a little European here and there, so really focusing on strong vocals melodies in each and every of the 12 included tracks, while the guitarwork is traditional Melodic Metal based. Big difference however with other female fronted bands like WITHIN TEMPTATION, EPICA, LEAVES EYES, EDENBRIDGE, DELAIN and such is that there are no massive overdubbed orchestral symphonic influences to be heard anywhere, so HAUNTING EDEN is more based on the traditional way of Melodic Metal. In fact, they do remind a bit of classic 1980s LEATHER, BITCH/BETSY, BLACKLACE, REZ, ROSANNA'S RAIDERS, ROUGH, WARLOCK and that kinda stuff, yet with a slight modern approach. The lead vocals are really good and most of the songs go into a slower midtempo direction, yet with some excellent melodies, especially during the highlight "Not your kind" (which somehow reminds me of the first TEER CD from the mid 1990s, but then with female vocals!). Quite a surprise this band and a must-have for fans of female fronted Melodic Metal with balls! More info at: http://www.hauntingeden.com and e-mail them at: jolee@hauntingeden.com
(Points: 8.3 out of 10)
VEILSIDE 'THIS TIME…' (INDEPENDENT/USA IMPORT)
There are still enough quality and original bands active in the USA, trust me! Everybody wants us to believe that the once original melodic rock/metal sound has completely vanished since 1991, but the past few years many new bands have popped up all around the USA playing original and more importantly, very melodic rock/hardrock/metal. The 1990s was a very disturbing period with bands going either the Altrock direction or focus on playing nothing but covers. However, the 2000s saw a change in the music climate and the mainstream music became melodic again and now in the new 2010s decade the appreciation of 1980s rock and metal is huge and thanks to that a lot of new bands emerge and play this style. VEILSIDE are coming out of the Chicago area and although I thought they were more in the Progmetal style when looking at the cover of their CD 'This time…', they are in fact a pure Melodic Hardrockband with some heavy groovy Metalish guitar riffs. Think of a combination of FIREHOUSE, TORA TORA, SKID ROW and TRIXTER, with a touch of the modern way of thinking (STONE SOUR, SHINEDOWN, ALTER BRIDGE…). The lead vocals are spot-on, because singer TONY ENGEL has an excellent voice, while the twin-guitarwork sounds pretty good too. 6 tracks are included and somehow the KANSAS cover "Dust in the wind" is very impressive despite the fact that covers are not my main interest when listening to an album, but VEILSIDE's version of this classic is excellent uptempo Melodic Metal with Classic 1980s twinguitarwork a la STRYPER. However the original tunes of the band are more important and they do sound really good, especially opener "Every time you call" and the semi-ballad "Along the way" that both sound like a cross between FIREHOUSE/TEER and ALTER BRIDGE/STONE SOUR. These guys surely know how to write a great catchy hook and a memorable melodic chorus in the classic American Hardrock/Metal tradition. I am more than impressed by this excellent band, because their mini-CD sounds perfect at all aspects, vocally, instrumental, songwise and also the production/sound quality is top-notch. Despite the 1980s Hair Metal influences, the band does never sound dated or cliché tingled, thanks to some modern touches here and there, so who knows they might become the next big thing in the USA. Let's hope this band reaches a lot of success in the near future, because they truly deserve it. More info at: http://www.veilsideband.com
(Points: 8.7 out of 10)
REAL FIRE 'DEMO CDR' (DEMO CDR/USA IMPORT)
Out of the New York City suburb of East Meadow comes the band REAL FIRE, whom are playing a sort of 1980s influenced Melodic Metal style. Sadly only 2 songs are on the promo/demo CDR they sent me, but what we can hear is of a very high level. If only the production would have been better and so to speak, this band would go down in a major studio with a major producer, who knows we could be listening to the next sensation. Now it all sounds very much like an 'independent/demo' recording, as this is just a demo CDR, but nevertheless both "Hunter and the chase" and "Jukebox" are very impressive semi-Melodic Metal tunes that feature great vocals and excellent guitarwork. Let's hope the band will be able to record something like a professional full-length album in the near future, because the result might be very stunning! More info through email at: RealFireBand@yahoo.com
(Points: 8.0 out of 10)
DUST AND BONES 'ROCK AND ROLL SHOW' (PERRIS RECORDS/TSM SLW PROMOTIONS)
Now this is what you can call real rock and roll, uptempo guitar orientated old fashioned Hardrock with still catchy melodic choruses, kinda mixing DIRTY LOOKS, DIRTY BLONDE, TESLA and FIREHOUSE. DUST AND BONES' 2nd CD is called 'Rock and roll show', which has been released on PERRIS RECORDS. 12 cuts can be found and it is really a pleasure to listen to it, because what we get to hear is of a very high level. Highly recommended to all fans of good old 1980s American Melodic Hardrock in the style of FIREHOUSE, DAMN YANKEES, SLAUGHTER, etc. etc. with a dash of groovy Hardrock a la TESLA, TORA TORA here and there. More info at: www.dustandbonesroxx.com
(Points: 8.2 out of 10)
JEFF JONES 'VARIOUS ALBUMS' (XXX RECORDS/USA IMPORT)
Californian guitarist JEFF JONES has already a long history behind him, releasing quite a lot records with different bands and projects, although his main band was ST. ELMO'S FIRE. I actually bought a CD of this band more than 20 years ago and remember until this day I had a good time listening to the DOKKENish Melodic Hardrock of the band. Now in 2011, Jeff has his own label, on which he has released most of his back catalogue. He was kind enough to sent me 4 CDs, VAMP LE STAT and KEESTER being the more modern sounding Hardrock albums, but his solo-CD 'Rockhard 86-96' contains some great classic 80s material actually, which is not weird when you will note that most of the tunes on that CD are taken from the ST. ELMO'S FIRE albums. That band released 4 records, of which I am only familiar with 1, so a lot of songs are new to me. The music is very 1980s Melodic Hardrock/Metal orientated, not too far removed from bands like RIOT, THE RODS, FIFTH ANGEL and such. Especially the songs "Into the fire" and "Caught in the heartbreak" are really excellent tunes, resembling the classic 1980s US Melodic Metal sound. Therefore I am very interested in the 5 (!) CD releases of ST. ELMO'S FIRE that are also available on XXX RECORDS. Anyway, the other solo-CD of JEFF JONES is more in the Blues vein, so less interesting. To be continued hopefully soon with coverage on Jeff's 1980s band ST. ELMO'S FIRE, whom are even recording a new CD at the moment. More info at: www.xxxrecords.com
(Points: 8.0 out of 10)
GUARDIANS OF TIME 'A BEAUTIFUL ATROCITY' (MAYHEM MUSIC/METAL REVELATION)
The Norwegian band GUARDIANS OF TIME has been active for quite a while now, with their new album 'A beautiful atrocity' being their 3rd record. It might well be their strongest album so far, because overall it sounds very impressive. Only the production is not really massive as most other releases in the Melodic Power Metal field, because somehow it has a sort of underground/1980s Metal approach, which on the other hand also has it's charm. It took them however 7 years to release a new album, but that usually is a good sign, because usually the result is excellent and in this case it certainly is. Nevertheless, don't let the first couple of tracks fool ya, because here and there some strange death growling can be heard. However, that is the only minor negative comment one can make, because in general this is a high quality Melodic Power Metal album in the style of SEVENTH AVENUE, NOCTURNAL RITES and MYSTIC PROPHECY. Songs like "Altered in red", "Sleep eternal" and "Dreamworld messiah" are very sensational tunes that can easily compete with the mentioned bands and especially thanks to the fantastic vocals of singer BERNT FJELLESTAD are a pleasure to listen to. A few of the tunes even show the band's appreciation for bands like QUEENSRYCHE, FATES WARNING and CRIMSON GLORY, so a slight 1980s US Progmetal can be heard as well! Closing track "The man" somehow sounds like a complete different band, because this is a 1970s RAINBOW/WHITESNAKE Classic British Melodic Hardrock kinda tune, with ditto guitar riffs and amazing vocals a la COVERDALE/DIO. Maybe a future full-length of the band will see more of this style!?! Anyway, nice return of GUARDIANS OF TIME with a very diverse album, more info at: http://www.guardiansoftime.no
(Points: 8.4 out of 10)
PEGAZUS 'IN METAL WE TRUST' (BLACK LEATHER RECORDS/METAL REVELATION)
Although the Australian band PEGAZUS belongs to the new generation of Power Metal bands, they are already active for almost 17 years now, so it would be a bit awkward to call them a new band. They released 4 studio-albums between 1995 and 2002, all featuring high class Melodic Power Metal like HELLOWEEN, HAMMERFALL, MAIDEN, etc. etc. However, after 2002's 'The headless horseman' it became quiet around the band, although a live CD and DVD were released in the mid 2010s. The band left NUCLEAR BLAST RECORDS and signed with a small label called BLACK LEATHER RECORDS, whom are now releasing the band's 5th studio-CD titled 'In Metal we trust'. As if nothing has changed the past 10 years, the band continues playing classy traditional uptempo Melodic Power Metal, with your typical MAIDEN twin-guitar riffs and catchy melodic HELLOWEENish choruses and a touch of classic PRIEST as well ("Eye for an eye" and the PRIEST cover "Metal Gods"). Together with MANOWAR like lyrics and guest appearances by none-other than ROSS THE BOSS himself and also NIGHT RANGER guitarist JEFF WATSON, this is definitely a high quality release. Have to say that a song like "Old Skool Metal Dayz" is sadly putting the level down a bit, because this very simple MANOWAR/DREAM EVIL sounding midtempo shout-it-out tune has absolutely nothing to offer besides being a very weak tune and to include it twice on the CD is a little bit too much I'm afraid. Despite this mistake, this is a nice traditional Melodic Power Metal album to check out and of course a great comeback of the Aussies! More info at: www.pegazusofficial.com
(Points: 8.2 out of 10)
COMMON SWIFT 'THESE SAFE HOMES' (INDEPENDENT/TSM SLW PROMOTIONS)
COMMON SWIFT are a band from Madison, Wisconsin with a sound that reflect a sort of early 1970s Psychedelica Rock era approach with a bit of 1990s Altrock added as well. The result is a nice debut album titled 'These safe homes' that doesn't sound like anything being produced nowadays, but more like a mix between early/mid 1990s TEENAGE FANCLUB and late 1960s/early 1970s THE BYRDS. A song like "Shadow boxers" shows that this band can deliver some really sensational and above all, very original Rock with strong melodies. It helps that COMMON SWIFT has a great lead singer and are also able to include some nice arrangements with the use of the piano and guitar in each and every of the 13 included tracks of their first CD. Surprising album and definitely one you can listen to a few times in a row without being bored. More at: www.commonswiftband.com
(Points: 8.1 out of 10)
CHARGE OF THE LIGHT BRIGADE 'THE DEFIANT ONES' (INDEPENDENT/TSM SLW PROMOTIONS)
CHARGE OF THE LIGHT BRIGADE is a Canadian band with a typical modern day Rock and Roll sound that actually draws influences from the 1980s Alternative Rocksound of bands like THE PIXIES, PSYCHEDELIC FURS and also a little bit THE CULT. However, this sound is very popular nowadays and this first full-length CD of CHARGE OF THE LIGHT BRIGADE might therefore easily get a lot of attention. The production/sound is excellent and this could well be a major label release. They are also not too far away from British bands like ARCTIC MONKEYS, PANIC AT THE DANCE FLOOR, etc. etc. Anyone into Modern Rock with strong melodies will definitely like this band.
(Points: 8.0 out of 10)
EZ RIDERS 'LONG WAY FROM HOME' (INDEPENDENT/TSM SLW PROMOTIONS)
The Italian band EZ RIDERS returns with a new CD titled 'Long way from home', which musically is a Biker/Blues kinda Southern Rockalbum. Not bad at all and for fans of let's say ZZ TOP meets MOLLY HATCHET meets pure Blues a nice album to check out… More at: www.myspace.com/ezridersband
(Points: 7.5 out of 10)
MANUEL SEOANE 'BURNING KINGDOM' (DFX RECORDS/SANTO GRIAL RECORDS/SPAIN IMPORT)
Spanish guitarist MANUEL SEOANE does not only look like YNGWIE MALMSTEEN, he also sounds like him a lot when playing the guitar. Manuel comes out of Madrid and besides some great guitar playing, the included music on the 2 CDs he released so far is very nice pure 80s AOR/Melodic Hardrock. Actually he formed a band called BURNING KINGDOM around him, which also features several other musicians and a very good lead singer called DAGAROD. 'Livin' now was released back in 2009 and is basically offering pure 1980s AOR/Melodic Hardrock that sounds like a mixture between MELIDIAN, FIREHOUSE, ICON and the Norwegian band HUSH. Perhaps nothing new is brought here, it does sound very good and actually reminds a lot of the good old late 1980s US major label mainstream hardrockalbums. "Big bang" is for example prime-time uptempo fun catchy Melodic Rock in a Scandi 80s DALTON/DAVINCI meets DANGER DANGER's 1st record style, while the midtempo "Who do you love?" is reminding a lot of the already mentioned Norwegian band HUSH. "Rock on the radio" is sounding like a cross between MELIDIAN and FIREHOUSE and so on and so on. Manuel listened very well to his Melodic Rock collection and added a bunch of MALMSTEEN inspired guitar riffs, licks and tricks, while he was lucky enough to find a strong lead singer to sing his songs. "Good times" has some very impressive melodic guitarwork of Manuel, while the song itself is a catchy uptempo Melodic Rocker a la MARC FERRARI/COLD SWEAT. Manuel's new CD is titled 'Down to the road', which is a tad heavier and more groovier Hardrock orientated a la SWEDISH EROTICA during the first couple of songs, but also similarities to TREAT/THE POODLES can be heard during the best songs "Shot in the dark", "Something psychical" and "I've got a feeling". Big surprise is the RED DAWN cover "Liar", nicely done, but hard to beat the original from one of the most underrated 1990s Melodic Rock Classics of all times! Actually after the somewhat groovy start of the first 2 tracks on manuel's new album, most of the other tracks are catchy uptempo melodic rockers. Still the first album 'Livin' now' offered Manuel's finest work, but on the other hand the new CD has a much bigger sound/production, so both records are therefore recommended if you're into 1980s Melodic Hardrock. One way or the other, Manuel's guitarwork is on both records very impressive, so go check him and his music out at: www.manuelseoane.net
(Points: 8.3 out of 10)
BEAUTIFUL BEAST 'ADULT ORIENTED CANDY' (GTO ENTERTAINMENT/GERMAN IMPORT)
BEAUTIFUL BEAST is the new baby from guitarist/vocalist JULIAN ANGEL. The included music is pure 1980s orientated, mixing AOR, US Melodic Hardrock and Glamrock, more or less the same kinda direction Julian has done on previous recordings we reviewed. The debut CD of this new German band looks and sounds pretty good, definitely done at a very professional level. Although the lyrics are very cliché tingled and the music is not too far away from what THE POODLES is doing or should I mention here a KANE ROBERTS, a VAMP or BONFIRE?!?, it's the lead vocals of Julian which are no additional value I'm afraid. Julian is a great guitarplayer and he can write some nice catchy 80s Melodic Rockers like "Tokyo nights" and "Juvenile affair" (VAN HALEN), but vocally he actually is going for the DAVID LEE ROTH approach, with also some sort of typical 1980s German Teutonic Metal accent (read MAT SINNER!). It's not bad at all, but I do feel with a stronger lead singer the band would sound better. The whole picture is therefore not complete yet, but who knows a future release might see the much needed improvement in the vocal department. Once again, the music is pretty nice good old fashioned 80s Melodic Hardrock meets Glamrock, so fans of mentioned bands will absolutely like this record. More info at: www.beautifulbeastrock.com
(Points: 8.0 out of 10)
4FOUR TRIPS AHEAD 'THE MEMORIES' (505 RECORDS/USA IMPORT)
The NYC based band 4FOUR TRIPS AHEAD already released quite a few mini-CDs and a full-length record in the past, but this is the first time I experience their music with listening and likewise reviewing their new mini-CD 'The memories'. Musically speaking the band is playing a modern somewhat groovy Hardrock style with pretty strong melodies. There's a clear Classic Rock influence to be heard and also some light Post-Grunge influences as well. It's different than for example a NICKELBACK or ALTER BRIDGE and is actually sounding like a mix between ALICE IN CHAINS/SOUNDGARDEN, BLACK CROWES and a typical 1970s Classic Rockband. I do feel that the band can even do better, so who knows a future full-length CD might see an even better band, although for now 'The memories' shows a very interesting and professional sounding band. More info at: www.fourtripsahead.com
(Points: 8.1 out of 10)
JACK DUPON 'DEMON HARDI' (TRANSIT MUSIC GROUP/MUSEA)
The French band JACK DUPON was formed back in 2001 and 'Demon hardi' is their 3rd CD so far. They are playing instrumental progressive rock with here and there some vocals or spoken word, kinda like FRANK ZAPPA, but then going for a more KING CRIMSON kinda progsound. 7 lenghty tracks are included and sometimes it is quite experimental and perhaps therefore very interesting for the open-minded progfans out there. The drawings and artwork of their new CD are looking very attractive, for the music go check it out for yourself at: www.jackdupon.net
(Points: 8.0 out of 10)
NEIL DANIELS 'DON'T STOP BELIEVIN': THE UNTOLD STORY OF JOURNEY BOOK' (OMNIBUS PRESS/UK IMPORT)
Nobody on this very Planet Earth could have guessed 10 years ago that JOURNEY would become huge in Europe around the year 2011 and sell out major venues in for example the UK, Germany and The Netherlands. Of course a big thank-you must go out to the TV- and Movie Industry that gave JOURNEY a big push forward in the right direction, because in the 2000s the TV series of THE SOPRANOS was probably watched all over the world by millions of people and it was JOURNEY's "Don't stop believin'" that was played during the last few minutes of the final episode of THE SOPRANOS. One of the biggest Movies from that decade was 'Monster', with Charlize Theron as Oscar winning actress and the use of JOURNEY's "Don't stop believin'" once again being a major part of that movie. And of course there was a show called GLEE that was watched by millions of teenagers, all singing along to yes, you guessed that right, JOURNEY's "Don't stop believin'!!! Actually the list goes on and on and on and on (just like the particular JOURNEY song). There isn't a single band in the whole wide world to have such a bizarre timeline in their career, because so many things happened in JOURNEY's 38-year existence and just now in the year 2011 they have their big break in Europe. In the USA they have been major stars ever since 1981's 'Escape', but it took them all the way to the mid 2000s before Europe was JOURNEYlized. However, the absolute breakthrough in Europe happened when Philipino singer ARNEL PINEDA entered the band as the 3rd replacement for the ultimate JOURNEY singer STEVE PERRY. Both STEVE AUGERI and JEFF SCOTT SOTO failed to deliver the goods 100%, despite some great achievements as Perry replacements, but this little guy sang as if he was the Philipino nephew of STEVE PERRY and of course he had a real BEHIND THE MUSIC kinda story in his pocket (lived poor, put on a video on YOUTUBE and was discovered by NEAL SCHON). It would not surprise me if a Hollywood Movie is currently in the works, because here we have one fascinating story that is crying out to be picturized! Luckily we can now read the full story on JOURNEY from the very beginning until the recent resurrection in a new book written by author NEIL DANIELS. In 2000 a book like this probably would have never seen the light of day, but in 2011 it is released at the exact right moment, with the release of a new JOURNEY CD and the band preparing a full tour worldwide! The book itself is a must-have for any JOURNEY or AOR fan, but also for anyone into music biographies, because this band has had so many ups and downs, so many turns and twists, it is almost unbelievable in 2011 the band is now at it's peak outside the USA. The book is named after the song that by now is known to everyone across the world, but like already mentioned before, in 2000 only a few people really knew the song in Europe. I guess it's just a matter of Don't stop believin'! Anyway, the book tells the complete story from A to Z and I will not reveal here if there are any surprises to be read, because therefore you need to read the book yourself. Most important fact is of course that finally there is a book written about JOURNEY, because 'Don't stop believin'' is the first of it's kind and for that reason alone, this book needs to be in the hands of every living soul, no matter you like the band or not, because the whole story is something you just have to know before you die! Available through: www.neildaniels.com
(Points: 9.2 out of 10)
LAST KNOWN ADDICTION 'ONE LEFT STANDING' (PROMO CDR/TSM SLW PROMOTIONS)
Out of Northern Ireland comes the band LAST KNOWN ADDICTION, whom are playing traditional uptempo original Hardrock'n'Roll, not too far away from THE ANSWER, BUCKCHERRY, BLACK STONE CHERRY and such early 1990s Sleazy influenced Rock and Roll, so ballsy and mean, but also melodic and catchy enough to keep everyone interested. 13 songs are included on their debut CD 'One left standing', which sounds actually quite massive and could have easily been a major label release. The band's lead singer (STEPHEN CAIRNS) has a fantastic strong 'Rock Star' voice that reminds a bit of the EXTREME singer GARY CHERONE mixed with a little DANNY VAUGHN (TYKETTO), while the catchy choruses feature some great melodic harmonyvocals. The guitar riffs are heavy and groovy, but the tempo is most of the time uptempo and the songs are very melodic and actually quite a lot tunes can easily be qualified as Melodic Hardrock that even recalls a bit SHAKRA/VICTORY here and there. These guys deliver a very impressive debut here that put them right on the map for sure and among the 13 included tracks we can find a lot of highlights, such as "Beer Machine", "Back to life" and "Around the world". Definitely a band to check out a.s.a.p. at: www.lastknownaddiction.com
(Points: 8.7 out of 10)
FATAL FUSION 'LAND OF THE SUN' (INDEPENDENT/TSM SLW PROMOTIONS)
FATAL FUSION is a Norwegian band playing Progressive Rock, yet with some AOR and Blues influences as well. 'Land of the sun' is their debut album and it is quite a diverse record, sometimes going for a very nice 1970s bluesy AOR approach, although most of the time they go for a pure 1970s Progressive Rock direction. The closing 2 tracks of their CD are lengthy prog pieces, but for example songs like "Cry no more" and "Promises" are more in the BAD COMPANY/FREE style. Not bad at all and clearly different than most other active rockbands. More info at: www.myspace.com/fatalfusionmusic
(Points: 8.1 out of 10)
KEVIN LEE AND THE KINGS 'DUSK TILL DAWN' (SIGUS RECORDS/USA IMPORT/TSM SLW PROMOTIONS)
Way back in the early 1990s vocalist/guitarist KEVIN LEE released his debut album on major label MCA RECORDS. This was a very nice passionate AOR/Melodic Poprockalbum in the style of BRYAN ADAMS and CARL DIXON, but as the 1990s progressed he was of course doomed for the independent label industry due to the changing music climate in his home country of the USA. He happily managed to release a bunch of albums, of which we also reviewed quite a few and now in 2011 a new EP titled 'Dusk till dawn' is available. Never change a winning team, because this is once again a very strong catchy Melodic Poprock/Powerpop affair that recalls clear memories of classic 1980s BRYAN ADAMS, THE OUTFIELD, the WORKING CLASS DOG period of RICK SPRINGFIELD and countless early 80s Powerpopacts, especially during the excellent uptempo pieces "The other side" and "Slip away", while the ballads and "Time won't stand still" and "Next big thing" touch the AOR side of life. 6 songs are included and without a doubt, this is a highly recommended album and let's hope Kevin continues making this kind of stuff for eternity! More at: http://www.kevinleeonline.com/
(Points: 8.4 out of 10)
BY BLOOD ALONE 'THUNDERBIRDS' (INDEPENDENT/USA IMPORT/TSM SLW PROMOTIONS)
Actually I had never heard of the female fronted band BY BLOOD ALONE before, but 'Thunderbirds' is already their 3rd CD. They hail from Portland, Maine, USA and play some sort of underground Classic Melodic Metal style that sounds like a mix between CASTLE, GHOST, TRIOSPHERE, THE DEVIL'S BLOOD, BITCH/BETSY, LANA LANE and LEATHER. The CD has a high quality sound/production and musically speaking everything seems to sound perfect here, so we have a real winner here. CRUELLA is the name of the singer and she has a really nice warm voice that gives the music somehow a laid-back touch. The music is here and there a bit 'doomy', but the band is super melodic overall and among the 7 included tracks are some really great tunes. GHOST meets THE DEVIL'S BLOOD would be a perfect description, so be sure not to miss out this 'sensational' female fronted band from Maine, USA at: www.bybloodalone.com
(Points: 8.7 out of 10)
TO CAST A SHADOW 'IN MEMORY OF…' (KOLONY RECORDS/TSM SLW PROMOTIONS)
The Norwegian band TO CAST A SHADOW was formed a few years ago and released their debut 'All alone' back in 2008. Now 3 years later the follow-up is being released in the shape of 'In memory of…'. Musically speaking we are here dealing with a dark Gothic/Doom Metal sound that sounds like a mix between the old PARADISE LOST, MY DYING BRIDE and THEATRE OF TRAGEDY. Most of the songs are quite slow in tempo, but thanks to the strong lead vocals of singer GUNNHILD HUSER a very enjoyable listen. While looking at the artwork and listening to the music, this does sound a lot like a CENTURY MEDIA RECORDS release, but instead it is released on KOLONY RECORDS. Anyway, this is definitely a recommended CD, especially since it is of a very high level and quite different than the usual female fronted rock/metal albums. More at: http://www.tocastashadow.com/
(Points: 8.4 out of 10)
HEAVEN GREY 'FALLING MIST' (KLUV RECORDS/TSM SLW PROMOTIONS)
The Latvian band HEAVEN GREY has a long history behind them, because they were formed as a Death Metal band way back in 1993, releasing 2 albums in the 1990s, but splitting up for a number of years during the 2000s. In the meantime their vocalist and guitarist sadly died and it took until 2008 before some of the original members reformed and now a new CD is released. Musically we are going into slow Doom/Gothic Metal territory with male vocals and therefore reminding of TIAMAT, PARADISE LOST and such acts. Although not bad at all, I do feel that the vocals do not contribute anything to the band's overall sound and they are clearly the weakest point in HEAVEN GREY. Besides, the 9 songs are a bit too standard to make any impression, so I am afraid something has to change on a future record. Nevertheless, you can check out this band at: www.myspace.com/heavengrey
(Points: 7.2 out of 10)
BLACK EYED BETTY 'TAKE IT ALL' (INDEPENDENT/TSM SLW PROMOTIONS)
BLACK EYED BETTY is a band from Colombus, Ohio and they ply all-original classic punk/rock and roll with great vocals of female singer AMEE BELLWANZO. The 11 songs are catchy, punchy, uptempo and quite melodic, sounding like a cross between THE DONNAS, THE RUNAWAYS/JOAN JETT, BAMBIX and some of the early 80s quirky female fronted poprocksound of let's say LAURIE AND THE SIGHS, SHANDI and SUE SAAD AND THE NEXT. The sound/production of the band's debut CD is a bit raw and underground sounding, but on the other hand that contributes to the Garage/Punkrock feeling and especially fans of THE RIPLETS/ELLA BANDITA are gonna love this a lot. Check it out at: www.myspace.com/blackeyedbetty
(Points: 8.2 out of 10)
THE DUDES TERRIFIC 'TDT 2' (INDEPENDENT/TSM SLW PROMOTIONS)
Quite a weird bandname, but as soon as I put on the 2nd CD of the Nashville, USA based band THE DUDES TERRIFIC I heard something very impressive. Basically this is prime-time pure 1980s Classic American AOR-Rock that does remind me of a mix between STRANGER, 38 SPECIAL, AIRRACE, BONRUD and HEAD EAST, so we have here guitar-driven but super melodic catchy harmonyvocal chorus orientated material from start to finish, with however also some typical 'familyfriendly American REO SPEEDWAGONish Poprockgasm' added in the overall sound of the band. Music that can almost only be created in the USA and some 25-30 years ago it was actually quite normal all over the country to play such melodic powerpop/poprock. There are even some hints of early 80s RICK SPRINGFIELD and a lot of NELSON circa 'Life' to be heard, but songs like "Crushed", "Just tonight" and "Let's go" (a bit BRYAN ADAMSish) will even be loved by the AOR fans, as they are incredible catchy and hooky, really impossible to ignore. Besides, the band has a great clean sounding vocalist called DOUG FORSHEY, who contributes big time here and making THE DUDES TERRIFIC a highly recommended band to check out at: www.thedudesterrific.com
(Points: 8.3 out of 10)
RUSTY PACEMAKER 'BLACKNESS AND WHITE LIGHT' (SOLANUM RECORDS/TSM SLW PROMOTIONS)
Except for the drums, RUSTY PACEMAKER from Austria did everything on his own, from playing all the instruments (except drums, which were handled by FRANZ LOCHINGER of HEATHEN FORAY and also a few guest appearances here and there), the recording process, mixing, writing, etc.) and even formed his own label SOLANUM RECORDS, on which the first album is now released. He started writing music in 2003 and now 7 years later the first CD 'Blackness and white light' is released. Rusty's voice is a little dark and monotone and it would be wise to hire a real singer on a future CD, perhaps the guest female singer LADY K who sings pretty well and makes the song "Amok" the standout track, a sorta Progressive Gothic Metal piece. Musically speaking this CD is mixing all kinds of elements, 80s Gothic Rock (DEPECHE MODE), 00s Gothic Metal (HIM), Progressive Rock/Metal (PORCUPINE TREE) and some sorta Wave-Dark Rocksound (read THE EDITORS) can all be heard. Combined it sounds interesting, but a recommendation to Rusty is definitely that he should write more songs a la "Amok" which combines all these elements quite perfectly and more importantly it shares the lead vocal role with a great female singer. Dark Gothic Progressive Rock is the best way to describe this… more info at: www.rustypacemaker.com
(Points: 7.6 out of 10)
41POINT9 'STILL LOOKING FOR THE ANSWERS' (PROGROCK RECORDS/BERTUS)
If only ENCHANT lead singer TED LEONARD would have sung on this album, then it might have been one of 2011's finest releases!!! Still, it is a very sensational album, but somehow I do feel that if Ted had sung lead vocals on this first 41POINT9 record we would really have an absolute classic album! Ted is of course one of the finest lead singers around and mostly known for being the ENCHANT singer, but little did I knew that he had a predecessor in that band, because the first singer for ENCHANT was 41POINT9 bassist BRIAN CLINE. Although Ted is a slightly better singer, this Brian is also a very good singer and reminding actually a lot of Ted, but also a bit sounding like NEAL MORSE. All together he is a very good singer as well and this 41POINT9 could have actually been an ENCHANT record, as it's just as good as any ENCHANT record! Besides Brian on vocals, other members in this band are NICK D'VIRGILIO (SPOCK'S BEARD), DAVE WECKL, BOB MADSEN (also from ENCHANT) and KENNY STEEL. Combined this is sort of a semi-supergroup that sounds like the perfect mix between ENCHANT and SPOCK'S BEARD, so very much focusing on the vocal melody driven prog of these bands, with very few instrumental based arrangements and more of a real song-based approach. 'Still looking for the answers' is a fantastic album with many amazing tracks that will keep you in extase, such as "Living in hard times" and "Promise the moon". Any ENCHANT will flip over when hearing this record, although like already mentioned, if TED LEONARD had sung this record the rating would have even been higher, but with a 9.0 as ranking for a debut you don't have to feel ashamed at all I think! Website at: http://www.41point9.com
(Points: 9.0 out of 10)
ODIN'S COURT 'HUMAN LIFE IN MOTION' (PROGROCK RECORDS/BERTUS)
The US state of Maryland is not really known for it's legendary Rock and Metal bands, but with ODIN'S COURT we do have an exceptional case. This band has been active for about 10 years now, released 3 albums independently, but was picked up by the mighty PROGROCK RECORDS for the release of their 4th album 'Deathanity' back in 2008. Now in 2011 the band delivers their 5th album 'Human life in motion', which might well be their finest effort so far. This time no guest appearances, unlike their first PROGROCK release, which saw the likes of Tom Englund (EVERGREY) and Tony Kakko (SONATA ARCTICA). Anyway, musically speaking we have here high quality Progressive Rock/Progmetal with excellent instrumental parts and the included songs feature some very strong melodies. All together it sounds a bit like THRESHOLD and EVERGREY, yet the only thing is that I do feel that the lead vocals are not superstrong. The vocals of singer and guitarist MATT BROOKINS are not bad at all, but seem to sound a bit monotonous and staying in the lower octave range and never contributing to the band's sound. The use of massive backing vocals here and there are filling that gap happily, but to reach the level of THRESHOLD and EVERGREY you need to have additional impressive lead vocals and that can not be heard on this CD I am afraid. Nevertheless, it is a very nice listenable Melodic Progrock/Progmetal album that especially impresses during the melodic guitar solo's and the rather catchy choruses of the songs. Definitely a nice effort to check out if you're a fan of mentioned bands. More at: http://www.OdinsCourtBand.Com
(Points: 8.3 out of 10)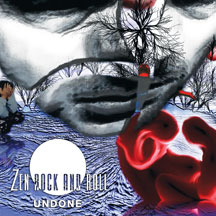 ZEN ROCK AND ROLL 'UNDONE' (PROGROCK RECORDS/BERTUS)
It must have been like 8 years ago or something before we last reviewed an album of the band ZEN ROCK AND ROLL, which is actually a one-man's journey, namely the brainchild of multi-instrumentalist JONATHAN SAUNDERS. He released 2 albums in the early 2000s, but it took him all the way to 2011 and a label deal with PROGROCK RECORDS to release a new record titled 'Undone'. The result is a very impressive Melodic Progressive/Pomprock affair that sounds like a mix between AVIARY, STARCASTLE, STYX and ZON, so very 1970s American Prog/Symphonic Pomprock inspired and happily Jonathan is not only a professional multi-instrumentalist, he is also a very pleasant and melodic lead vocalist. In fact, he gives the music a pure American Pomprock touch and with the addition of the keys/synths and massive harmonyvocals it is like we are listening to a re-issue of an old undiscovered late 1970s US Pomprock Classic in the tradition of ROADMASTER, AVIARY, STYX, TOUCH and such (listen to the pure STYXish Pomprock gem "Undone" and it's like we stepped in a time machine and set the course back to the year 1978 destination Midwestern USA!). Although less commercial and perhaps a little more proggy here and there (also please note that a couple songs are classical piano/vocal only, which is still sounding excellent by the way!), this 'Undone' record will definitely be loved by fans of mentioned bands, thanks to a bunch of intelligent AOR and Pomprock ish melodies in both the vocal and keyboard department. Quite a surprise this 'Pomprock' release and for me personally the motivation to search and relisten again to their earlier albums, which are stored somewhere… More at: www.zenrockandroll.com
(Points: 8.7 out of 10)
GREYLEVEL 'HYPOSTATIC UNION' (PROGROCK RECORDS/BERTUS)
5 years after their debut 'Opus one', the Canadian band GREYLEVEL returns with their 2nd album, which features by the way many Dutch names in the thank you list as well as some of the bandmembers and special guests seem to be of Dutch origin. Anyway, GREYLEVEL really hail from the wild west coast of Canada and deliver here a wonderful piece of Progressive Rockmusic that sounds a bit like ENCHANT and SPOCK'S BEARD, yet with some very atmospheric almost Celtic sounding guitar arrangements here and there and also massive choruses sometimes. Sometimes it even reminds me of CAAMORA mixed with MOSTLY AUTUMN, although all together this GREYLEVEL actually has an own identity that is in general speaking Melodic Progressive Rock, but when listening to songs like "Achromatize" and "Terminal" it is much more than that actually. One thing is clear and that is the fact that they have released a very strong album here, which you definitely need to check out at: www.greylevel.com
(Points: 8.4 out of 10)
OVERTURES 'REBIRTH' (SLEASZY RIDER/ITALY IMPORT)
Now here we have something quite pleasant for the ears. It might not be very original what we get to hear on the 2nd official full-length CD of the Italian band OVERTURES, it is done very well and the catchy Melodic Metal of the band can easily be mentioned alongside especially bands like EDGUY, DIONYSUS and DESTYNATION, although some comparisons to HELLOWEEN and SONATA ARCTICA can also be made. One thing's for sure here and that is the fact this is typical European Melodic Metal and like already mentioned, the band does a good job and offers some great material on their album 'Rebirth'. 10 tracks are included and most of them are uptempo, catchy and pure Melodic Metal in the style of mentioned bands. "Not too late" is the prime example of this sound, because this is as close as you can get if you're looking for a combination of EDGUY and HELLOWEEN, including a sing-a-long-let's-be-happy chorus. In the lower register the vocals of singer MICHELE GUAITOLI are a bit raspy sounding and not without a typical Italian accent, however in the higher octave he succeeds, although it would be safe to say he sounds just like good old TOBIAS SAMMETT of EDGUY/AVANTASIA. Fans of mentioned bands will absolutely love OVERTURES, then go to: http://www.overtures.it/
(Points: 8.3 out of 10)
CONTRALUZ 'NOVUS ORBIS' (INDEPENDENT/ARGENTINA IMPORT)
Progrock is all around the world a very popular genre and especially in South America, Spain and Italy the number of bands playing Progressive Rock was huge in the past and still is nowadays. All the way from Argentina, Buenos Aires to be exact, we welcome the band CONTRALUZ, whom were kind enough to sent me their new CD 'Novus orbis'. A little less prog and a little more AOR/Melodic Rock orientated is the musicstyle we get to hear on this band's latest effort. This makes them a very interesting band to check out, because the AOR melodies are very strong and are supported by some great instrumental and quite intelligent Progressive Rock song structures, with some surprising instrumental parts that even recall some Jazz/Fusion. They do sound a bit like an Argentinian mixture of TOTO, KAYAK and KANSAS and like many bands from the South American continent (excluding Brazil of course) the lyrics are in Spanish. No problem at all, because the included 9 lengthy tracks are a pleasure to listen to. AOR meets Prog meets some Argentinian traditional music, that is what you get hear and trust me, it sounds really good, so go check them out
(Points: 8.2 out of 10)
TANTRUM TO BLIND 'WALK OUT' (HEADLOCK/SIDESWIPE MUSIC/SWEDEN IMPORT)
Out of Sweden comes TANTRUM TO BLIND and despite the fact they are not really original, because their debut CD 'Walk out' is reminding a lot of PARAMORE, it all sounds very professional and most of the included 11 tracks are very catchy and radio-ready. The songs are most of the time uptempo, hooky and catchy, with very strong vocalwork of the female singer MELANIE MOHLKERT. Although this could be labeled as typical modern day American influenced Powerpoppunkrock, the music is as melodic and catchy as the early PAT BENATAR records and there's some great guitarwork to be heard as well, because the guitarsolo in "Tell me once" and ditto chorus are coming straight outta the Classic AOR/Melodic Rockbook! Other uptempo rockers like "Get get get", "Liar line" and especially "Why pretend" sound like if they have been worldwide major hitsingles and are so catchy, one can not ignore singing-along! The bandmembers probably aren't much older than 20 years, but after listening a couple of times to their first CD I can easily conclude that this band is one to check out asap, because their music is of a high level. They look and sound like the next big thing and it would actually not surprise me if they have their big break someday soon. PARAMORE fans will absolutely adore this band and anyone into catchy female fronted melodic but modern uptempo Powerpoprock should check out TANTRUM TO BLIND as well. More info at: www.tantrumtoblind.se
(Points: 8.5 out of 10)
ELECTRIC EARTH 'TOUCHING THE VOID' (TYSS MUSIC/SWEDEN IMPORT)
The Swedish band ELECTRIC EARTH already released 2 albums in the past, so their new album 'Touching the void' is their 3rd and I must admit that it sounds quite impressive. The music is typical modern day Rock and Roll, with clear influences from the 1970s groovy Hardrocksound of LED ZEPPELIN and BLACK SABBATH, yet with a slight typical Swedish melodic approach and also melodies that do remind of a mix between FOO FIGHTERS, KYUSS and SOUNDGARDEN. Especially "Free fall", "Need this time" and "Harvest time" are 3 great uptempo hardrocking tunes, with some very memorable choruses. The guitarwork is really fantastic and all together this new full-length CD of ELECTRIC EARTH has a real major label level, so make sure to check out at: www.electricearth1.com
(Points: 8.3 out of 10)
FRANKE AND THE KNOCKOUTS 'SWEETHEART – ANNIVERSARY EDITION' (FRIDAY MUSIC/USA IMPORT)
Not a single month goes by without me playing a song by the legendary and still rather obscure FRANKE AND THE KNOCKOUTS. Sure they had a few hits in the USA, but in Europe only the die-hard AOR fans are familiar with the 3 records of this New Brunswick, New Jersey based early 80s band. The band's lead singer FRANKE PREVITE scored however a major hitsingle as songwriter for DIRTY DANCING's "The time of my life", a song everybody knows and gave Franke himself even the Oscar almost 25 years ago! However, the 3 early 80s records by FRANKE AND THE KNOCKOUTS are hidden gems that should be ranked alongside any FOREIGNER, TOTO, JOURNEY or SURVIVOR record. Although I already own all 3 records on both vinyl and CD, it is always nice when a new dedicated record of the band is being released, especially when Franke myself remastered the original tracks just recently. This is the case with the new 'best of' CD of FRANKE AND THE KNOCKOUTS, which has been released on FRIDAY MUSIC.
Although not all their classics can be found here, because the ultimate FRANKE AND THE KNOCKOUTS tune "Keep on fighting" is sadly missing, from start to finish this is Classic early 80s AOR with a little Westcoast here and there. The band was well-known for their incredible catchy hooklines, memorable choruses and the outstanding picture-perfect vocals of Franke, while instrumental they were the typical pure early radio-ready AOR band from the US of A. This new best of CD contains a lot of ballads, but Franke could really rock too, such as can be heard in for example "Never had it better" (late 70s FOREIGNER meets early 80s SURVIVOR, including the dut-dut piano-keyboardwork a la TOTO's "Hold the line") and "Outrageous" (their most Melodic Rock orientated song), although they had a lot more rockers, which cannot be found here however.
Anyway, the new remastering update is excellent and makes the songs sound massive. Without any doubts, this kind of AOR is almost impossible to create nowadays, because the level is really from another planet when listening to such AOR Classics such as "Sweetheart" (a Westcoast-AOR Classic shuffle), "You´re My Girl" (uptempo AOR rocker with a very infectious chorus), "Without You (Not Another Lonely Night)" (damn, they could write AOR ballads as good as any JOURNEY or SURVIVOR ballad), "You Don't Want Me (Like I Want You)" (this song is AOR at it's very best, putting BON JOVI's "She don't know me" alike song to shame), "Come Rain Or Shine" (TOTO didn't sound this good in the early 1980s!) and the stunning AOR ballad "You´re All That Really Matters" (also recorded by TYCOON in a slightly different version). Now this is how AOR should sound like and although I keep on checking out all the new bands trying to create something similar, if you listen to this CD you will understand that all the Classics in the AOR genre were already recorded 30 years ago.
Like already mentioned, not all the classic FRANKE AND THE KNOCKOUTS tunes are included here, but you get a great selection from the band's first 3 albums, with as addition a couple unreleased bonustracks (Franke's version of his own penned Pop Classic "Hungry eyes" and a completely unknown song for me, namely "Beat Of A Broken Heart", which was originally written for Dirty Dancing 2, but never released until now).
It's always a pleasure to write something new about one of the pieces of the puzzle that shaped the wonderful history of AOR music and I am glad to have shared with each and every one of you my thoughts about that wonderful early 80s band called FRANKE AND THE KNOCKOUTS. There may never come a reunion, the legacy is once again released on CD, this time through an excellent compilation CD titled "The Best Of - Anniversary Edition". More info at: www.fridaymusic.com
(Points: 9.0 out of 10)
VULVAGUN 'COLD MOON OVER BABYLON' (METAL FARM/AUSTRALIA IMPORT)
VULVAGUN are an Australian band playing ballsy Melodic Power Metal in a classic 80s US meets traditional European style, sorta mixing PRIMAL FEAR/WOLF/DOMINE with classic HEIR APPARENT/LEATHERWOLF and add a little BALANCE OF POWER, LORD, DUNGEON and EMPIRES OF EDEN. Actually you can better call this TRUE METAL that you will not hear on your local radio, which of course is a damn shame, because this CD sounds really great, thanks to great vocalwork (high pitched), superstrong melodies, a massive guitar based Metal backup (with even some Thrash Metal riffs!) and a really great production. Songs like "The Black Pyramid", "Arise neophyte" and "The transit of Venus" are excellent Melodic (Power) Metal tunes that do not sound that far away from mentioned bands. Without a doubt, we have a winner here with this VULVAGUN, whom seem to have landed on our desk from out of nowhere, which always makes the best impression, because after all we are surprised by something this good that seems to be rather unknown! Go check them out asap at: www.vulvagun.com
(Points: 8.5 out of 10)
(All reviews by Gabor Kleinbloesem except where noted)