Home

Baby

Beauty

Books

Canadian

Education
Family/Household
Food

Garden
Health

Kids

Magazines

Pets

Product Testing

Surveys Earn

Sweepstakes

Wearables


Link To Us
Sothungal's Freebies Newsletter July 15, 2021


Free Sample of DELYS Anti Dark Spot Serum
Fill out the simple form to get a Free Sample of DELYS Anti Dark Spot Serum. Offer valid while supplies last. Limit one complimentary sample per customer.








Hamama Microgreen Kits - $15 Off Orders $40+
Harvest your own Microgreens with Hamama. Just add water once! Grow 10 types of microgreens like kale, broccoli, radish, and more! These superfood veggies have concentrated flavor and nutrients plus vibrant colors for a gourmet touch to all your meals. Use Coupon 15OFFNOW valid for $15 off orders $40 or more. You can purchase one-time or Auto-Delivery.








Free Gatorade Zero with Protein!
Mindfield, a very reputable market research company, has a new study: FREE Gatorade Zero with Protein + get paid $3 for your feedback. Just sign up for Free and make sure to confirm your email.








New Nestle Pure Life Coupon
Grab this new coupon and save $1.00 on any one multi pack of Nestle Pure Life water. If you can combine this with asale you'll save even more!








Coca-Cola Olympic Games Sweepstakes & Instant Win
Play for a chance to Instantly Win one of 100,000 prizes of a Coke for you at any Coke-pouring restaurant. Six Grand Prize winners will each receive a virtual meet and greet with an Olympic athlete; and 1 Coca-Cola branded prize pack consisting of 1 baseball cap; 1 cinch bag; 1 soft-sided cooler; 1 athlete autograph card; 1 zippered travel pouch; and 1 autographed swim cap. (Must be 13, US, Enter daily, Ends 8/9/21)








ClearVoice Now Recruiting - Free Amazon Gift Codes!
Join ClearVoice and earn Free Amazon Gift Codes simply for sharing your thoughts on new products and products you may already own. Get in now!








$500 Weekly Cash Giveaway!
Another Week - Another Giveaway!








Free Sample of Multi-Collagen
Social Nature is offering members the chance to try a Multi-Collagen for Free. Click the 'Apply to Try' button and if you're selected you will get a voucher for a FREE Sample of Multi-Collagen.








Free Sample Of Delta 8 Gummies
After you click the free sample link, fill out the short form.








Free Lancome Teint Idole Ultra Wear Concealer
Register or login to Bzzagent and apply now for the chance to get a Free Lancome Teint Idole Ultra Wear Concealer in exchange for your feedback.








Free One Year Subscription To Bon Appétit Magazine
Bon Appétit focuses on what's "now" in the world of food, drink, and entertaining, while still giving readers valuable cooking tools, tips, and most of all, recipes.








Free Box of Amazing Goodies! 
Right now you can get your hands on Daily Goodie box for free. This box contains a lot of free samples and full-sized products which you can try out for totally. Simply follow our link and sign up with your shipping details to get this amazing box of goodies delivered at your doorsteps.








Possible Free Cool Maker Salon Party Kit
Hosts selected for this party will receive a party pack with a combined value of $80+, containing the following items:
* 1 GO GLAM U-nique Nail Salon
* 1 Shimmer Me Body Art
* 1 Orbeez Soothing Spa
* Party Host Guide to help you plan and carry out the party!
They have 250 spots available.








Allure Beauty Box Sweepstakes
Register for Weekly Prizes and a chance to Win Allure Beauty Box Sweepstakes. Fill out the short entry form for your chance to win








Free Woven Wristband from Wristband Supply Co
Want to check out the quality of our custom fabric wristbands and decide if you'd like woven wristbands or printed fabric wristbands? Just drop your information below and we'll send you one of each of our custom event wristbands in the mail at absolutely no charge. We'll even cover the shipping and handling costs.








Free Bubbies Mochi Ice Cream at Whole Foods
Print a coupon for a Free Bubbies Mochi Ice Cream valid at Whole Foods only. Expires August 31.








SweepsPal $50k Weekly Sweepstakes
Sign up with SweepsPal today to enter the $50k weekly sweepstakes!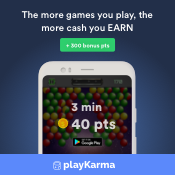 PlayKarma (Android) Earn Cash Playing Games
Got an android smartphone? Install PlayKarma today, a reward app that lets you earn rewards by playing with games. The more games you play, the more cash you earn!






Disclaimer..All of the Free Stuff listed is free to the best of my knowledge.
I list the information only and have no interest in any of the companies listed.
All links were valid and working at the time they were posted. Offers can end or be
removed without notice.



Your Privacy is Important to us. Your information will never be sold or shared for any reason.

Privacy Policy



Copyright 1997-2021 Sothungal's Freebies. All Rights Reserved.




www.sothungalsfreebies.com