Home

Baby

Beauty

Books

Canadian

Education
Family/Household
Food

Garden
Health

Kids

Magazines

Pets

Product Testing

Recipes
Surveys Earn

Sweepstakes

Tips
Wearables


Link To Us
Sothungal's Freebies Newsletter December 2, 2020


Free L'Oreal 24 Hour Infallible Fresh Wear Foundation Sample
Grab a L'Oreal 24 Hour Infallible Fresh Wear Foundation Sample. Up to 24HR Fresh Wear Foundation provides medium-to-full buildable coverage that lasts all day and allows the skin to breathe.








Free Cleansing Mist or Hydrating Mist
Right now you can get a Free Cleansing Mist or Hydrating Mist from Juicy Beauty with Free Shipping when you join their free rewards program and complete a few quick tasks like joining their mailing list, following them of facebook, twitter and Instagram. Log in, click "Manage rewards", "Earn Points" complete the quick tasks to earn 250 points. Then click "Get Rewards" to redeem for the free travel size item








Free Pair of Earrings!
Get a Free Pair of Lab Created Diamond Earrings! Hypo-allergenic, contain no nickel with a .925 sterling silver base. Each pair arrives in a beautiful gift box as well. They only ask that you cover the small s/h fee. They accept PayPal.








Free Jack Link's Sticker
Use the drop down menu on their contact page to request a Free Jack Link's Sticker.








Product Testers Needed - Up to $50 per Test Paid!
Product testers are needed! You will earn up to $50 per product you test. Some recent product tests include: Eureka Copper Canyon 5 Tent, Arm & Hammer Spinbrush Sonic ProClean, Nike LunarGlide+ 4 Sneakers, Aveeno Positively Ageless Daily Exfoliating Cleanser & more. Get in now while spots are open!








Free CeraVe Moisturizing Cream
Order a Free CeraVe Moisturizing Cream sample while supplies last!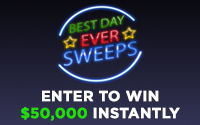 Best Day Ever Sweeps
Participate in the Best Day Ever Sweepstakes and get a chance to win $50,000 instantly in our drawing, weekly WINNER is guaranteed!!








Free Bear Plush Pillow!
Order a Free Bear Plush Pillow! Features a hook-and-loop closure that transforms it from a pillow into a bear! Just click on the Request a Sample button to order yours.








Free Conquest Graphics Paper Sample Book
Choosing the right paper for your next project can be a challenge, especially when you don't know exactly what you're ordering. That's why we suggest all of our customers get our FREE Paper Sample Book.








New All Laundry Detergent Coupon
Grab this new coupon and save $1.50 on one All Blue Laundry detergent.








Free Arbor Fruit Bar at Walmart!
Walmart shoppers can grab a free Arbor Fruit Bar with Freeosk!








Free Organica Naturals Full Spectrum CBD Capsules Sample!
Organica Naturals™ Full Spectrum CBD SoftGel Capsules make it easier than ever to add CBD to your wellness plan!








Warby Parker
Pick 5 frames - Warby Parker will mail them to you for free. Spend 5 full days with'em - Then send them back with our free shipping label








Free Puffs Ultra Soft and Strong Facial Tissue
Join Puffs Insiders to unlock exclusive rewards and participate in activities. Take a survey, answer "Soft & Strong or Plus Lotion", then click (Claim now). Complete the request form, to get a free pack of Soft Pack tissues








Free Birthday Gift from ULTA
To get this Free Birthday Gift from ULTA, click the link below to visit the site. Then, set up your ULTA-mate Rewards account and provide them with your email address. Ulta Beauty will wish you a very special Happy Birthday.








Free Box from PINCHme
Join PINCHme and receive free samples that you can provide feedback on. Answer a series of questions about your household and shopping habits in the Member Profile. We'll learn what you like and offer samples just for you.








Free Argan Hand Wash
We are lauching a new hand wash and want you to try it before you buy it. Get a free sample delivered to you by filling out the form








Free Game Box Sample from Schar
If mixing great taste and Gluten Free sounds like music to your ears, you've come to the right place. Just sign up below and agree to receive further communication and we'll send you a Schär's Greatest Hits Collection—a free sample box filled with Bagels, Honeygrams, Table Crackers, and even a playlist to keep the good vibes going. For NEW Schär email subscribers only. This promotion ends December 31st, 2020 (or while supplies last).








Survey Roundtable
Sharing your opinions can earn you real rewards you can use anywhere! Our rewards program grows every day, all depending on what our members most want to earn.To make the most of your opinions, you'll first take a Personality Survey. It's how we target our surveys to your needs and interests. Here's what our virtual debit cards ($10 and up) currently have up for grabs: Amazon.com, Banana Republic, Barnes and Noble, GAP Brands, Regal Theaters and more. Get in today!






Disclaimer..All of the Free Stuff listed is free to the best of my knowledge.
I list the information only and have no interest in any of the companies listed.
All links were valid and working at the time they were posted. Offers can end or be
removed without notice.



Your Privacy is Important to us. Your information will never be sold or shared for any reason.

Privacy Policy



Copyright 1997-2020 Sothungal's Freebies. All Rights Reserved.




www.sothungalsfreebies.com