Home

Baby

Beauty

Books

Canadian

Education
Family/Household
Food

Garden
Health

Kids

Magazines

Pets

Product Testing

Recipes
Surveys Earn

Sweepstakes

Tips
Wearables


Link To Us
Sothungal's Freebies Newsletter December 10, 2019


Free Beauty Stat Skin Refiner
You can get a chance to win various products from Beauty Stat including their Skin Refiner as they have lots of to giveaway. Simply register yourself to their review program, supply them with your shipping details and complete a short a survey in order to receive various products for free.






Free Memory Foam Slippers
Head over to LifePoints where they are giving away free Memory Foam Slippers. Simply follow our link, take a quick survey and then fill up the form with your details to get yours.






Call The Christmas Story Hotline
Start a family tradition by bringing loved ones together around the fire, listening to beautiful Christmas stories that will warm your heart FreeConference.com's Christmas Story Hotline is free to call.

US: 712-832-8555
Canada: 867-292-5957






Free Hanes Hoodie!
Get a Free Hanes Hoodie! Available in Deep Red, Black, Cardinal, Maroon, Purple, Navy, Denim, Deep Forest, Gray, and other colors. Sizes S-3XL. Just click on the Request a Sample button to order yours.







Scratch Ticket
Scratch off the ticket to see if you won $25!






Test Carhartt Clothing Products
Join the Carhartt Crew for the chance to test and review Carhartt clothing for the active worker!






Win A $1,500 from SHEfinds
Don't miss your chance to win $1,500 in gift cards so you can treat yourself this holiday season! Ends 12/20/2019






Test Products AND Earn Gift Cards From Point Club!
Earn points. Save Money. Have fun. PointClub members earn gift cards and great prizes for taking polls, playing games, watching videos, searching the web, and taking advantage of great offers. Plus, they'll give you $5 via PayPal just for signing up, and you get bonus points for logging in each day, which is easy enough.






iCare Panel - Now Recruiting!
Are you helping care for a loved one? Join iCare Panel - help shape future resources, products, and services to help you care for your loved ones. You will be rewarded for your time with gift cards from Amazon, Starbucks, iTunes, Tango & more! Must be 35-64 years of age and provide unpaid care for family members 50+ years old.






Free Vidacup Coffee Product Sample!
Complete the form to receive a free sample of Vidacup coffee. Please specify which Vidacup product you would like to sample. Limit 2 per household.






Free TruSkin Vitamin C Serum.
Want to smooth and brighten, fade dark spots, and boost collagen production? Fill out the form to get your free TruSkin Vitamin C Serum.






Free Beauty Products Sent to You to Try Out!
Get free beauty products sent to you to try out and get paid $3.00 for each one you review. You'll get to try and keep brand new products before they hit the shelves! Get in now!






Free Schär Game Night Box
Get a Free Schär Game Night Box. Tell them how your gluten free journey has been impacted by the support of your friends and family to receive a Schär Game Night Box.






Free 11x14" Custom Canvas (Reg. $69.99)
For a limited time get a Free 11x14" Custom Canvas or get 65% any other size canvas. It's easy, just upload your photo, choose a size and check out. Makes a great gift!






Claim Your $10 Walmart Gift Card!
If you shop online, sign up with Ebates Rakuten and get cash back on all of your purchases! There are no points to redeem, no forms to mail in and no fees. Sign up for Free today and claim a $10 Walmart Gift Card! Plus invite your friends & earn Unlimited $25 Bonuses!






Free Deep Cleansing Mask
Deep cleansing peel-off mask removes dulling surface cells, toxins, and impurities while vitamins and plant extracts soften the skin to restore a youthful glow.






Free Sample Of LA Fresh Wipes
Grab a Free Sample Of LA Fresh Wipes.






Free Subscription to Real Simple Magazine!
Take an easy 1 page survey, earn $30 credit that you can use for a Free Subscription to Real Simple Magazine! They also have other magazines to choose from. There is No credit card required and nothing to cancel.






Free Le Grand Verre Wine!
Sign up for free and invite your friends to score Free Le Grand Verre Wine & Gift Cards! Click on 'Join the Ambassador Contest' & sign up.






Sweepstakes A Month - Walmart $1000
Enter for a chance to win a $1,000 Walmart Shopping Spree!






Free National Suicide Prevention Magnet
Order a Free National Suicide Prevention Magnet. Just add it to your cart and checkout. You can order up to 10 of them.






Free Sample Of LUMIFY Redness Reliever Eye Drops
LUMIFY eye drops are uniquely formulated† to significantly reduce redness. And with just one drop, your eyes can look whiter and brighter for up to 8 hours!






Free Erie Arts & Culture 2020 Positive Impact Calendar
Complete the form below to receive your complimentary Erie Arts & Culture 2020 Impact Calendar.






Free Babo-Botanicals Lip Luminizer
We have a very special testing opportunity for you from our friends at Babo Botanicals. We are looking for dozens of testers to test-drive the Babo Botanicals Nutri-Shine Hydrating Lip Luminizer.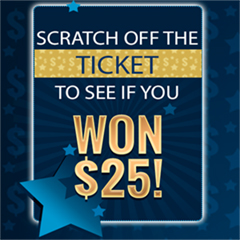 Disclaimer..All of the Free Stuff listed is free to the best of my knowledge.
I list the information only and have no interest in any of the companies listed.
All links were valid and working at the time they were posted. Offers can end or be
removed without notice.



Your Privacy is Important to us. Your information will never be sold or shared for any reason.

Privacy Policy



Copyright 1997-2019 Sothungal's Freebies. All Rights Reserved.




www.sothungalsfreebies.com