Home

Baby

Beauty

Books

Canadian

Education
Family/Household
Food

Garden
Health

Kids

Magazines

Pets

Product Testing

Recipes
Surveys Earn

Sweepstakes

Tips
Wearables


Link To Us
Sothungal's Freebies Newsletter October 3, 2020


Free Customized SUNNYD Bottle
The #SUNNYDouble week continues! This week they're giving fans the chance to score a Free Customized SUNNYD Bottle. Respond to their Facebook post saying that you want one with #SUNNYDouble and they'll send one out to you.








Silk - Free Product Coupon, Recipes, Life hacks and More!
Become a Silk member and start down your path to better! You'll receive a Free product coupon plus special offers, recipes, life hacks and more. Sign up now!








Free Subscription to Bon Appetit Magazine
Take an easy 1 page survey, earn $30 credit that you can use for a Free Subscription to Bon Appetit Magazine! They also have other magazines to choose from. There is No credit card required and nothing to cancel.








Hanes
Up to 50% off Sweats, Tees & Polos for the Family.








Samples Up (100 Daily)
Register with SamplesUp and get free samples from your favorite brands.








Free Hershey Halloween Candy
Register or login to Bzzagent and apply now for the chance to get Free Hershey Halloween Candy!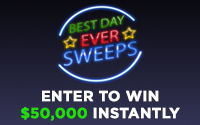 Best Day Ever Sweeps
Participate in the Best Day Ever Sweepstakes and get a chance to win $50,000 instantly in our drawing, weekly WINNER is guaranteed!!








Free Birthday Gift from Edible Arrangements
Sign up for Edible Arrangements Rewards Program and get a Free 12-ct chocolate Dipped Fruit box during your birthday month. They also surprise members with Free products, exclusive discounts & much more!








Home Tester Club – Possible Free UV Smartphone Sanitizer
Take a pre-qualifying survey. if selected, you'll receive free products in exchange for a review.








Free Boulder Organic Soup
Social Nature is offering members the chance to try Boulder Organic Soup for Free. Click the 'Apply to Try' button and if you're selected you will get a voucher for a FREE container of Boulder Organic Soup.








Free Cottonelle Wipes & Whisps Cheddar Cheese Crisps Samples at Walmart
Use the locator on that page to see if your Walmart is participating. If they are, visit the Freeosk Sample Booth at your store to get a Free Cottonelle Flushable Wipes and Whisps Cheddar Cheese Crisps Samples.








Rocksbox 50% OFF
Rocksbox members rent fashion designer jewelry - three pieces at a time, custom selected by a stylist. Use code market50 to receive 50% OFF first month.








National Resource Connect
Free Financial Assistance And Resources. Learn How to Improve Your Finances and Find Valuable Insights In Our Free Guide








Free Custom Woodford Reserve Bourbon Labels
Craft your own personalized label for your bottle of Distiller's Select and they'll ship it to you in the mail.






Free 24K PURE Gold Moisturizing Hydra Eye Cream Sample
Rejuvenate and nourish your delicate eye area with this amazing 24k PURE Gold moisturizing hydra eye cream.








Free Bold Lip Color or Eyebrow Paint from BeautyStat
We have an exclusive opportunity for you to try makeup products from the brand, Reina Rebelde.
We have 2 products for you to try:
- The Bold Lip Color in Brava
- The Eyebrow Paint in Frida
We only have a limited supply, so please fill out the form carefully. And please FOLLOW and LIKE, COMMENT on Reina Rebelde's Instagram page






Disclaimer..All of the Free Stuff listed is free to the best of my knowledge.
I list the information only and have no interest in any of the companies listed.
All links were valid and working at the time they were posted. Offers can end or be
removed without notice.



Your Privacy is Important to us. Your information will never be sold or shared for any reason.

Privacy Policy



Copyright 1997-2020 Sothungal's Freebies. All Rights Reserved.




www.sothungalsfreebies.com