Happy Dancin's
Awards Received

Song Playing:
~Among My Souvenirs~
Please visit these web sites below,
you will be glad you did!
Thank you for visiting Happy
Dancin's Place.
Received 10/3/00
Thank you gypsyrose!

Thank you, Debra!

Received~11/20/00
Check out this one!
As Barefoot_Lass would say,
it's "Chock full of Fun & Helpful Hints!"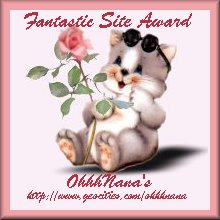 Received on 12/6/00
Thank you Peg!

Received 12/00
Thank you Claudette! Received 7/16/01
Thank You, Herb!

Received Feb/28/02
Thank you, Jan and Doug
for this beautiful award!
This award was given to,
"Then Came The Light"
Taken from my personal
journal. You can visit
that site by clicking
on the link below.
Then Came The Light
To view a listing of each web site
by SJ, click on, My Reading Room