John 3:16
For God so loved the world, that
He gave His only begotten Son,
that whoever believes in Him
should not parish, but have
eternal life."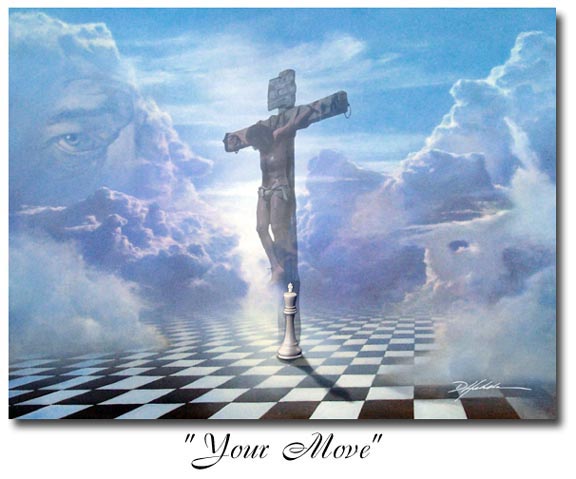 After Jesus was arrested, He was brought before Pilate. But after speaking with Jesus, Pilate said to the high priests and the people, "Behold, I am bringing Jesus out to you, that you may know that I find no guilt in Him." Pilate then took water and washed his hands, showing the multitude, saying, "I am innocent of this Man's blood; see to that yourselves!"
Jesus was released into the hands of the Roman battalion, who weaved a crown of thorns and placed it on the head of Jesus so hard, that the thorns tore through His flesh! A reed was placed in His hand; then they knelt down and mocked Him, saying, "Hail, King of the Jews!" A whip lashed against His bare back, He beaten in the face, He was spit upon, rejected and humiliated!
Isaiah 54:5-7
He was wounded for our transgressions, He was bruised for our iniquities: the chastisement of our peace (was) upon him; and with his stripes we are healed.
   All we like sheep have gone astray; we have turned every one to his own way; and the LORD hath laid on him the iniquity of us all.
   He was oppressed, and he was afflicted, yet he opened not his mouth: he is brought as a lamb to the slaughter, and as a sheep before her shearers is dumb, so he openeth not his mouth.
Upon reaching the hill of Golgotha, they placed Jesus on the cross, nailing His feet and wrists, and crucified Him between two criminals.
Did Jesus, curse those who had rejected Him? No!
Did He beg for His life? No!
Did He blame anyone for what He was going through? No!
Did He accuse those who had nailed Him to the cross?
No, He asked His Father to forgive them! Saying,
"Father, forgive them, they do not know what they do."
Jesus, God's only begotten Son, took upon Himself, the sin of man. The pain and suffering, was not for what He had done, it was for our sin, Yours, and Mine!
The earth shook, the skies darkened, and lighting shot across the sky, thunder rumbled, and Jesus said,
It is finished!"
On Good Friday, Christians around the world, will remember the crucifixion of our Lord, Jesus. No man, living or dead, took Jesus' life, He gave His life, willing! He became the perfect sacrifice, acceptable before God without guilt, or blemish! Are you walking a path you know, isn't where our Lord called you to walk? Repent, and come back to Him. He loves you! God gave His Best, for you, and His door is open to those who have gone astray and waits for you to return to Him.
It's your move
If you have never given your
life to Jesus, why not do
that now?
1. Admit you are a sinner and need forgiveness.
2. Believe that Jesus Christ died for you on the Cross and rose from the grave.
3. Through prayer, confess that Jesus Christ is the only way to God and commit to live for Him for the rest of your life.
Dear Lord Jesus, I know that I am a sinner and need your forgiveness. I believe that You died on the cross for my sins and rose from the grave to give me life. I know You are the only way to God so now I want to quit disobeying You and start living for You. Please forgive me, change my life and show me how to know You. In Jesus' name. Amen.
How can know you are forgiven?
The Bible, God's Word says:
You were saved by faith in God, who treats us much better that we deserve. This is God's gift to you, and you have done nothing on your own (Ephesians 2:8).
For those who put their faith in Jesus: He gave them the right to be the children of God... God Himself was the one who made them His children (John 1:12-13).
What Do you Do Now?
As you draw close to the Lord, He will teach you His ways and give you His strength. There are some practical steps you can take to come closer to God and to allow Him to guide you.
It is important to spend time in prayer every day. Just as you can not grow without eating food each day, so your spirit must be fed in order for growth to occur in our walk with the Lord. And the good news is, that as children of God we have access to His presence any time we need it. You actually have the right to come before God and to share with Him your intimate thoughts, desires and fears.
What is prayer?
It is simply talking to your heavenly Father. He wants an open relationship with you, one on one.
Inspired Art of Danny Hahlbohm

Scriptures from the online:
Blue Letter Bible
Song playing, The Old Rugged Cross
Thank you for visiting Happy Dancin's!
I would enjoy hearing from you.
All e-mail will be answered.