New home page at
Please check us out
OUTLAW KENNEL

JACK RUSSELL
TERRIERS
Hastings, Nebraska

Newest Puppies Born 5/13/01
Stories about Jack Russell Terriers from Owners
Outlaw Kennel is a very small kennel with only one or two litters a year. We are located in south central Nebraska near Hastings. We strive to breed conformation correct Jack Russell Terriers with good personality, excellent temperament and great instincts that can be used for anything from hunting to laying around on your lap watching tv. All of our Puppies are raised in our home with lots of attention from us and our children. If you have ever had the opportunity to own a Jack Russell Terrier, then you know what we mean when we call ours OUTLAWS. If you haven't experienced it you should. These little guys are as fun and interesting as raising your own child. Even though a Jack Russell can steal your heart in a moment, not every home is suitable for one. Want to know why?
Please check out our pages on Jack Russell Terriers. We hope you find them very informative and interesting.
Outlaw Kennel
Billy The Kid (Spanky) & Oak Creek Annie Oakley (Peanut)
Both parents are registered with JRTCA (Jack Russell Terrier Club of America). Billy The Kid ( Spanky as we call him) is 15", broken coat, tan and white. Annie Oakley (Peanut) is 11", broken coat, tri color. Their personalities are about as different as their heights. Spanky being more on the go type of Jack Russell always finding trouble to get into. Read about our trials and tribulations with him as a pup in Life with a Jack Russell. Life with a Jack Russell. Peanut is more laid back and pet me PLEASE always nudging your hand to get petted. For as laid back as she is she still has much of the personality that makes them so special. We get very nice pups from them with and quite the variety. We have had colors from all white to 50% black or tri color. With personalities and hair coats from one end to the other.
Please help our son !!!
We have 3 pups left from this litter to find homes for If we don't our son could be eaten alive !!!!
WE ARE HAPPY TO ANNOUNCE THE ARRIVAL OF A NEW LITTER OF PUPS ON MAY 13TH, 2001. CLICK HERE TO SEE THIS LITTER. IF YOU WOULD BE INTERESTED IN ANY OF THESE PUPS PLEASE EMAIL US. PLEASE ENJOY OUR PICTURES AND WEB PAGES ON OUTLAW KENNEL JACK RUSSELL TERRIERS.
FOR A LOOK AT SOME OF OUTLAW KENNEL PUPS SEE THESE PAGES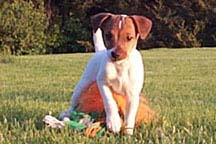 litter born 3/15/00
A Jack Russell Terrier is not a dog for every household. Please research this breed very carefully before you buy a Jack Russell. Outlaw Kennel has a couple of information pages for you to acquaint yourself with this very special and unique breed. A Jack Russell is a very outgoing dog bred first and foremost to hunt. Please check out the following pages for information on Jack Russell Terriers.
Outlaw Kennel's Jack Russell Facts Page
FACTS THAT YOU SHOULD KNOW BEFORE YOU BUY A JACK RUSSELL
Stories about Jack Russell Terriers from Owners
If you liked our page on Life With A Jack Russell, you will like this page also
JACK RUSSELL TERRIER CLUB OF AMERICA
best source of information on jack russells on the web !!!
DIRT-DOG.COM
For information on hunting and go to ground check out this site. Some very good stories too.
For any information on OUTLAW KENNEL puppies or question on Jack Russells please contact us by clicking the link below
Please sign our guestbook and let us know what you think of our web site!!!!

Sign My Guestbook
View My Guestbook
If you liked Outlaw Kennel's web site send it to a friend by clicking on the Pass It On button below
<! -- End Jack Russell Ring Fragment -->