Cultivating Tobacco with two 130 Farmall's in 2003
---
International Harvester tractors seem to take up all of our spare time restoring and getting our equipment ready for the growing season. We started restoring old Farmall's about eight years ago starting with my grandfather's 1942 H. Ever since then we try to finish one a year. We got behind about four years ago when a tornado took out all of my Dads farm buildings, bins and home. Several tractors already restored were badly damaged. They have since been restored again. No fun the second time.
We still farm with some old Farmall's including a M,SH,450,SC and a SMD. They work real good spreading fertilize, pulling wagons, raking hay and hooking to grain augers. The larger tractors include a 686, 1256,1566,1486 and a 5488AWD. Some tractors retired to be restored or already restored are a 1939 H, 1948 Cub, 1954 Super H, 1957 450D, 1957 230,Super C, 1957 350D High Crop, 1953 SM, 1942 H, 1957 350D, 1954 SMTA(D), and a 1954 SMTA(G).
When restoring the tractors we completely take them apart down to the bare rear end and motor. Each piece on the tractor is sandblasted apart, sanded (if anything is pitted it is ground out or built up.) Any part that is worn is built up and turned down to fit properly. We try to get the tractor original using parts books to get everything right. Some of the options are hard to find but we usually find what we need if we look hard enough. Original mufflers are the hardest thing to find but all the tractors restored have one.
Once the parts are sandblasted and primed, each part is painted then put together later. All the seals on the tractor are replaced along with going thru the motor and torques. My dad does the painting on the tractors. When painting the body he does it in several sections masking it off to keep overspray down. We use IH2150 paint with a wet look hardener mixed in. The sheet metal takes the longest time. It is sandblasted, then sprayed with a rust block. Then any dents are hammered out and body filler applied where needed. About all metal has some pits so he uses a thick filler primer sanding between coats. Sometimes it takes many coats. After many hours a matched base coat is applied then automotive clear coat goes on top. It is a slow time consuming process. New tires and decals go on at the end. Good decals are hard to find that look original. We don't keep track of the hours spent on each tractor but figure its about 500-600+ mostly in the winter months between crops.
I have a few pictures on one of our projects(450D) from start to finish. Thanks, for visiting.
---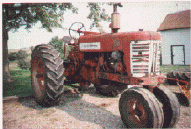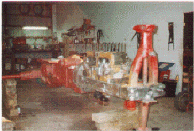 The tractor was pretty solid when we started working on it. The torque was out but it ran ok. We fixed the torque and overhauled the motor while it was down. Some of the equipment was not original, but there are some guys out there who can get you about any parts you need to get them right. Good original or NOS parts will set you back a little, but its a good hobby. I tell my wife its an investment but she says you will never sell anything and she is probably right.
---
1957 450 Diesel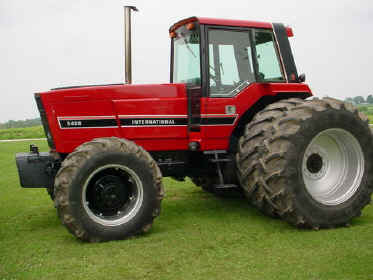 This is the 5488 we use to pull the 30' grain drill and we also use it to pull the V ripper.