Hello we live in the small town of Magnolia, Ky. which is about 60 miles South of Louisville. My name is Shannon Bowen and along with my wife Bethany we have three kids (Keiren Keeahna and Kellen). We both teach school and I help on my Dad and Brother's farm in which we raise about 1700 acres of corn, soybeans, tobacco and beef cows. My 97 year old Grandfather still feeds and works with the cows daily.
The area we live in is good rolling farmland between the mountains of eastern Ky. and the flat farmland of western Ky. The biggest attraction around here is Abraham Lincoln's Birthplace located in our county.
Our kids are 9 and 6 and under 1 year old.
---
Keeahna and Keiren won 1st place in the Larue County Fair's Tobacco Contest
---
Here is a pic our our 1970 Chevelle. It was an original car with only 65,000 miles on it, then it was beaten up all over in the Tornado we had in 1997. The only metal not hurt bad was the trunk and the hood. All the other had to be replaced. The windows were blown out and the inside was caked with mud. It even went up under the dash and behind the back seats. It looks alot better now though. Here it is at a local car show this fall.
---
Here I am teddering the wheat this spring. It makes it dry out alot quicker.. We round bale the spring wheat.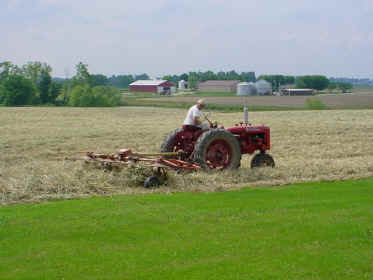 This is my 97 year old pappa getting the tobacco plants ready to go on the setter this year. He still gets around pretty good.