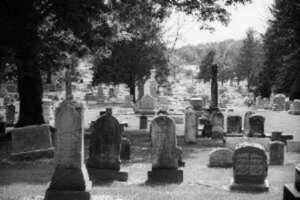 Ghosts of History Live in Rosehill Cemetery
By Karen Kruse
All Text and Photographs on this web page Copyright © 2000
Karen L. Kruse. All rights reserved
What do you think of when I say Halloween? Witches? Ghosts? Things that go bump in the night? What about cemeteries? Of course you do, but cemeteries aren't just for the deceased. They can be unexpected sources of interesting afternoons spent learning about history and art.
My favorite cemetery to visit is Chicago's Rosehill Cemetery and Mausoleum at 5800 N. Ravenswood Av. Set on 350 acres of land it's the largest cemetery in Chicago and one of its oldest.
Walking through the front gate, one gets the feeling of history. The entrance looks a lot like Chicago's beloved Water Tower made of the same Joliet limestone, complete with the castlelike appearance. It should, the same architect, William Boyington designed both, with Rosehill's facade being built five years before her famous cousin, and given Chicago landmark status in her own right in 1980.

Rosehill's entrance looks a lot like her famous Chicago cousin, the Water Tower, but built five years earlier in 1864, in an architectural style referred to as "castellated Gothic".

W. W. Boyington (1818-1898), the architect of Rosehill's entrance is appropriately buried just inside his famous front gate.
Established in 1859, Rosehill plays host to a number of famous dead including eighteen past Chicago mayors (the most of any cemetery), a vice-president of the United States, Charles Dawes, who also won a Nobel Peace Prize in 1925, Hinckley and Schmitt (they are buried side by side, but in reverse order of their famous company logo), Oscar Mayer, and many more.

Charles Gates Dawes (1865-1951), the 13th Vice President of the United States (1925-1929) is interred in this stately mausoleum overlooking Rosehill's central lake.

Charismatic former Chicago Mayor, stately 6' 6" "Long John" Wentworth (1815-1888), wanted the tallest monument in Rosehill. He got it with this 72-foot obelisk, at a cost of $38,000, erected prior to his death.
Charles Hull is also buried here, under a magnificent statue of himself. He gave his house to Jane Addams to help immigrants (Hull House is also a landmark). Supposedly, a child was born there with horns and a tail. Naturally, it became the talk of the neighborhood and eventually became the inspiration for the book and film "Rosemary's Baby."

Charles Hull (1820-1889), gave his house to social reformer Jane Addams who created Hull House, and is buried under this larger-than-life statue of himself.
Rosehill has been a backdrop of several movies including the final fight scene in "Next of Kin" filmed near the chapel. The movie "Backdraft" copied the Firefighter's Memorial to make their funeral scene look like it was taking place at Rosehill, although it was actually filmed on a set.

A copy of the Firefighter's Memorial was used in the filming of the funeral scene in the movie "Backdraft".
Sometimes the not-so-famous are more interesting monuments. George S. Bangs invented "fast mail" using the railroad system to pick up and sort mail. His "tombstone" is a very detailed model of a mail train car (about one and a half feet long) appearing to be going through a tunnel complete with realistic looking ivy. Sitting next to it is a beautifully sculpted twelve-foot tree, complete with birds. Both pieces are made entirely from granite. It is truly a work of art and should not be missed.

This train and tunnel "tombstone" is a fitting tribute to George S. Bangs, who invented "Fast Mail",
utilizing railway cars to sort mail while the train was moving between destinations.
Leonard Volk, well-known sculptor, designed the Civil War and Firefighter's memorials, and the Stephen Douglas tomb which is on the south side, but is most known for his life mask and hands of Abraham Lincoln. His last piece of commissioned work was a statue of himself under which he is buried. He looks comfortable in his relaxed pose, as if lounging in a park on a Sunday afternoon. His hat tossed casually at his side, this image is detailed down to the buttons on his vest and his bony fingers resting gently on his cane.

Leonard Volk (1818-1895), sculpted his own memorial as his last piece of commissioned artwork. He lies beneath this intricately detailed statue of himself.
If you're looking for a ghost story, probably the most haunting statue belongs to Frances Pearce. She died at the age of twenty in 1864 with her daughter following her to the grave only four months later. Her distraught husband had a gorgeous statue crafted of her and the child, immortalizing them in milky-white marble as a testament to his grief. She was originally buried at the Old City Cemetery (what we now know as Lincoln Park) and moved here later. Luckily, the statue was "boxed" in a glass enclosure immediately after creation to preserve it from the harsh Chicago weather. According to legend, on the anniversary of her death, this box fills with a mysterious white mist. Is she trying to tell us something?

Frances Pearce and her child are immortalized forever in marble within this glass box enclosure. On the anniversary of her death, legend has it, the box fills with a mysterious mist.
This cemetery story wouldn't be complete without a trip to Rosehill's Mausoleum, the largest public mausoleum in Chicago. Here are where John G. Shedd, Richard Warren Sears, and Aaron Montgomery Ward are interred. If you can find the mausoleum open, the Shedd Chapel is a must see. The room is made entirely of white marble complete with six white marble benches (topped with leather cushions) for mourners. At the head of the room is a large brass gate behind which the Shedd family is buried. On the wall behind them is a three sectioned Tiffany glass window in vibrant shades of blue. When the light is just right the room looks like it's underwater. Above it all, a magnificent Tiffany stained-glass skylight showers the room with even more light. The Eastern tradition says only God can create perfection. In keeping with that tradition, one panel of the skylight has been rotated ninety degrees. Nevertheless the effect is still spectacular.
Through an arched doorway, and down a dark, spooky hall rests the remains of Richard Sears. This crypt even has its own entrance from the outside. His ghost has been seen walking in tophat and tails toward the crypt of his rival in life, A. Montgomery Ward, located just down the hall a bit behind another ornate brass gate. Both crypts are very elegant for these merchandising giants.

Rosehill's Mausoleum (dedicated in 1914), houses some of Chicago's most famous citizens; John G. Shedd, Richard Warren Sears, Aaron Montgomery Ward, and includes its architect, Sidney Lovell.
Rosehill is only one cemetery of the over 100 cemeteries in Chicago. They all have stories to tell, if you're willing to listen. Get up close, touch the headstone, be open to a new experience. Try it, if you dare. Cemeteries aren't just for Halloween!
Author's note: This piece appeared as the Halloween front-page feature story of the October 27, 1999 issues of the "News-Star" and "Booster" newspapers, both Lerner Publications, in Chicago. The story was also a national finalist for "Individual Achievement - Essay" of the "2000 Publications Recognition Program" of American Mensa, Ltd.
Please email Karen Kruse and let her know how much you enjoyed her article! Better yet, for more of
Kiki's work please visit
Cemetery Walk and Milwaukee's Best
To see more of Kiki's cemetery pictures, go to Kiki's
"FindAGrave Credits"
Go Back to Main Page of Cemetery Studies

Site Index

Links to all the Cemetery Studies Pages

Not just for teacher series pages
| Language Arts | Science | My Favorite Links | Social Studies | Christmas on The Net |
Email: cemetery@angelfire.com