Having fun at a party, Yes, I sure had a lot of hair.

When SPAL sold out to Pan American Airlines, I was given the choice of a years severance pay, or being intergrated into Pan Am's seniority list which would have based me in Suva, Fiji. I took the pay and returned to the mainland.

During my tenure with SPAL, I spent one Christmas over Easter Island, and one Easter on Christmas Island. I remember landing on the runway littered with scurrying coconut crabs and probably smashing a few hundred. The British personel there were so hungry for news there. They were elated when we gave them the newspapers and magazines from the plane. Our new engine finally arrived and was installed so we continued our flight to Tahiti.

After returning to the mainland, I opened my own business called "TAHITI ITI" and was quite sucessful at it, importing polynesian arts and garments, catering parties with both luau's and polynesian floorshows. I studied all the dances of Polynesia, and became quite proficint in HULA, TAHITIAN & MAORI

It was during a divorce that I sold the business and moved to Las Vegas, Nv. where I worked for a while, as a dancer for a small nite club.

I decided then to work at a job that paid more, so went to work for the Tropicana Hotel as a cocktail waitress. I did this for 10 years before retiring to Mountain Home, Arkansas. In 1996 I was starting to feel numbness in my toes and fingers, and to shorten a long story, ended up being completely paralyzed from the waist down, and confined to a wheelchair with what is called PARANEOPLASTIC MYELOPATHY . No, there is no known cure at present, but I am still HOPEFUL. I still go to Physical Therapy and seem to be gaining on it.
In Hula costume-age 41
AGE 49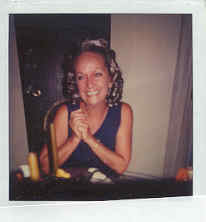 AGE 60

GO TO FLYING

GO TO DANCING DAYS

GO TO PARANEOPLASTIC SYNDROME

MY HUSBANDS HOME PAGE

.
Email: tiger2@cox-internet.com