DANCING DAYS
I learned from the best in Papete, Tahiti, and from Lura McKenzie in Costa Mesa, CA. I later taught and danced in Las Vegas
We had a great group of gals & guys. We did shows on many occasions in So. California prior to my moving to Las Vegas, Nevada.

Our dances were of all the South Pacific Islands.

HAWAII, TAHITI, MAORI, FIGI, INDONESIA, BALI, & MORE

SOME CASUAL SNAPS OF COSTUMES
CENTER STAGE

MORE TO COME
AT HOME PARTY
SAME PARTY
THIS IS A MAORI COSTUME, ONE OF WHICH WAS USED FOR THE POI BALLS DANCE.
This green costume was awesome under black lights
DANCING THE HAWAIIAN WAR CHANT WITH ULI ULI's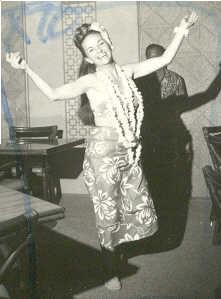 THIS COSTUME USED FOR HULA LINE DANCING WITH PUILI'S AND OTHER INSTRUMENTS

Oh yesssssssss !!!!!!!!!!! these were the "GOOD OLE DAYS"
PRACTICING ROUTINES AT HOME IN LAS VEGAS

COSTUMES
Practice at Mother's house aith Mahi Beamer

ALOHA

IORANA

THANKS FOR STOPPING BY
Email: tiger2@cox-internet.com