Welcome to Joy's Little Corner
Enjoy your stay!
Our Wedding Day
More Wedding Pics
Still More Wedding Pics
Erin's Crawlspace
Universal Currency Converter
Freebies, Coupons & Deals on the Web
The Adoptaplatoon Soldier Support Effort (AAP)is a non-profit organization that links moms, grandmothers, families, pen-pals, organizations such as schools, synagogues, churches, scouts, 4-H-Clubs, & companies to deployed soldiers. For more information on how you can become involved in offering support to our deployed soldiers, just click on the graphic below.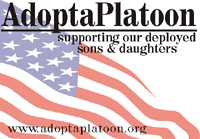 The Open Directory Project
http://dmoz.org/
"Humans do it Better" "