"For we are people of today- people of the so-called modern world. But first and foremost, and forever, we are also Cherokees."
-Wilma Mankiller, former Principal Chief of the Cherokee Nation of Oklahoma.

Below is some general information about my gourd art. I am working now to update this page. Please read and enjoy.
Also, click here for lots more pictures!!
Note:These pages are mostly here, but a couple of links or pictures might not be working while I work on updating everything. Please check back soon!!
NEW! Free E-Postcards of Gourds! Choose from one of several original art gourds from this site and send it to a friend or loved one as a free e-postcard with your own personal message! There are Halloween, winter, and holiday cards available now, and more to come soon!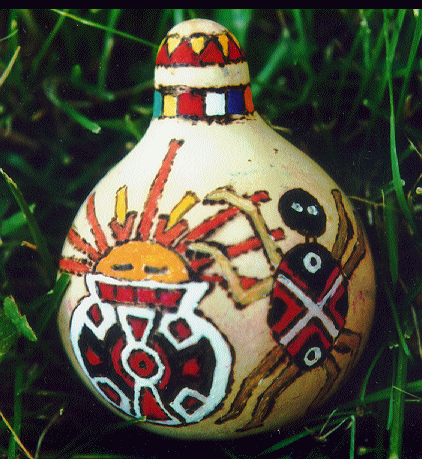 Gourds grow on vines and harden over winter to a hard, wood-like texture. They have been used by native peoples all over the world for many purposes, including water-carriers and rattles. They are also a popular medium for many kinds of artists, including Native American, American folk, and modern.
My art gourds range in size from tiny to huge. They are grown on my parents' farm in rural central Kentucky, and I clean them, burn my designs into them with a woodburner, paint them, and varnish them with some kind of protectant if I've used a water-based stain or paint or if they'll be exposed to the elements (like a birdhouse).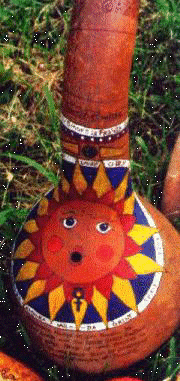 My Cherokee gourds often incorporate traditional designs, symbols, or motifs. Most also have some writing on them in the Tsalagi language (using Sequoya's Syllabary), whether it is simply "Tsalagi" or a longer message. Several tell traditional stories and myths in pictures and words, like "Grandmother Spider and the Sun". Many are more personal, mixing traditional designs or motifs with other kinds of images. One example of this is "People of Today" , which illustrates the quote by Chief Mankiller at the top of this page.
I do many other kinds of designs as well, including nature scenes, rural scenes, green man, seasonal, butterfly, horses, cats, and other animals, celestial (sun and/or moon), grape and vine, harves/autumn leaves, flowers, and American Indian designs other than Cherokee. I also personalize gourds and take requests, so if you don't see what you're looking for, please email me.
Please take a look around and enjoy your visit. I will always try to be adding more gourds and pictures. If you would like to own one of my gourds or gourd items, please see my Order Information page. And let me know if I can help you with something.

Many people have asked me about crafting gourds themselves. Please see the gourd info page for some general information. Here are two books that you may also find helpful:
I also make jewelry out of gourds. Pins are round cut-out pieces of gourd with burned and painted designs and pin backs. I make earrings and necklace charms similarly, as well as hair barettes. You will find these things as well as some hemp jewelry on my Gourd and Hemp Jewelry Page
Harvest Moon (Leaves design) .
I make many different things out of gourds, including baskets, wall hangings, birdhouses, ornaments, pipes, waterpipes, rattles, windchimes, pins, earrings, and hair barrettes. Please see my GOURD ITEM PAGE for descriptions and prices, or see some of these individual gourds:
[A mandala/ wall-hanging | "Wind Blowing West" | A gourd water pipe | A gourd basket | Another gourd basket | A personalized gourd]
talkleaf@yahoo.com