Go to content
Main menu:
Titles
Diploma
INTERNATIONAL NEWS
GREETINGS FROM OUR PAST PART 2

Today (October 2017) we just received a message from our former president Grandmaster Rufus Carpenter, that he is still alive !!!

"Klaus, I must tell you that I am so proud of the way you have developed the organization and I really believe in my heart, none of us could have taken it as far as you have. For that I must say, thank you and make you aware just how we appreciate what you have done and doing."

GREETINGS FROM OUR PAST

We were very happy to receiving the following message in early 2016 from GM Colzart: "I have many great memories of working with the all the martial arts schools in Germany, and the many tournaments.

We had all hoped to get US military interest in organizing our martial arts, but in those days it was still a very new, and unknown sport in the higher ranks. With the military's current stronger emphasis on physical conditioning and the realization that martial arts training provides basic combat skills, I am sure our early efforts would have been successful.

It is good to read that this old organization is still alive,
and that Mr. Klaus Schuhmacher is carrying the banner."

Retired Col. Wes Colzart, who is the co-founder of the EUROPEAN-AMERICAN MARTIAL ARTS ASSOCIATION, served as the first president of his organization, until his departure from Europe in 1983.


SOSEI RENO MORALEZ PASSED !!

In deep sadness, we anounce that Grandmaster Reno Morales has passed away in New York. As it´s hard to fully do justice to his accomplishments, here a small brief bio:

Sensei Reno Moralez, was born in 1934 in Caquas, Puerto Rico. A decorated veteran of the Korean and Vietnam wars, he served in the United States Marines and in the U.S. Army Airborne. He was a multiple Martial Arts Hall of Famer, former champion, international competitor, and an executive protection specialist. He has lived in Japan, and studied there with his mentor, Shigera Kimura.

He was involved with the Martial Arts for over 60 years, and had instructor status in more than 7 martial arts systems; Founding father of Shin-Jitsu-Jissen karate Jutsu (real fighting, my truth)/ Combative expressions; retired Marine, Army airborne; Co-founder of the Bronx Shotokan karate Club, and the Karate International Association; Executive protection specialist; Fugitive recovery specialist; Health and fitness specialist.

During 1947 he started training in the Art of Combat JuJutsu under his stepfather's SGT. Harold Keith and Sgt. James Shinagawa. 3yrs later he graduated from High School and I enlisted to the U.S. Marines.

In 1952 he was an integral part of the (Elite) Unit: Force Recon, and one who spent time in Vietnam with a Deep Reckon Platoon.

During his travel to the Orient, Okinawa, he started training in the Art of Isshinryu- Chan Ma Gwa (1956) under the instruction of TATSUO SHIMABUKU (Founder of ISSHINRYU Karate-"Whole Heart Style").

During his travels in Japan, he met Grand Master PETER URBAN who was studying GOGEN YAMAGUCHI'S Nippon Gojukai, and then later founded the USA GOJU RYU. Back in the USA he met GM DON NAGLE, and trained in the NY Chinatown Dojo, where he met the illustrious PETE SIRANGANO, MIKE DIPASCUALE, SR, and other MA Greats.

Reno then continued Issinryu training, and subsequently trained in the Art of SHITO RYU, upon his returning to Japan 1955-1956, were he started training in Shito Ryu under SHIGERU KIMURA (CHOJIRO TANI'S most Senior student- Chojiro Tani was the Most Senior Student of KENWA MABUNI (SHITO RYU)-who was also a Senior student of CHOJUN MIYAGI (GOJU RYU) - Who was a Senior student of KANRYO HIGAONNA (NAHA-TE).

Upon return to the USA, Reno met, and trained with Master MELVIN KLEIN in N.J. who made the introduction to Master KIMURA. GM MOSES POWELLS allowed him to use his Dojo for training in the Bx. River Projects. He then partnered up with REMY HANNIBALE, BUDDY MCRAE (Master Phil McRae's father), and ABDUL MUSSAWIR HAQQ to create the BRONX SHOTOKAN KARATE CLUB (BSKC).

He also trained in various Styles like Escrimma- with Master GONZALEZ; Muy Tai- with Master MAUNG SURIN, andin addition to training with Master DETHRONOE. While studying Shito Ryu he became associated with Master MASATOSHI NAKAYAMA and a handpicked student of Master FUNAKOSHI GISHIN (SHOTOKAN).

FOR MORE INFORMATION ABOUT SOSEI MORALEZ YOU MAY GO TO THIS WEBSITE:

AN INTERVIEW WITH HANSHI RENO MORALES


KLAUS SCHUHMACHER AGAIN FUTURES IN
TAE-KWON-DO TIMES MAGAZINE !

The worlds leading magazine for Korean Martial Arts, inducted Klaus as the first German / European ever, into their prestige Hall of Fame as "International Grandmaster of the Year" ! The award was published in their 30th anniversary January 2010 issue. You can take a look at: TAE-KWON-DO TIMES MAGAZINE


BACK TO THE BLACK PANTHER SCHOOL

For the second time Klaus Schuhmacher was invited to share his knowledge at Grandmaster Tim Wolfe´s Kung Fu school in Cambridge, Ohio. After teaching a Fujian Panther form during his last visit, Klaus educated the participants this time with an Basic Form of the Fujian White Crane style.


ITS BETTER IN THE BAHAMAS II

Recently Mr. Schuhmacher gave his second seminar in Freeport, Bahamas, on invitation of Sijo Kenneth Lewis and the 4 Winds of Kung Fu Association.


TAE-KWON-DO IN YEMEN

Grand Master Abdulrahim S. Mohammed at Hadhramout, Arab Sea. Recently Grand Master Moafak M. Monasser, W.T.F. President for Yemen and Grand Master Abdulrahim S. Mohammed, Yemen National Team Coach & Technical Supervisor of Yemen TKD Federation, both Kukkiwon 6th Dan Black belt & WTF International Referees have been welcome as new members of the World Independent Tae-Kwon-Do Association and the World Martial Arts League !


10th DAN HOLDERS !

World-wide some people allways doubt and criticize high ranking non-asian Grand Masters. Our organizations meanwhile determine the names of several 10th Degree Holders of the following styles/systems: Hapkido: 46, Taekwondo: 25, Tang-Soo-Do 16, Aikido: 15, etc.... This proofs that these people better should get more informed, before they doing any incorrect statements.


SUCCESS MAKES JEALOUS

An old chinese saying is "Everything what is good, somebody tries to copy". This happened to us now. In the meantime the names and concepts of 3 of our organizations were used in lightly amended forms by other individuals. Some of the responsible people for that even claim that they were there before us, which can be proof as example with newspaper articles, as incorrect. Anyway we are not angry with this peoples and wish them all the best.


WORLD INDEPENDENT CHINESE
MARTIAL ARTS FEDERATION NEWS !

ORIGINAL CHINESE KUNG-FU
AND HAPKIDO ARRIVING IN TIMOR-LESTE !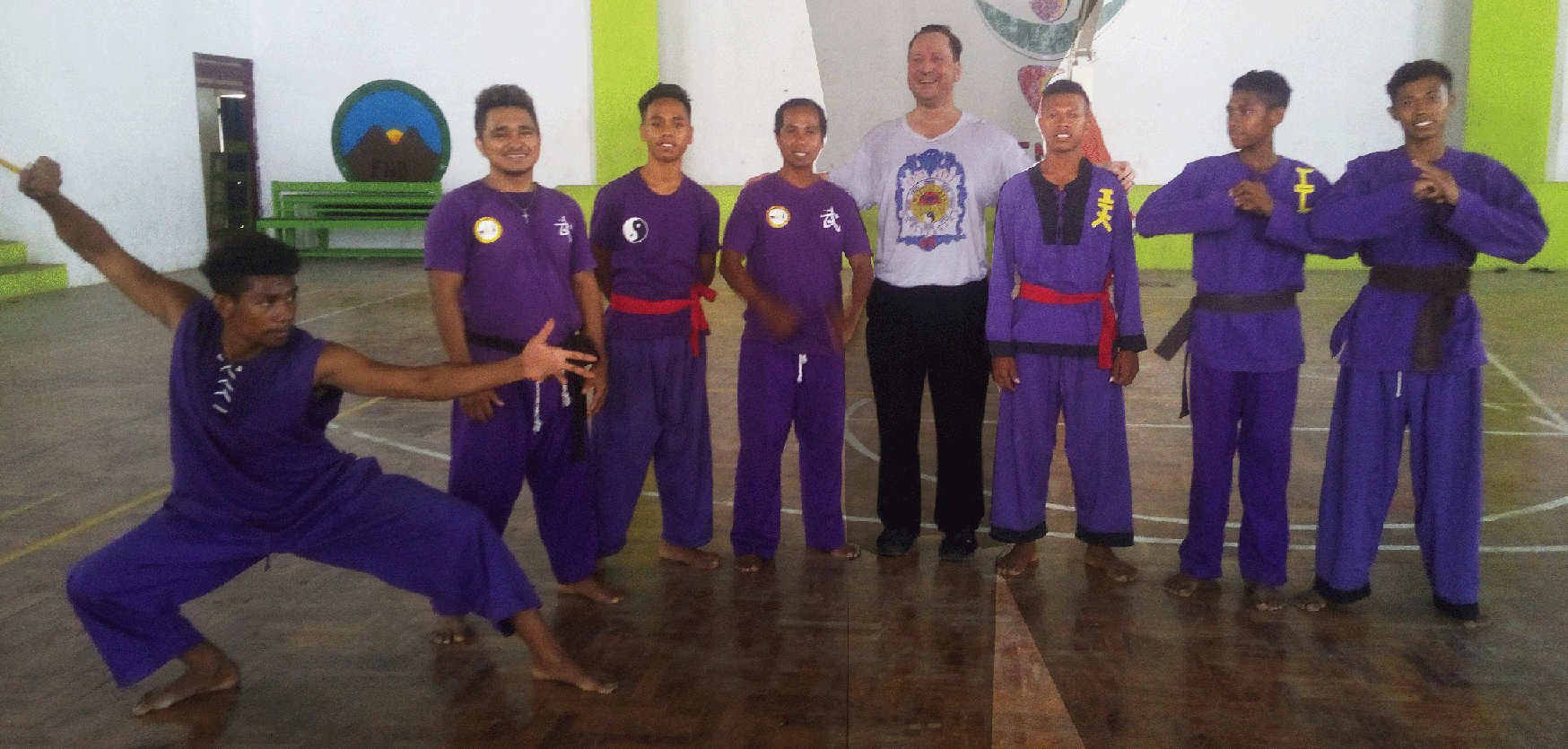 Recently Mr. Schuhmacher gave his second
Ba-Zhong-Chuan-Fa seminar in Baucau, Timor-Leste,
as well started to teaching Hong-Kong Wing-Chun, and Hapkido.



NEW INDEPENDENT WING-CHUN ORGANIZATION FOUNDED !

The WORLD WING-CHUN GUILD was establihed as a branch of the W.I.C.M.A.F. for the needs of instructors of all systems of Martial Arts which are based on the Crane and Snake boxing of the Fu-Jian-Shao-Lin temple. This includes Wing-Chun-Kuen, Wing-Choon-Guen, Yong-Bei-Chuan, Ving-Tsung, etc. !


WORLD INDEPENDENT TAE-KWON-DO ASSOCIATION NEWS !

PROMOTIONS


Irene Maria Seckelmann, and Malinowski Evgenia of Germany past their belt tests to 4th Dan in Tae-Kwon-Do (I.T.F. Style) under the supervision of her instructor Grand Master Thomas Seckelmann, who received his promotion to 8th Dan in Tae-Kwon-Do (I.T.F. Style) !
Congratulations !
Back to content | Back to main menu