The Zegnotronic Rocket Society
(transmission begins...) Welcome to the Zegnotronic Rocket Society. After kidnapping Sauguet, Auric, Poulenc, Cocteau, and Django Reinhardt, the ZRS have retreated to the outer edges of the galaxy.... Through ingeneous manipulation and torture devices and many baguettes - ZRS learned the musical secrets of Parisian swing in the 1930's.... It has been decided by the council that NOW is time to re-enter the Earth's atmopsphere and bestow their musical and artistic findings on the glorious Earth masses.... Please enjoy our sound clips below!! (ends)
=*=*=:=***Guitars by Gerald Leroy & Alex Anaya =*=*=;=*=*=Sax, Clarinet, & Kazooes By Joshua Frye =*=*=;*=+=Upright Bass By John Dumont =*=*=*:=+=+=Accordion By Aki Amai!*****
Ways to Find Your ZRS!
Thurs Nov 3, Hotel Utah, SF
w/ The Gomorran Social Aid & Pleasure Club
******
The Zegnotronic Rocket Society features 2 Guitars, Clarinet, Accordion, and an Upright Bass!
******
**for email list: http://launch.groups.yahoo.com/group/zrs/**
Call: (415) 564 5904
******
photo by sweatnapper http://www.sweatnapper.net/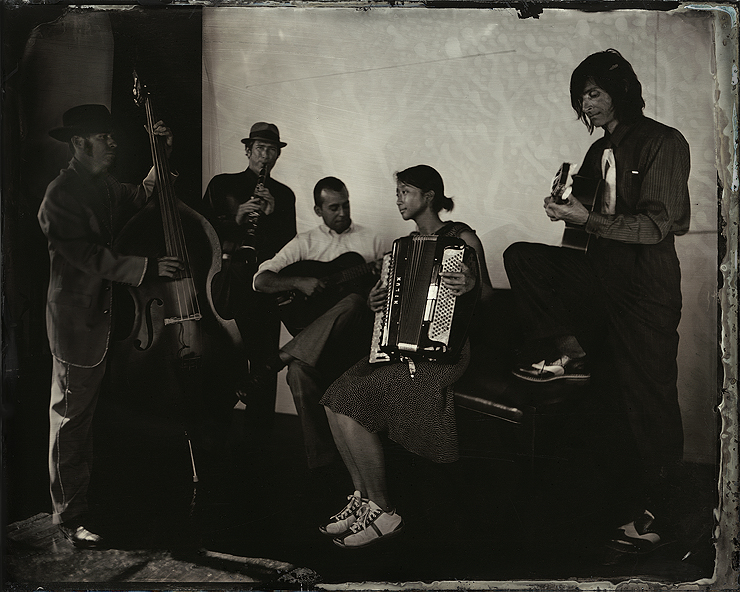 ZRS Sound Clips!!
Latcho Drom (by Dorado Schmitt)
Swing Gitane (traditional)
Swing Junction (by John Jorgeson)
Si Tu Savais (by Antoni/Salvet/Ulmer)
Swing Guitars (Reinhardt/Grappelli)
F.A. Swing (by John Jorgeson)
Minor Swing (Reinhardt/Grappelli)
Viper`s Dream (Reinhardt/Grappelli)

Email: Gerald_Leroy@yahoo.com