Jazzsoak
(updated 02.08.2000)

Hi everybody

Welcome to my new supersoaker site. If you've got the time sign my GUESTBOOK so that I know you were here, add a message to the FORUM or take part in my supersoaker SURVEY.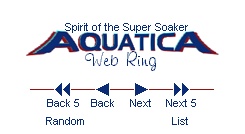 I have now extended the tactics section by some more advanced tactics that come from my personal experience. Sadly the angelfire enviroment refuses to upload the sketches I made, but I'll fix that somehow and hopefully soon.
Considering that I still haven't seen any of the new supersoakers over here in Europe, I don't have reviews on any of them, but as far as I have heard most models don't vary too much from the older ones.
The biggest exception should be the CPS 2700, which has smaller nozzles and more capacity than the 2500.
Some of the XPs have a bit more capacity and some have a new grip (I suspect it might be awful, especially for people with big hands).
Sadly I haven't had a chance to play with any of the Monsters yet, though especially the MXL appears to be a bit too big for my taste.
This is probably the first site to review non-larami products, especially the storms (made by trendmasters). Most other sites only review the supersoakers made by Larami.

You can visit the forum & fill in a survey, it's probably the question every supersoaker site has already asked you: What is your favourite supersoaker?

I hope by now every browser is happy with frames, because I haven't done a noframes version yet, but I think the navigation bar at the left is quite neat.
If you have any comments or ideas, post them on the forum or email me.