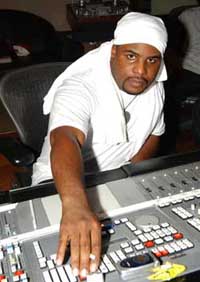 THE STATE OF MUSIC: IS "NON-VIOLENCE" THE NEW FACE OF HIP-HOP?
New York, NY (BlackNews.com) - The newest message to hit hip-hop may be that peace sells. With the surprise success of non-violent rappers such as Kanye West, some of rap's hottest artists are pushing messages of non-violence and music fans are tuning in. One reason for their success may be that rappers have shown having a positive message in a song doesn't mean diluting lyrics or intensity but rather changing focus and attitude.
For instance, hip-hop artist Prez-E-Dent, who cites such inspirations as Bob Marley and Tupac Shakur, has made his mark on the industry with blunt lyrics that take on powerful and controversial themes. He's considered a leader in the new "rap renaissance" that aims to spread a positive message to listeners. "The industry is in a state of emergency," says Prez-E-Dent, born Samuel Joffre Payne. "Everybody knows it, all the way up to the Russell Simmonses of the world."
Prez-E-Dent's approach to rap has been described as bringing a "refreshing air to a hip-hop arena plagued by violence, materialism and misogyny," yet he is considered one of the hardest-hitting rappers in the industry. His single "Make It Hot" takes a look at a lifetime rocked by aggression and offers ways to rise above it all: "I dedicate this one to all the kids who think they have to be tough to be cool," he says in the song.
Prez-E-Dent's unique approach to rap has earned him a reputation as a "revolutionary" among his peers-as have his business practices.
After signing a record contract with the Relativity label, his first single, "Gotta Be Like That" (recorded under the name 2020), was a commercial smash. Prez-E-Dent toured with popular artists such as Onyx, Fat Joe, and Bone Thugs-n-Harmony, but he soon became frustrated with his label's management practices. He paid back his $100,000 advance and became one of the first rappers to own the rights to his master tapes. The move left Prez-E-Dent squarely in charge of his musical career.
Prez-E-Dent's hotly anticipated album "New World Industry" dropping in July is expected to make a huge impact on the rap industry and the music industry in general. With political and thought provoking content, coupled with transfixing hip-hop beats, Prez-E-dent may very well live up to his moniker as the "Executive Officer of Rap." For more information visit www.prez-e-dent.com
"Everything I do is a representation of what's missing out there today," he explains. "Music is man's universal system in communication (M.U.S.I.C.), especially in minority communities. My message is to show people that there is help. Words can hurt or heal."