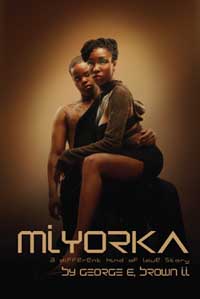 "Miyorka: A Different Kind Of Love Story" will run June 24, 2005 to July 24, 2005 in New York City
UNIQUE URBAN MUSICAL HITS THE STAGE
Newark, NJ (BlackNews.com) - Miyorka: A Different Kind Of Love Story is an urban musical set in the year 2075. It is the product of four years of development and is the brainchild of George E. Brown II, who is playwright, CEO and founder of G&G Production Company, Inc - an arts and entertainment management company in New Jersey. Mr. Browns theatrical productions include: Dream A Dream 2000, The Artistic Voyage Into the Future, The Inkwell and Sista-rella, among other productions.
Inspired and influenced by the West Side Story and Cinderella Story, as well as the contemporary musical Rent, this production blends classical and R&B music elements to generate a spectacular urban musical experience. The renditions express several themes including: self love, race, class, single-fatherhood and forgiveness
The 35 member cast consists of both novice and seasoned actors who are thrilled to showcase their talents in this production. Audience members will be transported to Miyorka where they will also be inspired and excited.
Miyorka: A Different Kind Of Love Story will run June 24, 2005 to July 24, 2005 at The Culture Project/45 Below located at 45 Bleecker Street in New York.
Tickets are $46-$56 and can be purchased by calling (866) 811-4111 or go to www.theatermania.com