---
What is Progressive Rock
Around 1970, however, the term 'progressive rock' came to have a more specific meaning, signifying a style that sought to expand the boundaries of rock on both a stylistic basic (via the use of longer and more involved structural formats) and on a conceptual basic (via the treatment of epic subject matter), mainly through the appropriation of elements associated with classical music. - Edward Macan from Rocking the Classics.
During the late 60s, many artists were inspired by the Beatles' renaissance approach to making rock a more serious art form. Art-rock, or classical-rock, was the result of realizing those intentions. Groups like the Moody Blues, Procol Harum, Genesis, Gryphon, and Emerson, Lake & Palmer incorporated extended classically structured compositions or grand orchestrally influenced arrangements with rock instrumentation. Thematically, many of these groups reached for lofty sentiment as well. Progressive rock came on the heels of art-rock with a more aggressive, occasionally dissonant style that borrowed from the spirit of hard rock. Examples: King Crimson, Yes, and later Rush. - Rick Clark from the All Music Guide@www.allmusic.com.
To me, Progressive Rock must contain the following features:
Features of Progressive Rock
Concept Album
The album released by Prog Rock artists are called Concept album, which carried a main theme in certain subject, musically or lyrically and to the package design.
Keyboard Instruments
Moog synthesizer, Hammond organ, Mellotron had ever been used such heavily in the music history but in the Prog Rock era; you can always see the keyboard player in Prog Rock group surrounded by lots of synths in live performance.
That's because synths can produce the abstract sound that used to create an atmosphere. Also synths are useful in playing as passage to fill up the long progressive piece.
Huge stage with visual effect in live performance
Light effects, make up, installations, dry ice and smoke, etc. were used to decorate the stage as an extension to their concept of music in live. Which also help building an atmosphere, so Prog Rock bands in live was always like a multi media performance.
Being technical and got huge idea: Composing long pieces, which involved complex arrangements
Compare with the same period with the British Blues/Hard Rock (Cream, Deep Purple, Led Zeppelin, etc.) movement, Prog Rock bands also have long instrumental passages and virtuoso solos, but less vocals. Prog Rock pieces were always longer than 20mins, which had dramatic arrangements.
Studio as an Instrument
New studio technique was common used, tape loop, tape effect, etc. In fact, most of these ideas were taken from avant-garde.
Locations - First exploded in UK, then Germany, Japan, US...
Time Period - 1969 to 1976
Related Style - Art Rock, Ambient, Experimental Rock, Space Rock.
Influenced in Music - Kraut Rock, Classical/Progressive/Symphonic Metal, Industrial and Post Rock. *for more details, (hold Shift if PC, hold Apple if Mac) click this music map.
---
Before the Progressive Rock
Psychedelic and Folk was the main scene in 60's before Progressive Rock.
Both of them shown the different responses to the war from the generation; the folk movement was a more positive one (e.g. Blowin' in the Wind - Bob Dylan), to take real action like protest against the Vietnam War, their lyrics were direct and accusatory.
While the Psychedelic was an opposite one (e.g. Rider on the Storm - The Doors), what they told were mostly about the status of disappointed and feeling useless. As they had nothing to do with the War, they couldn't change the fact, and took drugs to escape the real world.
---
The Beginning of Progressive Rock
Maybe UK didn't directly involve with the Vietnamese War, English could just pay more attentions into the music and contents objectively.
The Beatles' Sgt. Pepper's Lonely Heart Club Band was called the first concept album in the music history, it was done as the Beatles was already felt enough to do normal pop love songs, and wanted to revolve their music, moreover, to bring rock music to a serious form of art music.
The Beatles' Sgt. Pepper's Lonely Heart Club Band - King Crimson (1969) - In the Court of the Crimson King
Sgt. Pepper was put in a genre as British Psychedelia. The Beatles did many experienced of sound, which the influenced of avant-garde could be seen in the album. Also, songs inside got minor changes in time signature, tempo, key, etc. All these became important elements for late Prog Rocker.
After Sgt. Pepper, there were no rules to follow; rock and pop bands could try anything, for better or worse. Ironically, few tried to achieve the sweeping, all-encompassing embrace of music as the Beatles did here. - Stephen Thomas Erlewine from the All Music Guide@www.allmusic.com.
In the Court of the Crimson King by King Crimson was the first Progressive Rock record. This first release was unlike the other Prog Rock groups; they gave a shape of how Prog Rock emerged from the psychedelic. In this album, King Crimson fused folk, Jazz and experimental elements to combine a mature aggressive progressive rock sound.
As the members and the music style of King Crimson were always changed, sadly they won't have any albums sound great as the In the Court of the Crimson King in the future.
---
The Decay of Progressive Rock
Prog Rock was certainly one of the extreme of rock music, from the concept to the technique. But as things keeping getting huge, like songs were going to be longer than 20mins; the arrangement just became dried and bored. And for the audience, it's difficult to digest. And the contents of mythical, apocalyptic lyrics went so far away from daily life.
During the mid 70's, the economy of UK was starting to have a recession and Prog Rock wasn't possible to speak for the lower class and unemployed teenagers. All these pushed Prog Rock away to attract new audiences, and stayed in tone with the changing world.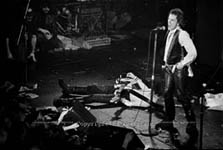 Sex Pistols, so close, so raw, so simple
It's ironical that after Prog Rock was the Punk movement, which was a totally different direction: on music, Punk is raw, speedy, wild and primitive; on lyrics, Punk is simple and direct.
Critics just changed their attitude; Prog Rock was called as a dinosaur, which were huge but just disappeared on earth in a second.
---
How Progressive Rock Influenced the Rock Music History
But Prog Rock also gave influence to later music, like Kraut Rock which is an important movement in Germany. And being mixed with Heavy Metal to become Symphonic/Classical/Progressive Metal in US and Europe. The most important was their idea of concept album and took rock music into a serious state, It's interesting to hear the sound and mood that Radiohead (OK Computer, Kid A and Amnesiac) basically, it's similar to Prog Rock. Beside, I also think the Jazz feel and dark mood in Prog Rock, especially Pink Floyd gave influenced in Trip Hop.
To re join avant-garde and Kraut Rock, a new kind of music around these few years was formed, that is the Post Rock. Some of them are electronic groups; some are rock bands form, some included both of them, but all their music are mainly based on minimalism.
Godspeed You Black Emperor! Lift Yr. Skinny Fists Like Antennas to Heaven
Godspeed You Black Emperor! from Montreal is my favourite Post Rock band, they are a 9 persons group with 2 bassist, 3 guitarist, 2 drummers and 1 cellist and 1 violinist. Their music is intense, philosophical, provocative, anxious and soothing. Their last record Lift Yr. Skinny Fists Like Antennas to Heaven is a double CDs album. Total 4 songs in it, each of them clocked about 20mins, which quite similar to Yes' Tales from Topographic Oceans. Their sound is different old Prog Rock but the idea to take rock music to a serious art form is quite the same.
It's hard to tell if there will be a revival of Prog Rock in the future, as music is no needed to stick on instruments technique, but sure Prog Rock will keep its influenced and remain as an important part of Rock music history.
---
Get to the details

Key Artists

Related Links

---