John was murdered! they stole his guns, he had a couple of dozen. We believe Angie and Jacob Diaz[the step son of Sims] stole some, as we seen their tire tracks. Brundidge Alabama,by Johns trailer he lived in. We know they stole several 50 Gallon Drums,hub caps,flea market items. Johns dogs and turkey's. They used electric free without paying, and slept on the land,without paying, they were chased out. Russel Thomas is a leader of a hunting club gang with dogs. These hunters with no respect of lands or people hunt. John Pastuch had many enemys. He was murdered! 50,000 dollar reward for the arrest and conviction of killer or killers.
REWARD
For information leading to the arrest and conviction of the killer or killers of
JOHN PASTUCH
MURDERED August 18,1996

He was killed in a wooded area in an open building with no locks on the doors,and the windows were wide open,while he slept on a hot sunny,summer,Sunday, afternoon.While a noisy fan hummed nearby,the date was August 18,1996 in Pike County,Alabama.East of U.S.Highway 231.At the Coffee County Line.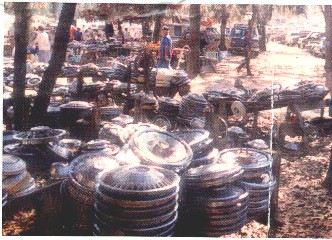 Sheriff Russell Thomas
John Pastuch was murdered!
Investigator Bob Bradbury,Pike County,Alabamas,Sheriff's office.Also Bruce Devane Chief investigator from the Alabama District Attorneys Office in the 12th Judicial Circut.As the case was closed immediatly and no news allowed to be reported in the Messenger Newspaper,Troy Alabama. And they would not accept a $50,000 REWARD advertisement. They sent the check back. Come-Foward-Someone Knows.Write to


Friends of John Pastuch

3949 W. Highway 44 & Junction 490

Lecanto Florida 34461


reward
for the arrest and conviction of the murderer or murderers, of John Pastuch.
John Pastuch
John said repairman Sims from Car City 650 Hwy 231 grabbed him by the neck,started choking him.Claimed he shot his dog that killed his exotic chickens,John got away from repairman with markings.Bill Lewis said he shot the dog when the dog bit him.repairman said he'd come back after John.
Former Ala.governor,convicted of corruption!
Former Alabama Gov. Don Siegelman and ex-HealthSouth CEO Richard Scrushy were convicted Thursday on government charges in a federal criminal case that derailed Siegeelman's bid to retake his office. Siegelman's conviction on bribery,conspiracy,mail fraud and obstruction of justice,proves he warrents suspicion on his quick close,of John Pastuch's murder. Mark Fuller District Attorney should go back and reopen the case of John Pastuch as two men were seen placing John's body in that position,Larry Crawley said no one will be able to live on that property if the deer hunters cannot hunt deer,especially with dogs,and the killer has dogs.We are not accusing or slandering Russel Thomas,but he said what he sez about John Pastuch is the truth,now that is slandering John Pastuch,his friends and family,unless he was there.