"Do not fret -- it only causes harm" (Psalm 37:8)..

To read about the books written by Dr. Wesley Shankland, click on either book to go to the review and order page. Both of these books are very interesting, well written and quite informative!




TMJ: ITS MANY FACES, 2nd Edition, discusses how the patient can become actively involved in his or her treatment. Included in the book are complete instructions and diagrams of exercises. Lifestyle changes are outlined and a chart of dietary modifications are contained within the book. An entire chapter is devoted to choosing and evaluating a TMJ doctor.

Chapter themes of FACE THE PAIN include: The Face; Concepts of Pain; Trigeminal Neuralgia; Odontalgia; Periodontal Pain; Burning Mouth Syndrome; NICO; Craniofacial Pain Disorders; Sinusitis; Fibromyalgia,Myofascial Pain Syndrome & Orofacial Pain; Bruxism; Medications; Alternative Treatments; and TMJ
---
---
For a list of informational articles related to NICO and chronic jaw pain, click here: NICO and Chronic Jaw Pain Links to Information
MORE BOOKS OF INTEREST written by Susan Stockton

To read a review of a book, click on the picture of the book you are interested in below: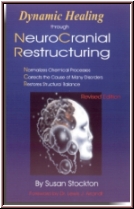 To order a book, click HEREand you will be directed to the book order form.


---
A Basic Introduction to NICO and APS
Introduction
Welcome to my website! Because of the fact that very few people, including the medical profession, have even heard of the term NICO (Neuralgia-Inducing Cavitational Osteonecrosis), I decided to take it upon myself to create a webpage containing basic information about the disease. My information base is continuously expanding as I persistently seek out more resources. I have received many letters from people who either have NICO or think that this may be their pain source. It is very difficult to diagnose, as this necrosis does not show up on typical radiological images. The pain is there, it can not be seen, but it definitely can be felt by the one afflicted with this disease.

Research has shown that a most likely cause of this disease process stems from an autoimmune disease called Antiphospholipid Antibody Syndrome(APS). This requires specific gene and DNA testing to determine a diagnosis for APS. It is basically a blood coagulation disorder. It is generally agreed upon that at some point in time, an infarct or blood clot occurs within the vascular flow of the bone either in the mandible (lower jaw) or the maxilla(upper jaw). Once this occurs, it may take many years until the event begins to appear in the form of pain, even though the actual necrosis (death of the bone) process begins as soon as the blood flow is interrupted.


Most people do not begin to seek out the source of this pain until is becomes a major hinderance. Please understand that the events that coincide with the search for pain relief is not because the doctor or choice of doctor is wrong - it's a matter of there being very few doctors familiar and educated in this specialized area. Most patients begin with their personal dentist, whom often refers to this pain as being related to a TMJ problem. The patient then undergoes a series of treatments from a TMJ specialist or oralfacial specialist - this process is highly unlikely to have any affect on the pain or diagnosis. However, in my specific case, my pain was worsened after going through almost a year of TMJ treatments. When the source of the problem becomes a matter of a doctor not being able to determine a cause and diagnosis, the patient will ususally begin a round of trips to other doctors, going from one referral to another, often being sent out of town. This process becomes very time consuming, very expensive, very exhaustive, and very frustrating! Hence, it only seems normal that the patient will become depressed and begin to feel that there is not much hope in finding relief for his or her pain.


Fortunately, some patients are able to come in contact with a doctor who knows another doctor who is familiar with NICO and referrals are then made to a specialist such as an oral surgeon who will be able to identify the disease and treat the problem, almost always through the process of surgery. There are very, very few doctors in the U.S. who specialize in this area - and for that reason, patients will travel from all over the country to receive treatment. I was very lucky that there just happens to be two specialists right here in my home state of Indiana. I know of patients who have come here from California, Arizona, Texas, Florida, and even Canada, not to mention all the others I don't know about!


As you will learn by reading the information presented below and on other linked pages, NICO is a rather complex and complicated disease. My main purpose for producing this web page is to inform and educate the general public, as well as medical profession so that those of us who suffer from this disease will be able to receive the proper treatment in a timely manner. The disease is very real - it does exist, contrary to the belief of some medical personnel. It's a very difficult and drawn out process to have, if you will, a new disease "accepted and approved"! I am a strong advocate in the promotion and acceptance of this disease and I feel confident that as the information gets out to more and more medical personnel, there will come the day when this disease will be listed officially in the medical textbooks. As I understand it now, they are now requiring dental school students to study NICO and Chronic Jaw Pain - that's a good place to start!


I hope you enjoy reading through the information I have provided and if you would like to comment on anything or have any suggestions, please feel free to do so! Thank you!

---
"Let him who walks in the dark, who has no light, trust in the name of the LORD and rely on his God."(Isaiah 50:10)
For Your Information

Interesting Articles About NICO and APS
Click below for information
A Bone of Contention - Cavitations vs. Osteonecrosis

Osteonecrosis- Thrombophilia and Hypofibrinolysis:
Reversible etiologies of osteonecrosis



A medical condition exists today that is quite uncommon and is not a well known disease throughout the medical profession. Several years ago, it was conceived in the Dental field however, to this day, it is not well known among dentists and it is a rare event to come across other medical personnel who may be familiar with this The disease that I am referring to is called Neuralgia-Inducing Cavitational Osteonecrosis, other wise known as NICO. It is extremely difficult to diagnose this problem as the pain symptoms can often mimic other syndromes such as Myofascial Pain Disorder (MPD), Temporal Mandibular Joint (TMJ) problems, Chronic Oral Facial Pain, atypical facial neuralgia/pain, trigeminal neuralgia, phantom toothache, or headache. Jaw lesions showed very little radiographic changes as well as few changes of overlying soft tissues that it was designated the "invisible osteomyelitis", however, it has been recorded under various names such as Ratner bone cavity, alveolar cavitational osteopathosis, Roberts bone cavity, trigger point bone cavity, interference field, and NICO.


Many cases are perpetuated by infection or initiated by infection, however, the clinical and histopathologic characteristics of NICO are only superficially similar to osteomyelitis. In the jaws, minor trauma such as extractions, endodontic surgery, and periodontal surgery are common initiators of intraosseous ischemia, but only in people already susceptible because of an underlying (often undiagnosed) clotting disorder, embolic or other vascular abnormality. It has been found that 94% of NICO patients who failed to improve after their initial surgery had one or more of the following coagulation disorders:


High levels of plasminogen activator inhibitor

Low levels of stimulated tissue plasminogen activator

Low levels of Protein C or Protein S (thrombophilia)

Resistance to activated Protein C

High levels of lipoprotein A

Elevated levels of anticardiolipin antibodies(associated w/ thrombophilia and damaged endothelial cells)
NICO has been documented in patients ranging from 18 years old to 94 years old, in both males and females. Patients usually are between the ages of 35 - 64 years(71%) and are female(75%). The bone sites that are most involved, from most prevalent to least prevalent, are mandibular molars, maxillary molars, and maxillary cuspids/lateral incisors. The third molar sites represent 45% of all jawbone involvement. It has been considered that the disease smolders quietly for years or decades prior to the onset of symptoms, however many cases become painful immediately after jaw surgery, endodontic therapy or crown preparation.


Ischemia is painful and the pain in the jaws is usually more intense (neuralgia-like) than intraosseous ischemia of other bones. The jaws are the only bones with large sensory nerves within them. With NICO, these nerves are surrounded by ischemic, necrotic tissues for long periods of time, often decades. When the pain is present, it is normally much like atypical facial neuralgia or trigeminal neuralgia and the typical NICO patient has had this pain for about 6 years before NICO is diagnosed. The pain appears to be of a slowly progressive nature, (the ischemic process) with increasing pain and increasing areas of activity. One-third of patients have more than one quadrant involved and 10% have lesions in all four quadrants, but not necessarily at the same time.


Antibiotics may temporarily lessen the associated pain of NICO in cases with low-grade infection, however they are not likely to produce a cure. The abnormal intrabony tissues usually must be removed surgically through decortication and curretage. Once this abnormal tissue is removed, the bony defect often heals and the intense facial pain decreases dramatically or disappears completely. One third of NICO patients, however, experience minimal or no pain relief, and 3% have experienced increased pain. The use of various anti-clotting therapies may be of great benefit in the future. NICO has a strong tendency to recur and/or to develop in additional jawbone sites, often requiring multiple repetitions of the same surgical procedure. Thirty percent of affected patients experience local recurrence of jaw or facial pain, usually of a different type than the original pain. One-third develop additional NICO lesions elsewhere in the jaws.


I am always in the process of obtaining more documented information on the subject of NICO. Please check back here often, as I plan to continue the review of NICO and its ramifications. The material you have just read was taken from a paper written by J. E. Bouquot, D.D.S., M.S.D. - Director of Research, The Maxillofacial Center for Diagnostics & Research, Morgantown, West Virginia.

It is often very difficult to find a doctor or dentist who is knowledgeable about NICO. Because I live in Indiana, I feel very fortunate that there just happens to be a few good doctors in the state and surrounding areas who are quite familiar with NICO. Many patients travel from all over the country to see these doctors and to find relief from their pain. If you would like some names of doctors in Indiana and the surrounding areas, please write me.

NICO Related Information/Articles

For a list of informational articles related to NICO and chronic jaw pain, click here: NICO and Chronic Jaw Pain Links to Information

My Surgical Procedure
I wanted to include this surgery procedure on my web page so that you may gain a better understanding of what all is involved in the presence of NICO.


The following is the operative report of my surgery done by William Adams, D.D.S, M.S.D.on April 6, 1997. Patient was prepared for IV general anesthesia with .5% marcaine with 1/200,000 epinephrine and carbocaine 2% with 1/200,000 neocobephrine. An incision was made in the right mandibular 3rd molar site, where a bony defect was suspected by radiograph examination. The initial incision was made from the most posterior extent of the external oblique ridge to the distal of the lower 2nd molar then scalloping forward to the mesial of the 1st molar where vertical relaxing incision was extended to the mucco-buccal fold. The full thickness flap was elevated to reveal a facially intact plate of normal appearing cortical bone. A small irregularity on the surface of the 3rd molar partially healed bony socket was noticed. A fisher bur was used to make a circular window. The full thickness cortical plug was removed for biopsy evaluation. The underlying medullary bone was found to be very hin and friable with large voids in it. The medullary bone was removed in small portions and the walls of the space were curetted for the removal of this trabecullar bone. Further examination revealed that the lesion extended posteriorly into the ramus of the mandible. This area was curetted and quantities of fatty tissue was removed. A milky appearing exudate was noted. Care was taken to avoid any trauma to inferior alveolar bundle. It didn't appear to be closely associated with cavitational site, but was note inferior to the most inferior portion of this cavitational defect. Once the defect was curetted to solid healthy bone it measured to 3.5cm x 2.5cm x 2.5cm, so the entire angle of the mandible appeared to be involved in this disease process. The defect was irrigated with a combination of Peridex/Hydrogen peroxide, then collaplugs saurated with Gentamycin/Cleocin were placed into the defect. The cortical plate was covered with calcium sulfate to prevent soft tissue invasion, flap was repositioned and sutured with 4-0 black silk sutures.


The next site to be explored was the mandibular, left, a similar incision was made from the external oblique ridge scalloping along the gingival crest forward to the mesial of the 1st bicuspid, where a vertical relaxing incision was made. The full thickness flap was elevated to reveal an intact plate of bone, with exception of the 1st molar area which showed a small cortical plate defect. The defect was probed and found to exudate some purulent matter. The defect was noted to be several mm deep and a clinical photograph of it was taken. This defect was curretted and tissue was removed for biopsy evaluation. The defect revealed the presence of a small entry into the mesial root (presumably with a stabadent dental anesthesia prep. instrument, by patient1s previous reports).


The next area to be examined was the 3rd molar area, where a possible cavitational bone defect was found. The cortical plate was remeoved in the same fashion as the right side. We discovered a cavitational defect in the medullary bone, although it was found to be more vascular and the defect was much smaller. The area contained a more that normal amount of fatty tissue. The cortical plug, the trabecullar bone and some of the fatty tissue was sent for biopsy evaluation. From the distal aspect of the entry a small bleeding arterial was interrupted producing some significant arterial bleeding. Pressure was placed until bleeding diminished. The 3rd molar defect measured 1.5cm x 1.5cm.1.5cm. The area was irrigated with Hydrogen Peroxide/Peridex and a collaplug was placed into defect. This cortical place was then covered with calcium sulfate and the defect over the mesial root (from stabadent) was also filled.


The anterior segment of the flap was examined and the neurovascular bundle coming from the mental foramen. The neurovascular bundle seemed to be uninfected, but firmer and larger than normal. It felt somewhat woody in nature. A neuroma was ruled out. The flap was repositioned with 4-0 silk sutures. Patient was boosted with marcaine at the end of the procedure for long lasting local anesthesia for comfort and pain control.
---