Index
The Unpacked Kit
Ribbon Lining
End-Piece Set
Guitar Top
Top Bracing
Guitar Back
Back Bracing
Attaching the Back
Attaching the Top
Edge Bindings
Fitting the Neck
Truss Rod
Fingerboard
Fretting
Fitting the Nut
Grain Filling
Lacquering
Attaching the Neck
Attaching the Bridge
Saddle and Nut
It's Done!

Starting in October of 1998, I began construction of a guitar kit purchased from Martin Guitar company. I've always been interested in building a guitar, and decided that this would be a good introduction to the process. Kits from Martin come with most of the materials pre-cut and shaped; the bulk of the work is in assembly, not unlike a plastic model kit. The directions in the kit are at best terse, so I took the time to skim two books on guitar making. The first was Steel String Guitar Construction by Irving Sloane. The second is Guitar Making Tradition and Technology, by William R. Cumpiano and Jonathan D. Natelson. Both were useful, as each author has their own preferred method of performing particular tasks. The mold and cam operated clamps that you will see in some of the photographs were described in the Sloane book, and he provided plans for constructing the clamps, which, given that you need several, was more cost effective than purchasing ready-made clamps. Other items, like the lacquer used to finish the guitar, and high-grit sand papers (1000 grit and up) were obtained from the Stewart-MacDonald guitar shop, a well-stocked luthier supply mail-order company.
Building the guitar kit has been a lot of fun! The purpose of this web site is to give interested persons an idea of what goes into building a guitar kit. If you have any questions about the process, please feel free to e-mail me.
Giving credit where credit is due, it should be noted that most of the work done on this guitar was performed under the supervision of Bengal, a guitar connoisseur. She finds the high "E" string particularly tasty.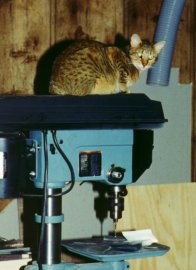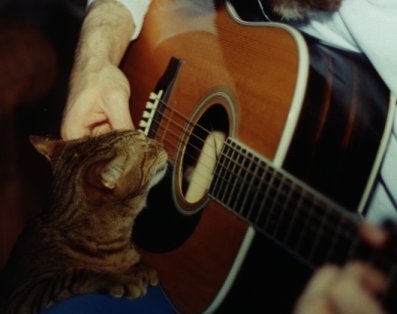 I hope you find the rest of the site useful!
- Jim Kumorek