Hands To Help The Homeless
Web Ring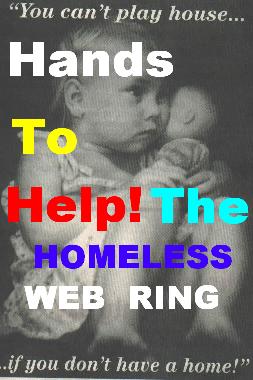 WELCOME
If your here.. Chances some one invited you here. We're a group of people that wants to help the homeless. And we offer each other ideas on how to do this. Some of us has dreams of things that will help the homeless. And we hope to make some of those dreams come true as we help the homeless.
We hope to help the homeless as well as become a strong influnce in each others lifes. So come here often as a member to see what is going on. As well as getting our news letters. This web Ring will be as you would want it to be. So please send us your ideas.. So if you email us with the info asked for below we will be talking to you.
---
---
---
---
---
WEB MASTER
(or)
TRINITY NEWS
Things we need to know about you!
Your full name!
Your Email address!
City you live!
State you live!
Your Web address that will host the Web ring Logo!(if you have one)
WEB RING PAGES/ angelfire web sites