I was chosen to recieve this award for my work on these web pages to bring MS Agents to your attention and for my role in getting new agent programs out to everyone. I want to thank JWPC WORLD SERVICES for presenting me with this award of which I am very proud.
I also want to thank all the programmers who have allowed me the permission to add their programs to my pages. And for the help some have given me in both their agent programs and with my pages. Last but not least to all of those who have come to my pages which I hope have helped you better understand MS Agents and have come to love them as I do. I have been given a beautiful presentation which I would like you all to see just click on the banner below.
Have one of the Coolest & Sexiest Desktops Around! With your own animated desktop assistant & companion complete with matching desktop theme
Free bonus character included with all purchases from this gallery page.
CLICK ON THE BANNER BELOW TO CHECK OUT THESE GUYS FOR YOURSELF & CHECK OUT ALL THE OTHER GREAT DESKTOP MATES AVAILABLE WHILE YOU ARE THERE.
To check out these great new characters buy one or both at these great prices just click on the BONUS BANNER BELOW!!!!! All these BONUSES are included in Comb pack!!!!
Also new at DESKTOP MATES a forum ....register... speak your mind about the Agents...give Don and Rob new ideas about what kind of Agents you would like to see in the future or just drop in and meet everyone just click here DESKTOP MATES FORUM and sign up today!
This is what she wrote me about the chat room.
"I would like to discuss anything Microsoft Agent. I'm hoping to find scripters who are interested in writings scripts to have available for copy or download on the WWW for free. I'd like to find more beginners like me trying to write scripts for Microsoft Agent. Making it easier for the non-scripter to be able to enjoy the capabilities of Microsoft Agent. I am hoping for a chat script that will allow people to have their own Microsoft Agent Enabled chatroom for there sites or applications. The group does not state in the description that it is only for Microsoft Agent conversation and this is because getting a group started is very hard and I believe that having it open for both general chat and Msagent may help get things started a little faster and may get more people interested in Microsoft Agent." So go visit and join the chat get to know other interested in MS Agent scripts or anything in general.
click the link below to check it out.
MISS BANJI'S CHAT "
#2.

E-MAIL TALKER BY SCO/SOFT

E-mail Talker is a user-friendly program to read out your incoming POP3 email messages. With E-mail Talker you can listen to your emails, web pages, documents, help files or anything else you copy to the clipboard. Also E-mail Talker can notify you about current time in specified time intervals. E-mail Talker uses Microsoft Agent technology.

E-mail Talker provides the following functionality:

Get incoming email messages or (if set) only headers of messages from any number of POP3 email accounts.

Speak incoming email messages.

Speak previously received email messages.

Speak current date, time.

Read clipboard and text documents.

Use E-mail Talker as a Story Teller!

Notify about current time in specified time intervals. You can use E-mail Talker even as a Talking Clock!

E-mail Talker Features:

Using Microsoft Agent characters

Support for multiple email accounts

Getting data from multiple accounts performing simultaneously

For every account you can set its own interval for new mail checking

E-mail Talker sits in system tray and can be loaded automatically at Windows startup

For time notification you can set any time interval from one minute to one hour

When character is talking you can skip talking current message or skip talking all queued to talk messages (E-mail Talker receives email messages much faster than reads it so received but not talked messages are put to "to-talk" queue)

E-mail Talker Online Manual (HTML help) contains Character Gallery with 30 characters. Select your favorite character from Character Gallery, download it, install and enjoy!

Learn more about E-mail Talker by clicking here>>>>E_MAIL TALKER

You can try a copy for free and to get Registration is just US$19.95
#3.
Introducing 3 NEW! agents at DavidWare.com.

First we have AMETHYSTH
Amethyst's animations include:Speaking, Idle 1, 2 and 3 for the Price of$5.95
Second there is GOTH
Goth's animations include:Speaking, Idle 1, 2 and 3 Price:$5.95
And last but not least there is ROSE
Rose's animations include:Speaking, Idle 1, 2 and 3 Price: $5.95
While your there be sure to check out all the other MS AGENTS on the site to get there just click HERE DAVIDWARE.COM
#4.
Abhisoft Technologies Microsoft Agent Scripting Software (MASS) is an easy to use tool to create MS Agent scripts with animated, speaking characters.
You can easily create agent scripts by dragging the character on screen, selecting a few options and clicking buttons.
You don't need any scripting experience, even though advanced users have the option to view and manually edit the generated script as well. The program outputs the complete HTML page, ready to upload to your web site.
With easy understandable interface any windows user can create scripts, it is a must have software for every windows users interested in the Microsoft Agent Technology.Version 2.1
Click HERE
Abhisoft Technologies MAPV or The Microsoft Agent Properties Viewer is a small and easy to use Freeware that allows you to view detailed information & status about MS Agent 2.0, Characters, Installed TTS engines.
You can view information like how many TTS Engines are installed, how many animation are there in a MS Agent Character, What is the TTS Mode of a character. Etc Click HERETo check out this great program.
Talking Translator 3.0 is a small and easy to use Text to Speech Language Translator.

It can Translate up to 150 English Words to 7 foreign languages and back.

These Languages include French, German, Italian, Portuguese, Spanish. By utilizing MS Agent Technology it can also read the translation results.

To download this program click HERE That's not all there is a new MS AGENT WEB RING YOU CAN JOIN. It can be found HERE So take a trip by this site and visit all the programs and don't forget to join the agentring if you have an agent page it is a great way to get visitors to your Agent Web Pages.
#5.
IMP Beta v1.1.4

IMP adds Microsoft Agent to your Windows or MSN Messenger. Not only will your personality read the messages to you, but as the sender of the message, it allows you to choose your identity and send it with your message. To be able to use IMP, you and your contacts must install IMP. Once you do this, your contacts receive your personality on their Desktop, to read out your messages. Some of these personalities even support animated emoticons! Download it now for FREE and try it with your contacts.
Here is some more information about features of IMP and things to know about the beta:
- IMP will send your chosen personality to read out your Instant Messages on MSN or Windows Messenger (provided you and your contact both have IMP installed).
- IMP will tell you when your contacts sign on and off
- You can use IMP to check your Hotmail account and tell you when you have new mail.
- Some of the personalities will support Agent based emoticons, this puts a new twist on happy and sad.
- Use the IGNORE list to specify which contacts you want to listen to and which ones you don't.
- Not only are their new e-Clips personalities, you can even create your own personality using your face. This is using the amazing technology from www.cyberextruder.com, their co-development partner.
Things to REMEMBER about IMP
- This is only the beta version, there are still one or 2 bugs at present and these will be resolved in the very near future.
- Some of the personalities are larger than others and if you are using a dial up modem, it may be a little slow when you commence using IMP with your Messenger, please be patient. Once you have used some of the characters, it will begin to return to the normal speed that you are used to. We are working to put up lower bandwidth characters over the coming weeks.
- When you install IMP, it will place an icon on your desktop. In your start menu, it appears as e-Clips ==> IMP.
- Now you can go ahead and download IMP, we hope that you enjoy the beta, there will be more for you soon.
I have IMP and will keep it on while I am on MSN in the evenings if you would like to chat my email is sunnyagents@hotmail.com.
Are you ready to download???? Just click on the IMP Character below to get your free copy NOW!!!!!!!!!!!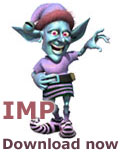 NEW FROM E-CLIPS


E-Clips has come out with 3 new characters (more on the way)! The first new character is ZAK

Zak is a major improvement on the mutt. He is the kind of dog that will always be there for you. He is playful, happy and willing to be your best friend. With approximately 60 actions he is so nice, you could not be without him.

Cute and cuddly without the problems of house training or keeping you awake at night. From the day you take him home he will obey your every command and not chew your slippers!

Price $14.95.File Size: 4.5 Mb The next new character is Hitodama
Hitodama, an invincible Samurai warrior, he is trained in the deadly arts, bringing lightning speed in his actions and of course, respect to those worthy. Hitodama has a comprehensive set of MSAgent actions. Samples of these actions are visible here but put them all together and he makes an awesome character.
Price $14.95.File Size: 4.2 Mb And third we have SJR-23
Super Jiant Robot is without doubt, a boy's toy. A superior piece of machinery that thinks, moves and destroys. This is a killer robot! He has approximately 55 actions. .
Price $14.95.File Size: 5.6 Mb Also in the news from E-clips they have a brand new web page layout and a new update for DESKTOP WIZARD Version 5.0.
With the new version of the software,they have added plugins that bring a pile of different functions. Try the Agent Messenger plugin, maybe you just want the weather. What about sending an Agent Email to your friends? You can even create your own plugins. Are you ready to go check out the new E-CLIPS?
Just click on FELIX he will take you to the web site....

In the next few weeks they will have an all new Sarah Jane complete with new costume and actions and our first male human Chino!
#6.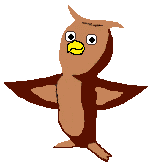 VICTAURI LLC


Stauri Solo


This product is a complete solution for building intelligent interactive online agents for a variety of purposes. It enables you to deliver content in an interactive and intuitive way. Whether the content is for service, general information, education or training, using a Stauri™ Agent can make it easier and more fun for your audience to learn about any topic or get answers to their questions.

The package includes everything for converting any electronic document in Microsoft® Word, text or rich text format into a knowledge base, for building and testing responses to questions from site visitors, server side software for delivering the finished agent and tools for editing the appearance of your agent page and uploading it to your website. It also contains software so that your Stauri™ Agent can be deployed on any stand alone PC.


Features:

STAURI BOARD

Full featured module for importing documents and creating interactive dialogs. Includes everything you need to build your own web-based agents using Microsoft® Agent technology and deploy them on your Windows based host.

STAURI AGENT

This module allows you to deliver your content on any PC. Create your dialog with the Stauri™ Board then simply package it with Stauri™ Agent to bring it to life.

STAURI WEB

A server based module that enables your interactive agent to answer questions on your web site. Very simple to use and install, this powerful content delivery concept is perfect for creating everything from customer service agents, educational and training materials or just for having some plain good fun!

This product provides a complete system for the automatic tracking of documents, conversion of documents into a knowledgebase, searching and summarizing of documents, notification of new relevant information through user defined profiles, and a simple dialog driven interface enabling your intended audience to extract the information they require through simply talking to your documents.

This site also provides Free downloads of some of it's own MS AGENT CHARACTERS such as OZZIE the owl shown above,Libery
Chefette
ALSO Vic Taur the bull,Grethen & Harriet.
The regular price for STAURI SOLO is $99.95 But you can buy it right now for Introductory Price $49.95 To check out all this GREAT PROGRAM and download the agents just click on Vic Taur the BULL BELOW!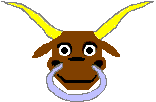 #7.

MASS HOME PAGE


MICROSOFT AGENT SCRIPTING SOFTWARE !


MASS or the Microsoft Agent Scripting Software Pro & FE are one of the best script maker for MS Agent, Which gives you full control over your MS Agent script, you can easily create agent scripts by dragging the character on screen & clicking few buttons.

It gives you features like instant playback of the script; it supports 8 different file formats from basic HTML page to complex Office VBA, to WHS-VBS to news post, from e-mail messages to HTML application. and also EXE. It does it all want you want from a MS Agent script maker.

Advance features include built in FTP client for uploading your scripts & Karaoke Song Maker for converting your karaoke song to cool scripts. With easy understandable interface anyone from novice windows user to win32 programmers can create scripts for MS Agent, it is a must have software for every windows users interested in the Microsoft Agent Technology.

MASS FE FEATURES

Supports 2 file formats

Cursor Tracker

TTS Engine Viewer

Quick Tags

All basic features of Pro

MASS PRO FEATURES

Supports 8 file formats

Build-in FTP Client

Instant Playback

Cursor Tracker

TTS Engine Viewer

Script Event Editor

Quick Tags

Script Wizard

Karaoke Song Maker

Advance Script Configuration

& FREE Technical Support

For only$19.95 Just click on the MASS icon below to try out this great program!!!!!

#8.

LEBEAU SOFTWARE


This site has some great programs to use with Microsoft Agents. The first one is ICQ LAUNCH v1.0.1.12

ICQLaunch is a utility program that allows users with multiple ICQ accounts registered on their machines to create Start Menu and/or Desktop shortcuts which can specify which account to load into ICQ, regardless of which account was last opened. This saves the user the trouble of having to use the "Change Active User" menu to change between accounts after ICQ is loaded all the time.

Features include:

Allow the user to load any ICQ account, via Start Menu/Desktop/QuickLaunch shortcuts, that they have registered and are present on their machine

Allow the user to load the above account in any specific ICQ status, regardless of the status when ICQ last closed

Disable the ICQ splash screen upon launching an account

Ability to either shut down ICQ before launching the account or to open the account in a new ICQ window, allowing for running multiple ICQ windows at the same time, each with a different account.

Option to display the ICQ Contacts List when launching an account

Keep a running log of all ICQLaunch activity

Multi-configuration support, each ICQ account can have it's own settings which can be different from other accounts.

Shortcut wizard

Works under Win95/98/Me and NT/2000

Next there isAGENT CB v1.1

AgentCB is a small utility program that utilizes Microsoft Agent and Text-To-Speech technologies to read you the text contents of the Windows clipboard whenever it changes.

Features include:

Support for starting and stopping clipboard monitoring

Support for reading the current clipboard contents anytime

Support for showing and hiding the character anytime

Support for showing the MSAgent Character Options dialog

The next program is ICQ CHAT PLAYER v1.0.0.0

ICQ Chat Player is a utility program that allows users to view ICQ .cht files directly.

Features include:

Allow the user to view chat sessions stored in .cht files

Support for viewing chats in Split, Horizontal, Vertical, or IRC modes

Full support for emotes/smileys/actions, text formatting, background colors

Works under Win95/98/Me and NT/2000

And now we come to TMSAgent VCL For C++ building v1.5

This is a Microsoft Agent VCL (Visual Component Library) component for Borland C++ Builder 3, 4, and 5.

Features include:

Each MSAgent interface encapsulated in it's own C++ class for easy use

Support for multiple characters

Support for individual speech balloon settings for each character

Support for individual command collections for each character

Support for individual MSAgent PopupMenu, user-defined TPopupMenu, or no menu for each character

Support for all MSAgent notification events (OnCommand, OnBookmark, etc...)

Ok ready to try one or ALL of these great programs? Just click on the link below to go to Lebeau Software and look at the screen shots and try out all of these Agent Programs.

LEBEAU SOFTWARE

#9.

READ PLUS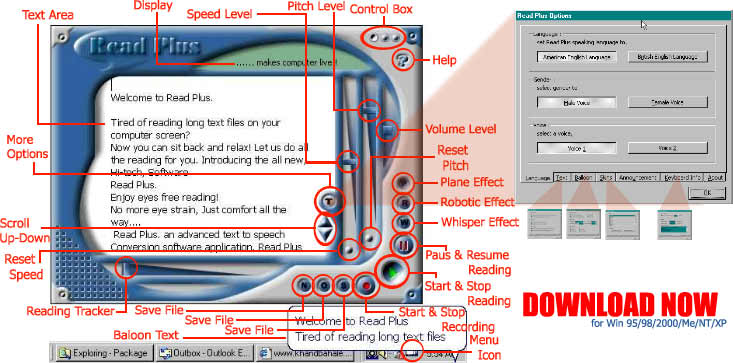 Read Plus an intelligent 'Text-to-Speech' Conversion software application. Read Plus can read any kind of text, word, sentences, paragraphs or a whole book and gives you audio output. Read Plus gives you a real feeling of reading. Read Plus has 24 different voices. You can choose any one of them to read the text for you! Read Plus also gives you control on the speed and pitch of voice.

Advanced Text-To-Speech application utilizing the best technologies in the world today.

Autodetection of copied Text & opened file facility to save time in copying & pasting & start reading operation which improve our work efficency while working on computer.

Multiple language selection.

Supports maximum file formats.

Direct object linking through RTF documentation.

HTML, DHTML scripting and testing provision for web developers.

Online Reading Speed,Pitch,Voice,Volume,control change facility.

Adjustable display balloon properties eg. balloon position ,balloon size, font size,font type ,etc.

Automatic Time & Message announcement facility for offical use .

Every character & word pronounciation facility to learn keyboard typing comfortably.

Attractive & innovative software skin change feature.

Easy Import - Export of documents.

Customize settings and Graphical Interface with attractive skins.

Online help provision.

Fully Keyboard Access.

Excellent compatibility with different versions of Operating System.

And there are dozens of different skins you can use!

Read Plus is $10.US... Rs. 450/- for INDIA only Just Click on Real Plus Jungle Skin below to download your copy today!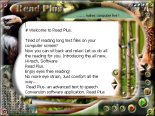 #10.
I have reviewed this site before and it can be found on my programs page the webmaster has made quite a few new changes and ask me to update the site of which makes me very happy to do with all these programs its difficult to keep up when one changes and I'm sure you will love the changes and new things he has added. So go take a look for yourselves at this great agent site DWACON AGENT THEATRE just click on the banner above or the one below to check it out.

check out these newsgroups to have help with all your agent questions there are lots of people there to help you in every way.

check your isp's newsgroups for MICROSOFT.PUBLIC.MSAGENT or go to this newsgroup SPACEMANS.NE.MEDIAONE.NET and look for MICROSOFT.AGENT.FUN don't be afraid to ask questions thats what its all about.

For some people not sure of how to get to these newsgroups here is a step by step instruction for you.....

to get to the news groups you need to use Outlook express go to tools then accounts......

click on the news tab....

go to add then click on news......

fill in your name......

hit next.....

fill in your email address.....

hit next....

type in spacemans.ne.mediaone.net ......

your finished close it and it will ask if you want to download the newsgroups hit yes ....

look for microsoft.agent.fun ........

if you want the other ms agent site do the above all over again except when you get to newsgroup......put news.yourisp.com or net like mine is news.stlnet.com now there are tons of them there so you have look close to find (microsoft.public.msagent) but its there........
WOULD YOU LIKE TO KNOW WHEN NEW PROGRAMS ARE LISTED ON MY MAIN PAGE???? JUST EMAIL ME HERE:

Email me at sunnyagents@hotmail.com

AND ASK TO BE PUT ON MY MAILING LIST OR IF YOU HAVE AN AGENT PROGRAM YOU WOULD LIKE ME TO ADD TO MY PAGES JUST WRITE AND ASK I WOULD BE GLAD TO ADD YOUR PROGRAM TO MY WEB PAGES.
To find me on icq my #is 30460754 on AIM sunyflames and on MSN look for sunny or sunnyagents@hotmail.com.or sunyflames2002 on Yahoo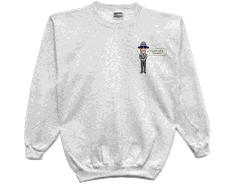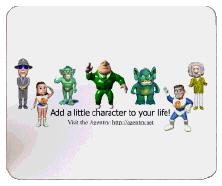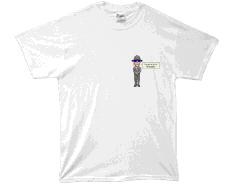 For a long time now the Agentry has been the main site to go to find not only new MS AGENT Characters but tons of information about every subject related to MS AGENT TECHNOLOGY....new agents...new sites...the newest information on where to find anything connected to MS AGENTS. Now for those of you like me who fell in love and cannot get enough, the agentry has now opened its apparell shop not only Tee shirts & sweatshirts but coffee cups and mouse pads with the agentry logo show above and also featuring some of your favorite MS AGENT CHARACTERS. Are you ready to go Shopping? Just click on the link below to order your favorite MS Agent apparell NOW!!!!!
If you are new to Microsoft Agents go to the microsoft agent workshop just click on the address it will give you lots of information you need to know


a site that will tell you what you need and the downloads to allow your agents to speak and move *S*
Microsoft Peedy,Merlin,Robby & Genie character (c) 1996-1998 Microsoft Corporation. All Rights
Email me at sunnyagents@hotmail.com

NOW JUST CLICK ON Squidge AND HE WILL TAKE YOU TO THE NEXT PAGE OF PROGRAMS