Art in Israel * Music in Israel
NAFTALI LAHAV - GUITAR MUSIC
Go to Lahav's official site...
---
Naftali Lahav is a classical guitar soloist and composer.
Lahav's guitar compositions are inspired from the Israeli
and the middle east essence.
As the director of the "Israel Studio for Guitar" Naftali Lahav developed a
unique and New Music Education Project.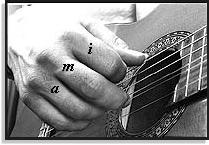 ... background (carcassi) guitar music? ?
For information about Lahav's work:

1. LAHAV'S GUITAR COMPOSITIONS
2. THE NEW MUSIC EDUCATION PROJECT
For Hebrew version...


Print now!
3. One of Lahav's guitar ETUDES. A guide for the young Artist.


4. Play Guitar - The best guitar method on the Internet (Free)
email: guitar@nl-guitar.com
Copyright © 1996, LIMOR music publication