---
THE ROCKS:: SYDNEY :: NEW SOUTH WALES :: AUSTRALIA :: CROWDED WORLD
---
FOR TOURISTS, THIS IS
THE
PLACE TO GO TO SEE WHAT REMAINS OF CONVICT AND HISTORIC SYDNEY. For locals, this is the place to go to get
pissed
(drunk), and if you are unlucky, maybe find yourself in the middle of a
blue
(fight). Especially on a public holiday like Australia Day! This is the one part of Sydney where, wandering in, you might think you have stumbled into Europe -- it has it all, the tight-packed old stone houses and old stone cobbled streets. There is a reason for this -- The Rocks is in fact the oldest settlement on the entire Australian mainland, and much of the
ambience
of this area has been preserved. But if you could imagine what would happen if you picked up a chunk of Georgian England (all cobblestone and narrow lane), carried it halfway around the world, and then dumped it on the most unsuspecting sandstone shore you could find -- then imagine you seared the said creation beneath a blue sky and dazzling Australian sun, and loomed over it with skyscrapers -- well anyway, the result would be something like The Rocks.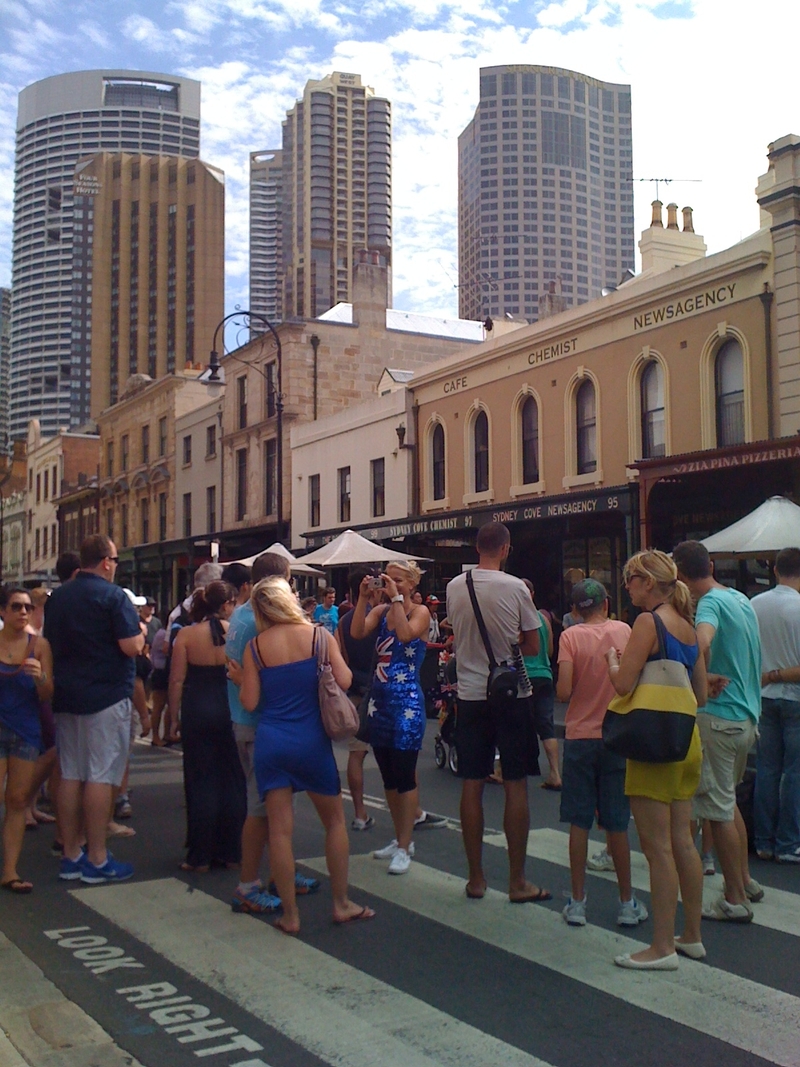 To complete the picture, gentrify the area with an assortment of old school
pubs
, selling a variety of Old World beers and other drinks (and the occasional aggressive drunk).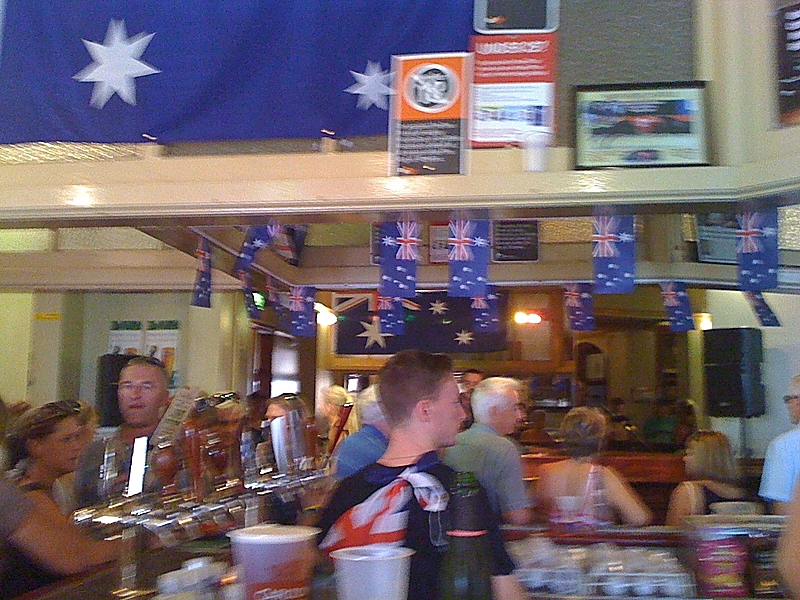 Sorry, there is one more necessary step, to complete the
picture
-- to make it really authentic you have go to flood the place with foreign tourists.
What do you have --
voila!
, The Rocks! It is not the kind of place I went to often when I lived in Australia, but I can understand its appeal with tourists. As
The Rocks Village
website reported:


"Traditionally the home of the Aboriginal Cadigal people, the rocky sandstone ledge known as The Rocks is where mariners of the First Fleet stepped ashore on 26 January 1788 and British settlement of Australia was first established.
"Today it is Sydney's historic old town quarter, nestled between the famous Sydney Harbour Bridge and Sydney Opera House."
Nathalie
, a visitor to Sydney, wrote: "I love The Rocks! The scenery is beautiful, the night`s view is the best... with the Opera House as well as the Bridge. And my favourite place of all is "Pancakes on the Rocks" -- the food is yum, and the service is friendly! But, there`s a warning, its so popular the line is super long!!!" Meanwhile, another visitor, E.K. Castle said: "The Rocks was one of the highlights of my visit to Sydney, where the great city began. The weekend market was so vibrant, and was certainly one not to be missed. The preservation of the old buildings is a must to show were history began in Australia. A return visit is a must for me."
---
---
---
---
FIRST A RUN-DOWN OF SOME OF THE THINGS YOU CAN SEE I THE ROCKS, ALL THE TYPICAL TOURIST STUFF, AND THEN, FOR A BIT OF SPICE, I WILL RELATE ONE OR TWO OF MY MOST RECENT EXPERIENCES THERE. First, those stats and recommendations about what to see in The Rocks:
++-+ EXPLORE the maze of cobblestone lanes for a wealth of historic sites, cafes, restaurants and markets.
--+- Shop for antiques, collectibles, souvenirs and a wide variety of original Australian art (Aboriginal pieces), crafts, fashions and designer jewellery (opals, etc).
++-+ Have a drink at Australiafs oldest licensed hotel. Click here for a list and description of places where you can drink and party in The Rocks.
--+- Take one of the guided walking tours of this fascinating area.

While you're in the area, you ought to drop into the Museum of Contemporary Arts (MCA).
---
---