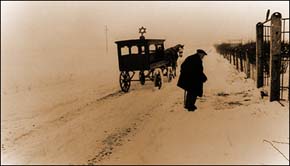 Address: BP. X. Kozma u. 6. Tel: 262-4687
Photos taken by the author Illés András on July 2002.
The Jewish community received a large area from the city administration in 1868 from the territory of the Rákoskeresztúr Public Cemetery. The cemetery was planned by architect Freud Vilmos.
Between 1905 - 1910 a geat number of Jewish were exhumed and transported in this new cemetery by the Pest Chevra Kadisa.
The following brief description is that of the largest existing Jewish cemetery in Budapest, where more tan 300,000 Jews have been buried: The entrance is decorated in white and forms part of a major building complex. The function rooms, central preparation halls, offices and ceremony halls are separated for men and women. The building was designed by the architect Freund Vilmos in 1891. During the past decades, this cemetery become also the central cemetery of the Jewish inhabitants of Budapest.
Important sights:
-At the inside wall of the entrance building you can find a memorial
monument for the 10,000 Jewish Hungarian soldiers, died during WWI.
-Military monument of the volunteer soldiers of the revolution of 1849 ( design by Lajta Béla).
-Monument for the martyrs of the Hungarian Holocaust, realised by the famous Hungarian olympic champion and architect Hajós Alfréd ( he was the first Hungarian olympian to win a gold medal).
-The large white walls and columns-pillars holds the names of all of the victims (some hand-written entries complete the list) and here are buried 2,000 victims of the Klauzál tér ghetto from the last months of WWII.