---
Wolfy's Gamma World WorkShop
Click Here to Enter the Appalling Hills
Wolfy's New Texas Gamma World Campaign
Some of the Collected Works of DMH

Click Here to visit Wolfy's Den
Click Here to visit MosesPro
---
What's New in the WorkShop
---
01/21/99
Finished reconstruction of Derek's creatures section and the contributor's section of Wolfy's Database.
---
01/19/99
Began reconstruction of Derek's creature section, and moved all non-creature related items back over to Wolfy's DataBase, in preparation for adding more of Derek's work.
---
01/18/99
Added New Texas Campaign Notes part 1 and 2. Moved "What's New" section to the bottom of the page.
---
01/16/99
A FAQ is planned for the Horror in the Appalling Hills Net Module provided I receive a few more questions and find time soon. As part of the Rennovations at Wolfy's Den, the rest of Derek Holland's excellent works have been transported to the Workshop, for needed repairs and expansion. Wolfy's New Texas Gamma World campaign notes will also be posted in the Workshop, as soon as they can be converted to html.
---
01/01/99
Yes, Derek Holland(DMH) and I have been very busy in the workshop. Hopefully, this site will eventually be fully integrated with Wolfy's Den and MosesPro, to possibly forming one big super site stored on two servers. Now that this project has been released, I feel anything is possible! I cannot say that the project is actually finished. Derek and I leave it up to the GM to put some of the final bits and peices into place. We're sure you won't mind. Feel free to email us, with any suggestions, questions, comments, constructive criticism, laughs at my bad artwork, or especially compliments.
---
Obligatory Links
Angelfire - Easiest Free Home Pages
WhoWhere? - The Best Communications Guide on the Web
Matt's Script Archive - Awesome Web Server Scripts
CareerPath - Where Employers and Employees Click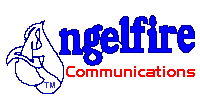 Email: wolf1@ecity.net