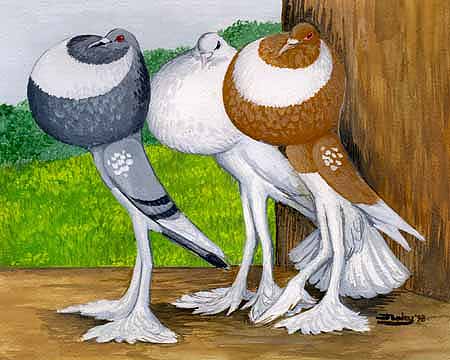 Pouter & Cropper Clubs,
NPA Show Schedule and Bands
---
POUTER & CROPPER
CLUBS

National English Pouter Association

SHOW SCHEDULES

2020 National Pigeon Association Show Calendar (NPA)


---
BAND
SIZE
REFERENCE
Size "7mm" For Breeds: Brunner Pouters.
Size "8mm" For Breeds: Pigmy, Norwich, Swing, Thuringer, Voorburg, Silesian, Holle, Horseman, Hessian, Czech Ice, All Spanish, and Med. Size Pouters.
Size "9mm" For Breeds: Old German, Laudino Pouter, Jiennense Pouter, Granadinos Pouter, Gorguero Pouter and other large Spanish Pouters.
Size "10mm" For Breeds: English Pouters, and Elster Pouters.
Size "11mm" For Breeds: Bavarian Pouter.
Size "13mm" For Breeds: All muffed Pouters, Poms, Reversewing, Hana, Dutch, Ghent, and Saxon Pouters.

Minimum order for each band size is 10 and sold in increments of 5 there after.
The following prices are updated for 2015 Bands only.
Cash, Check or Money Order Payments: NPA Bands:$0.50ea
Shipping:US Addresses: $5.00, Canadian Addresses: $10.00.
Credit Card Payments: NPA Bands:$0.50 ea.,
Shipping/Handling charges included.
Minimum Total Band Order - $25.00
All Payments should be in US Dollars

Band Order Online(NPA 2020)