Me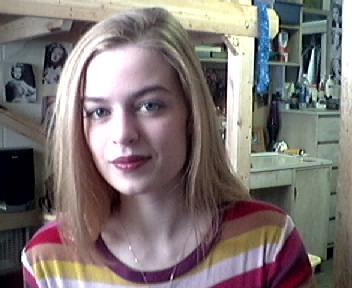 Welcome to my bio page. Hopefully here you will learn a little more about me and why I am so interested in music. Read on!
Vital Stats
Des Moines, Iowa is where I live.
I attend a private liberal arts college in Iowa.
I have a mom, dad, brother, and a dog called Daisy.
Favorites
Hot Artist? Any and All
Group of All Time? U2
Website? Mine, silly
Addiction? Concerts and CD's
American or Brit Pop? Brit Pop
Christina or Britney? Christina...
Food? Sushi or Cotton Candy
Color? Blue
Drink? Yoo-Hoo or Pepsi
Beautiful People? Ava Gardner & Christian Bale
'NSYNC quote? I like to do whatever you like to do, I think, I just don't play hopscotch! (Joey Fatone, Jr....AKA, HOTTIE!)
'NSYNCER? Joey
Song of the Moment? What It Feels Like For A Girl by Madonna
Underrated Song? Yellow by Coldplay