8.5mm Magnecor Sparkplug Wires on Wire Bracket from Bonneville SSEi
Although the 8.5mm Magnecor wires will fit in the stock wire separators, I thought I'd try something different. The bracket from the Pontiac Bonneville SSEi gives a much cleaner appearance.
Here's a view of my engine bay minus the trottle body and intake.
A couple of older shots of the wires and bracket.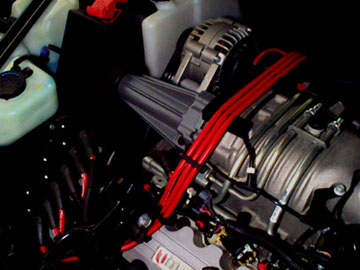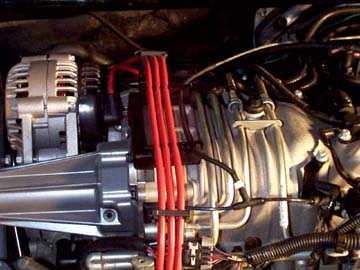 Damn, I'm glad I moved that vacuum hose! Now it's centered and runs parallel to the plugwires. What do you think, should I swap out the nylon vacuum lines for some red silicon hose? Nah, that'd be a bit too much red. I will put a bit more of a red splash on the right side of my engine bay. Stay tuned.
The sparkplug wires can be purchased at the Grand Prix Store and the bracket can be purchased from most any GM parts dealer using part number 24507192.
home