Upon The Point Of Death




A Human Being

A Site Devoted To
The Issues of Life and Death
One Creation Under God



Other Pages At This Site
Christianity
The Issues of Life
Links to Other Informative Christian Sites --->
Miscellaneous
[N.B. The following poem regards physical, not spiritual death.]
Any type of death is neither advisable, nor rewarding.



Upon the Point of Death



A Phase shall soon begin to ebb,
Which now appears to rise
To blacken all the golden spheres -
Entomb the massive skies

The leaders of this damnéd troupe
Believe that death can sail.
But it will crush their feeble whim.
Then all their hope shall fail.

No need to run headlong into
The thief with arms outstretched.
For time will bring it soon to pass;
And you (its prey) shall catch.

No more the interruptions streaming -
Stalwart callow scale.
Death shall arrest deceiving mouths
And rend in twain the veil.

And silky time - that embalmed shrine -
Was shattered on the floor.
While quarks and neurons razor breath


Lie waiting at the door.



No more the shuttered windows vast -
Like clouds against the sky.
For truth shall shred the scornful past
And lighten every eye.

No more the lies which cloud men's minds And withhold useful breath.
For all shall fully be revealed
Upon the point of death.

--Compiled from the cries screamed from the nethermost of hell itself.

(Proof that this is possible:
"For great is thy mercy toward me: and thou hast delivered my soul from the lowest hell." -- Psalm 86:13
And, "Thou hast laid me in the lowest pit, in darkness, in the deeps." -- Psalm 88:6 )


Heard and written by Eric Strobel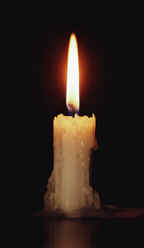 Addendum -- That which must first die is pride.
Then, most which lies beyond death's door may be clearly viewed
without dying.




There are two subjects covered by the rest of the pages at this site:

1. Christianity -



2. Miscellaneous Pages -


Page URL: https://www.angelfire.com/ia/form613/index.html
© Entire Site Copyright 1999-2021, Eric Strobel
Webmaster: Eric Strobel
Poem written and Created on September 18, 1999
Last revised: 9/15/2021
All graphics on this page except the "starcross", sun & planets provided by Angelfire
All graphics not credited at this site are supplied by the Angelfire Web Shell server.
Burning Sun provided by Talstar. This link seems to have changed, but there is a link to Clipart Warehouse on this page.
Moon provided by Clip Art Castle.
Star provided by Clip Art Gallery.
Globe provided by Angelfire.

---
---