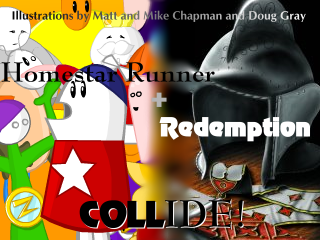 Like Redemption? Like Homestar Runner? Like both? Well, this is the place for you! Check out tons of H*R Redemption cards I've made over the years (okay, year) and keep checking for updates!
Categories:
All cards
Characters
Objects
Strong Bad Emails Only
Miscellaneous
Most Recently Updated: Check the bottom of the "All Cards" page for 10 new cards: 9 Cheat Commandos cards and, due to popular demand, Homestar Runner (SA by Chris Sauer)!