The New World Beat Band Web Site!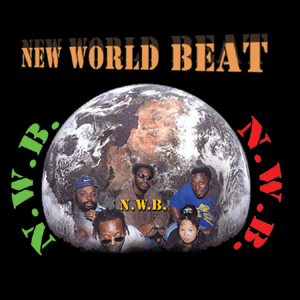 Information about NWB
Band Info
CD Release Party June 9th @ The Lion Den
Picture Section
Artist Links
Reggae Radio Links
Upcoming Shows
GuestBook(Soon Come)
Listen To Americas New War MP3
"Latest Update "9-11-02 " May We never Forget 9-11-01"
---
The New World Beat Band...........................!
Based out of Brooklyn N.Y. The New World Beat Band has backed many Reggae Artist and R& B Artist in their past. Now it is time for THE NEW WORLD BEAT BAND to Present to you their Newest C.D AMERICA'S NEW WAR .NWB is co mp[osed of Musical Director and band Leader....Linden Aaron(Guyanna on Drums.Keeba(Guyanna).........on Lead Guitar and Vocals, Emi Abuno(From Japan)on Keyboards and Background vocals, John T. On Bass, Sista Agnes Bell(England)on Violin and Vocals, Sista Cindy Simeon(Jamaica) on Background Vocals, Rocky Dan on Background Vocals, Ashambi Pratt on Background Vocals.Asisting with the management of NWB is the Man called Diamond also an featured Artist.
CD Cover and Label designesd by Tony "Rankin" Winn.........The General.Tony came up with this idea to expose the plot of America's New War..........IT is Right here at Home.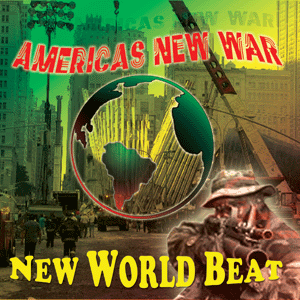 Picture it!You see the Rebels here on our Devastated Land ready to destroy our last.With the help of Rastafari,Prayers, Positive People in thought, mind, spirit and soul, we can overcome the Pressures Inna Babylon!
!Special Thanks go out to The Lion's Den Staff, Sal, KiKi, Bobbi,Alana,Rob and the Security Crew,Curlies Studio,Coyote Studio,Easy Star Records, WKCR F.M., KTUH F.M. inna Hawaii.Aloha!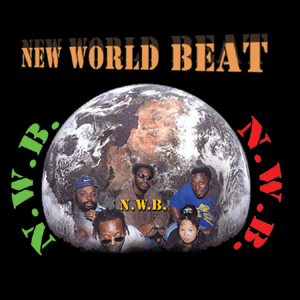 >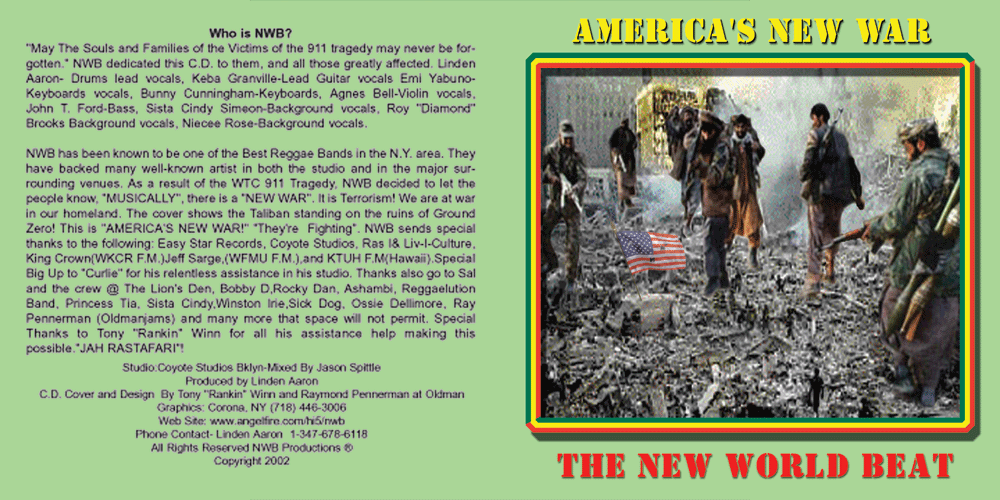 >

"Amreica's New War"
© Copyright 2002,Tony Rankin Productions, Inc. All Rights Reserved. RankinWebs® is a registered trademark of Tony Rankin International
>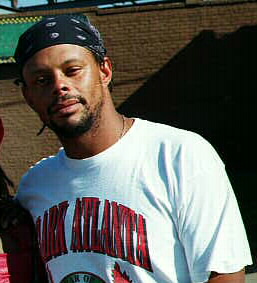 My Favorite Web Sites
Visit Easy Star Records Web Site
The General Tony Rankin Winn
Sista Cindy Simeon Web Site
The Liv-I-Culture Band Web Site
Jammin Reggae Archives Web Site
CD Release Party Invatation Print It Out!
Tony Rankin Multi Media Page
Liv-I-Culture Multi Media Page
King Crown Music
Reggae 24.com
Zack Glass Music Web Site

Email: tonyrankin@angelfire.com