NIVUCHA

JIPSUDIH Weavers Village.
WHO WE ARE
HISTORY
PRODUCTS
SPECIALITIES OF THE PRODUCTS
CO-OPERATIVE SOCIETY
ENLIGHTENED GUIDANCE
MARKET CREDENTIALS
---

Who we are:

---
We are a primary co-operative society of tribal weavers who have lived and pursued a traditional craft for generations together in the Chotanagpur plateau of South Bihar, which has been carved out recently by the Government of India as a separate state called Jharkhand.
---

Our History:

---
Jharkhand is a land of hills, valleys, forests and scattered hamlets inhabited by a large number of tribes. One of the largest of these tribes is the Munda whose members live by their traditional nature-worshipping culture called Sarna dharma with Singbonga as the supreme deity.
We are Sawansis, the endogamous weaver clan of the Munda society. For centuries, we have practiced our traditional art to weave bridal sarees (Songolparia), priests' robes (botoi) and dancing apparels for men and women (kareya and lahanga) for the Munda community. No tribal wedding celebration in the region would be complete without these.
But times changed. Our purely handwoven articles started proving too costly for the average, poor tribal. Our craft started languishing.
---

Our Products:

---
So we have done two things:
We have organized ourselves in a Co-operative Society and we have diversified our production into a range of furnishings useful to people like you. Without sacrificing our traditional character, design and motifs of weaving, we are now in production of
Single and Double Bedcovers
Divan Covers
Sofa Cover Sets
Door and Window Curtains
Table Cloths
Runners, for Tables and Floors
Mantle-piece Covers
Tablemats and Tablemat-sets
Floormats (asan)
---
We are also weaving a few wearing apparels, viz.
---
Cotton Shawls
Woollen Shawls
Woollen Mufflers
---
Our product-range also now includes a few items stitched from fabrics woven by us, viz.
---
Cushion Covers
Bolster Covers
Rucksacks
Shopping Bags
Ladies Handbags
Shoulder Bags
Spectacle Cases
Coin Purses
---

Our Technology:

---
Our products, known popularly as Chotanagpur Handloom, are woven on primitive looms, which use no healds or rounded beams, but only a pair of strong Salwood poles, a bamboo reed, a roller bar and some wooden rods. On this loom we weave intricate designs using nothing but our fingers. All our designs are in our minds and we weave them as we go along.

With this "primitive" technology, we turn out articles of artistic handicraft that we feel, you must see in order to believe.
---

Specialities of our Products:

---
Our efforts are modest, but our products are unique. For "you cannot find exactly the same things in any other handloom pocket of India." (a la a visiting central Government expert)

You will not only find our designs so bold and beautiful that one large piece would dominate a whole room, but will also notice many other special features:
Every piece is reversible. It can be used with either side on top and needs washing only at long intervals.
Unlike any other mill-made or handloom textile, our articles do not repeat patterns. Each piece is adorned with bands of different patterns from edge to the middle and then mirror-imaged in the other half.
Each piece is different from the rest. No two pieces are identical unless we purposely make them so.
Our products are available in more than 20 different colour-effects using eight basic colours.
When you use our products you will also notice that they easily last 20-25 years and that the colours are all fast. We mostly use azo-free novatic dyes.
---
Our Co-operative Society:
---
Our current strength lies in our Society, a vibrant, well-organised purposeful Co-operative that we formed in 1988.
In the olden days, all Sawansis had to work on outdoor looms and were compelled to suspend weaving during 4-5 months of very hot summer followed by the very wet monsoon. They had to trudge long distances to a Sardar or Mahajan only to be told, as often as not, that he had no money to pay wages that day or no yarn to issue for further weaving.
Not so any more. We have now acquired 20 acres of land and set up a weavers' village with a central workshed, office-cum-store building, residential houses for 20 weaver families, farmlands and a community well. In memory of a dear young friend Jipsu, we have named it Jipsudih Weavers' Village. It is located near village Torankel, six kms from Khunti in the district of Ranchi.
We have a weekly assembly, in which weavers from Jipsudih and 8-10 other villages come to deposit their week's output, collect wages and are given yarn for the next week's weaving with instructions on what to weave. At least for the 15 weavers living in Jipsudih and working in the central workshed, there is now uninterrupted work throughout the year.
---
We Are Not a Run-of-the-mill Society:
---
The working of our Society is marked by some features that may impress you:
Continuous Work: Irrespective of ups and downs in sales, we give uninterrupted work to our regular weavers throughout the year, even though that may mean holding large inventories at times.
Wage Rates: Our weavers are paid a comfortable wage, such that 30-40% of a product price is the wage component.
Wage Payment: Not only are there no wage dues ever, most weavers actually get advance wages whenever they need. These are slowly adjusted against future earnings.
Women's Involvement: Every woven piece is 'finished' by careful clipping and fringe-knotting. This work is given to women who are paid at liberal rates for this work.
Bonus: All weavers, finishers and other workers of the Society get an annual bonus proportionate to their annual output. At least 50% of the bonus is paid in kind. The articles are entirely to individual recipient's choice.
Welfare Fund: All weavers, their families and finishers get grants from our welfare fund for treatment of diseases, marriages, death, childbirth, family planning and so on.
Free School: We run a primary school at Jipsudih for our kids as well as other children from neighbouring villages. The school not only charges no fee but provides free books, copy books, pencils, slates etc. to the children.
Co-operative Farming: The Society lands are jointly farmed by families living in Jipsudih. The Society advances the entire cost of farming and recovers it from the share of produce of each farmer family.
Consumer Service: We buy a host of useful household articles at wholesale prices- sarees, dhotis, utensils, umbrellas, flashlights, mosquito-nets, cycles, tyres, tubes & what have you- and sell them to our workers at cost price.
Product Development: The Society has been assisting its weavers all the time to develop new products, new designs and new weaving techniques as also to develop quality consciousness. That is why our product-range today is more than double of what it was five years ago.
Training: The society arranged to have its selected weavers trained in handling modern frame-looms, jacquards and dobbies, so that we are now in a position to diversify further into lighter fabrics without losing our basic style.
No Liabilities: Our Society owes not a farthing to anyone. We have taken no share capital or loan either from the Government or from any other institution.
---

Enlightened Guidance for us:

---
For the last six years our Society has been working under the guidance and supervision of an unexpected person: Mr. Abhas Chatterjee.Mr. Chatterjee stood first in the IAS (Indian Administrative Service- one of the prestigious services in India) examinations in 1966, worked as a member of that service for 26 years, acquired reputation as an officer of exceptional capability, intellect and integrity, but quit the service in 1992 after developing a firm conviction the State in India is working all the time against the Nation. He came in contact with us in late seventies in course of his official work and developed an empathy for our art. Since 1995, he has been devoting much of his time to act as the virtual guardian of this small community.

His wife Ms. Milicent Chatterjee has been our constant guide in matters of design, social issues and environmental concerns.

We remain sad that the person who inspired his parents to take up our cause, Chatterjees' young son Pathikrit alias Jipsu, is no more. A drowning accident took his life on 25th August 1997 when he was about to graduate as an engineer at 22. While he lived, he always accompanied his father to our proposed new village during vacations, taking deepest interest in production, village layout, construction and everything else and became a wonderful brother to all of us. Eternal gratitude to his sacred memory persuaded us to name our new village after him.

Those who deal with us indeed deal with Mr. Chatterjee. So they may feel assured of responsibility, intelligence and honesty in our response every time.
---
Our Market Credentials:
---
We approach you with confidence. For our products have already received appreciation from very respectable quarters. Our products are widely available in Germany through a chain of Dritt Welt Ladens (Third World Shops). Indeed, some of our German friends led by Rev. Dieter Hecker, his wife Ursula and Mr. Derk Hansen have been so impressed by our craft that they set up a registered society called Freundeskreis Chotanagpur in Karlsruhe and Dortmund to import our articles and distribute them to the Third World Shops in their country. Indeed, it is their kind help that enabled us to buy the land and finance some of our constructions. They provided a corpus for the welfare fund and other grants from time to time.

One can see our products on the shelves of some leading handloom/handicraft emporia of India. Some prestigious hotels in the country have all their beds draped with our bedcovers. So do several leading training institutions and the guest houses of important corporate houses. Very eminent persons rising up-to the level of Governor of a state, have found our products excellent gift items.

And no one who ever bought our products has had cause to complain ever.
---
Our Request:
---
You regularly need the items within our product range. 'Do try them out' is all we say.

YOU WILL GET MORE THAN YOUR MONEY'S WORTH AND WILL SUPPORT A WORTHY CAUSE IN THE PROCESS.
---
PHOTOGALLERY
---
The Weaver
---
Mr. and Mrs. Chatterjee in Germany (May 1997)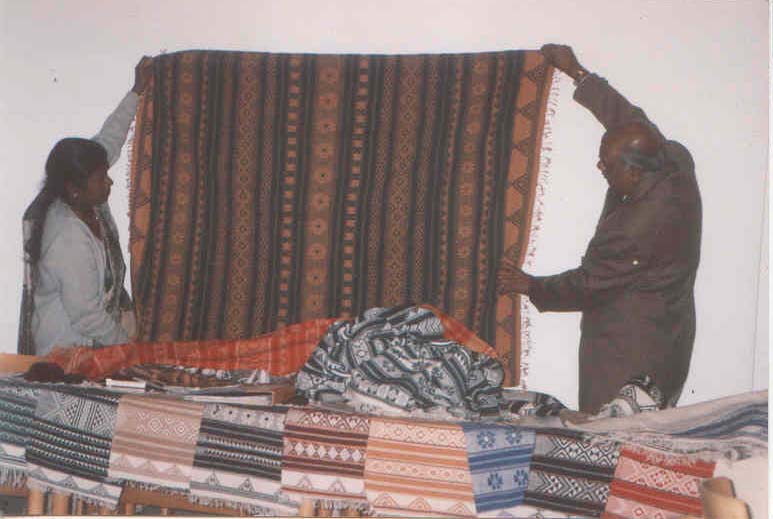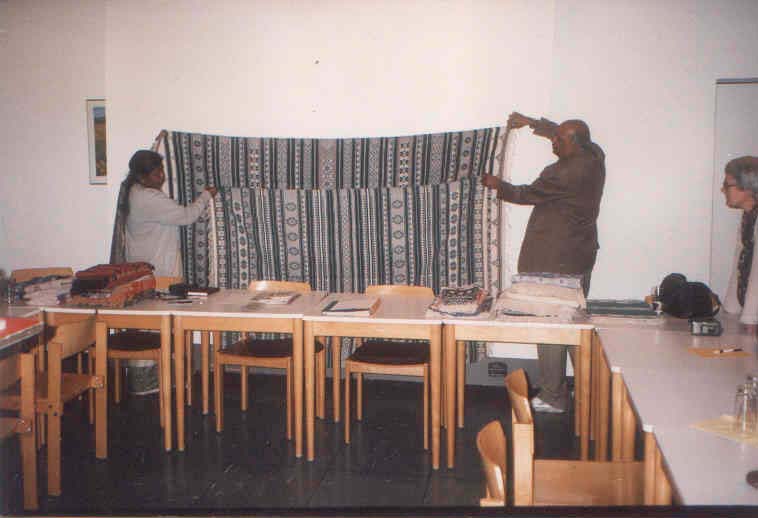 ---
SCHOOL BAG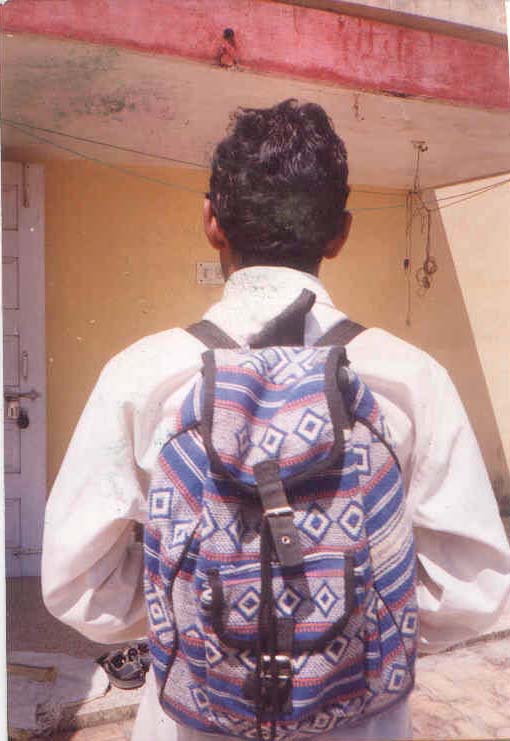 ---
WOOLLEN SHAWL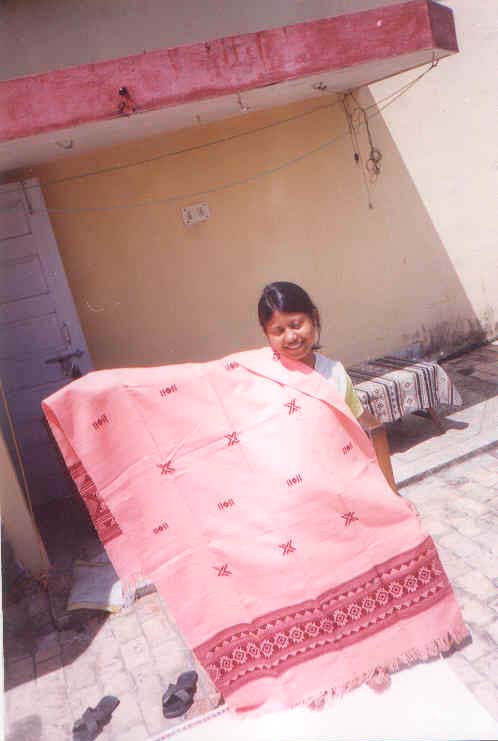 ---
Shopping Bag and shawl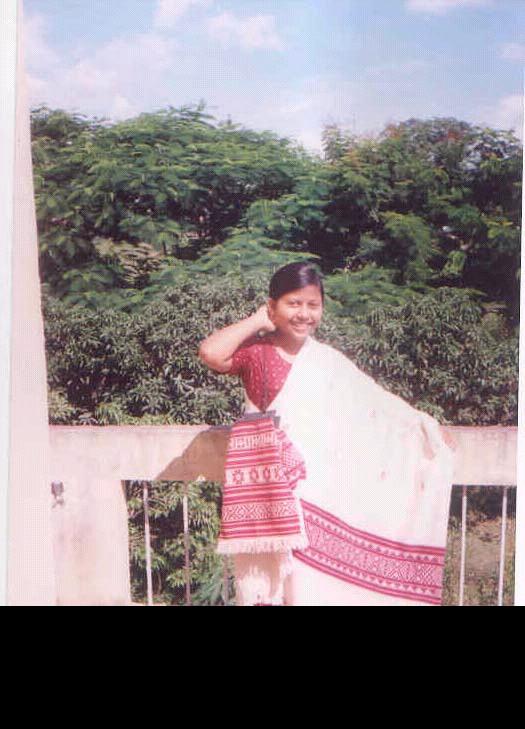 ---
Shopping set contains a spectacle case, a coin purse, a hand bag & a large shopping bag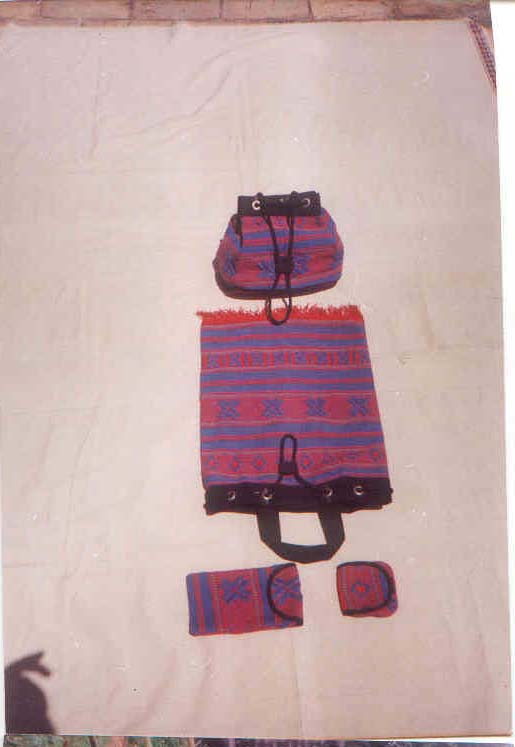 ---
Dining Table Mat Set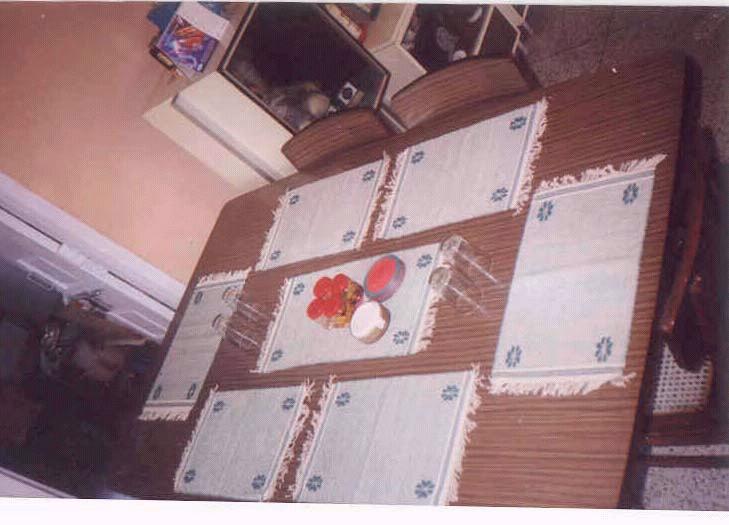 ---
Sofa Cover Set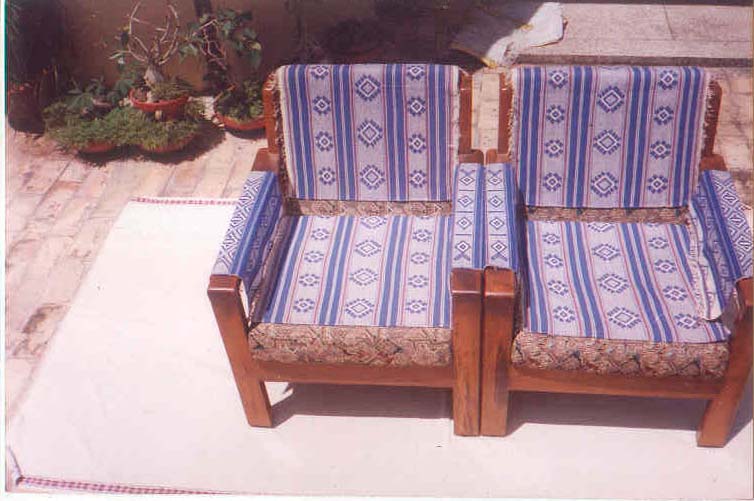 ---
Sofa Cover Set UNTAILORED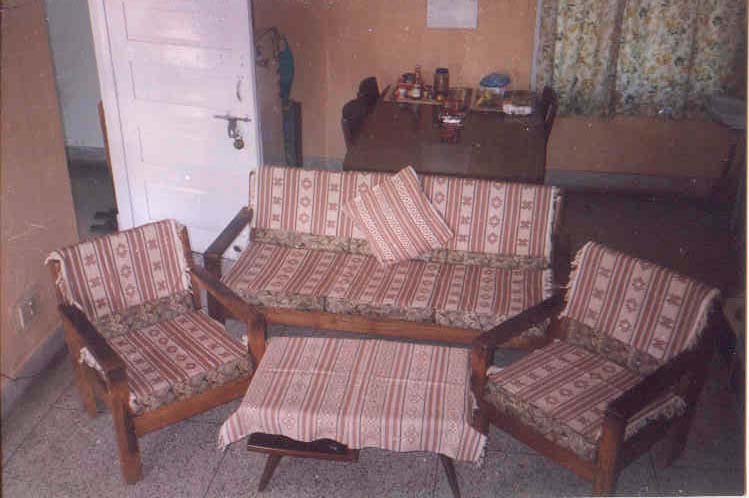 ---
Sofa Cover Set TAILORED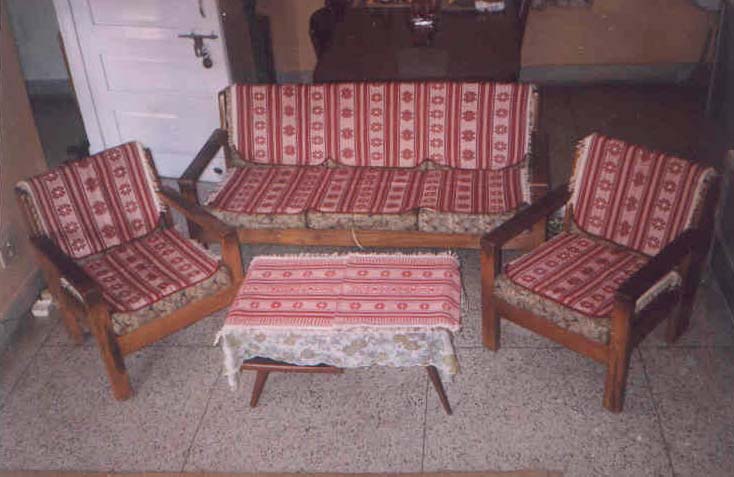 ---
Runners & asanis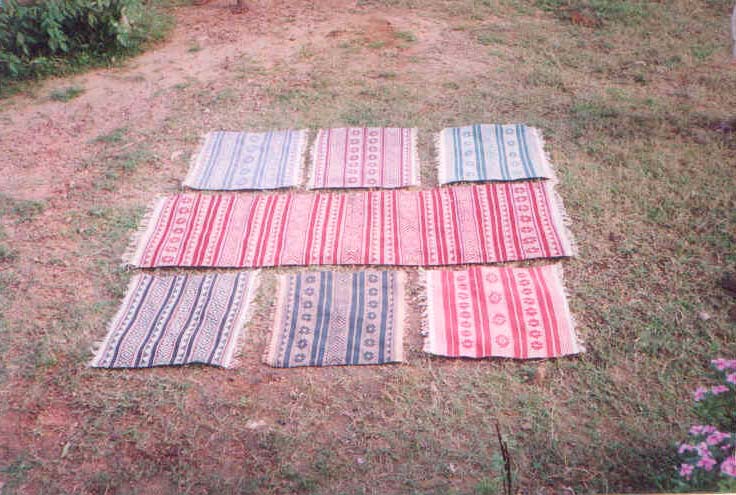 ---
Single Bed Cover (Vikas Chadar)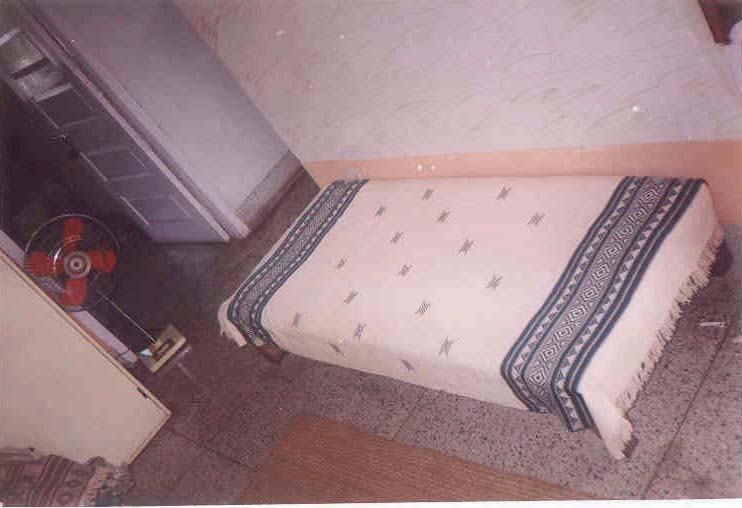 ---
Double Bed Cover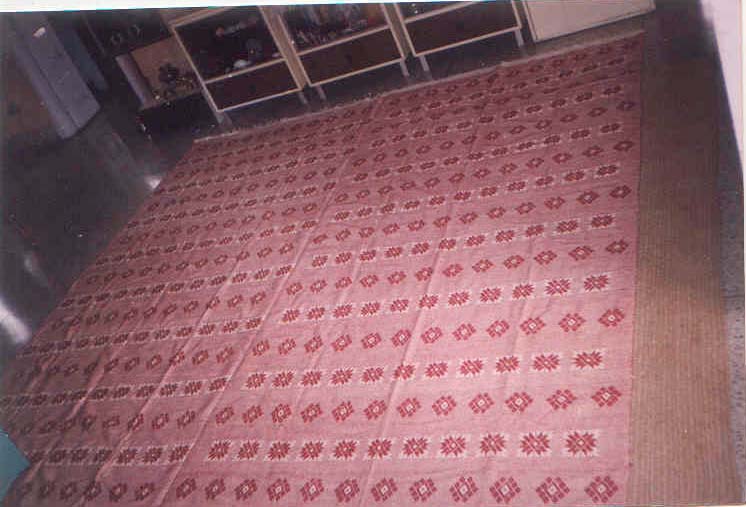 ---
Table cloth
---
Cushion Covers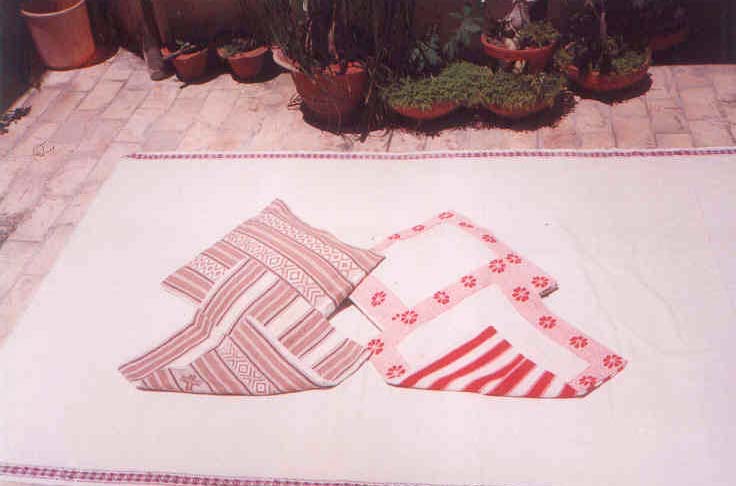 ---
Bolster Cover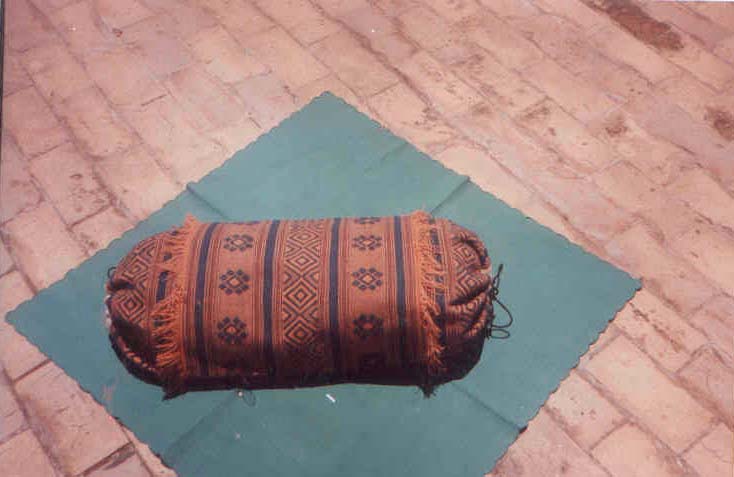 ---
Wall Hanger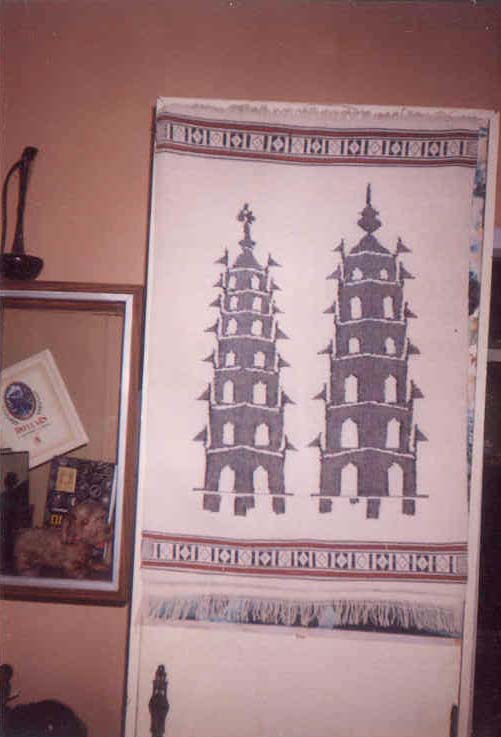 ---
Window Curtain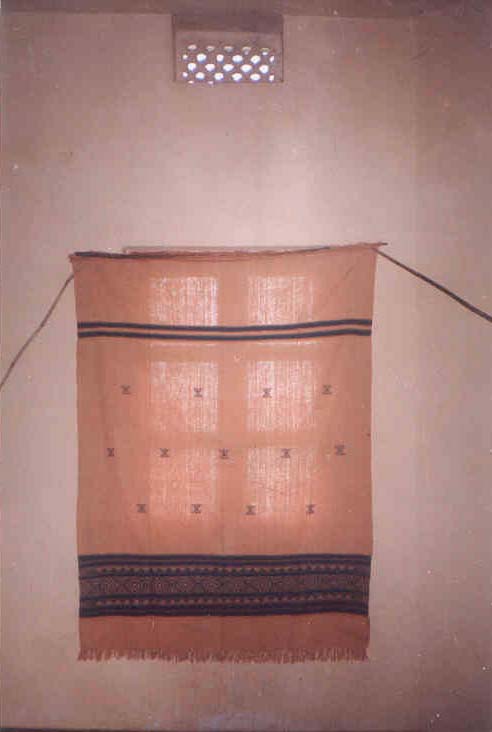 ---
Door Curtain
---
The gathering (Women & children of the village)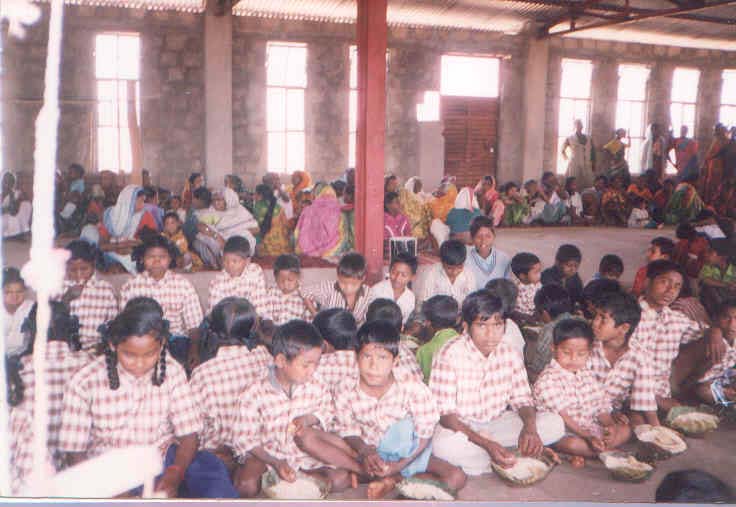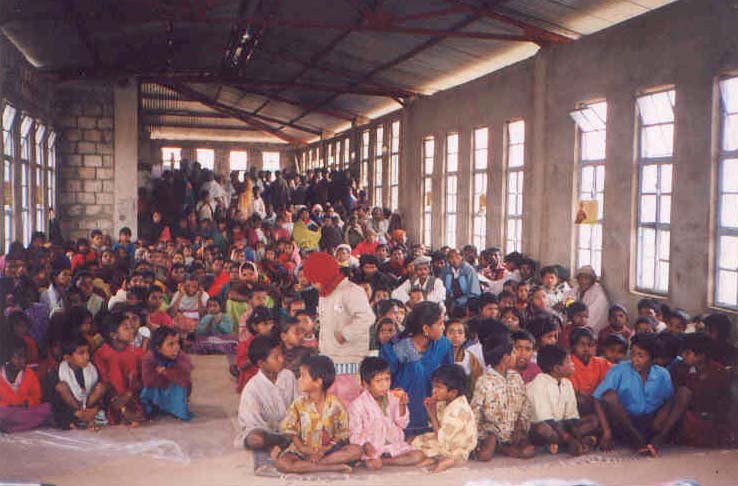 ---
Annual BONUS Distribution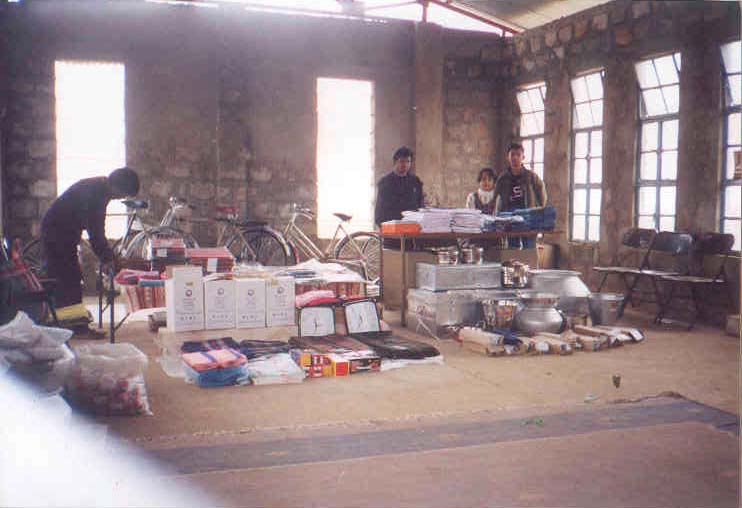 ---
The Office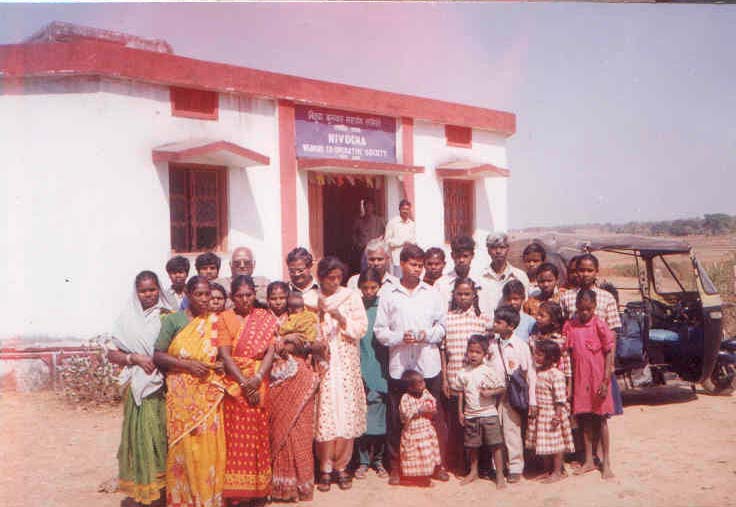 ---
Community work with the weavers & Volunteers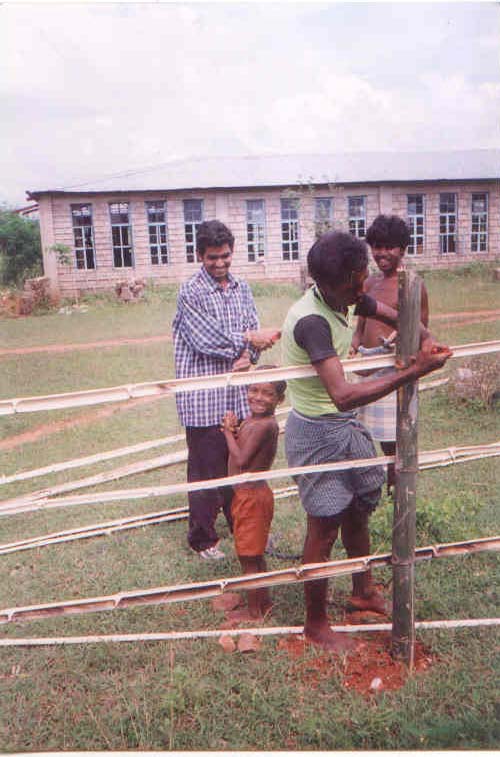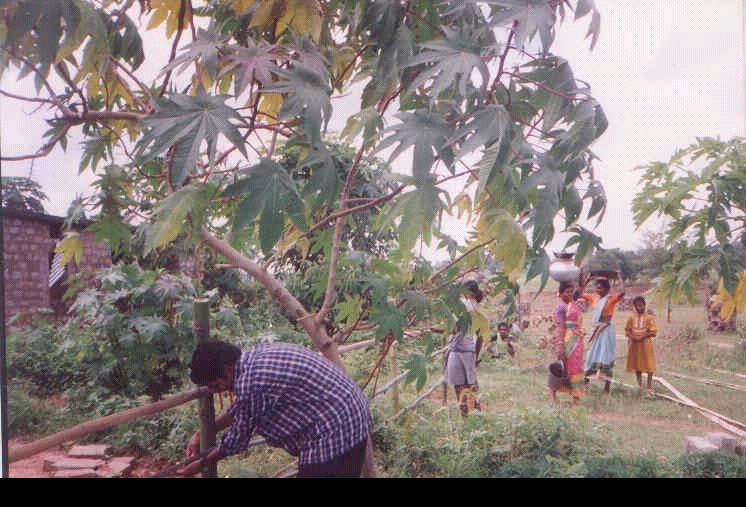 ---
The Workshed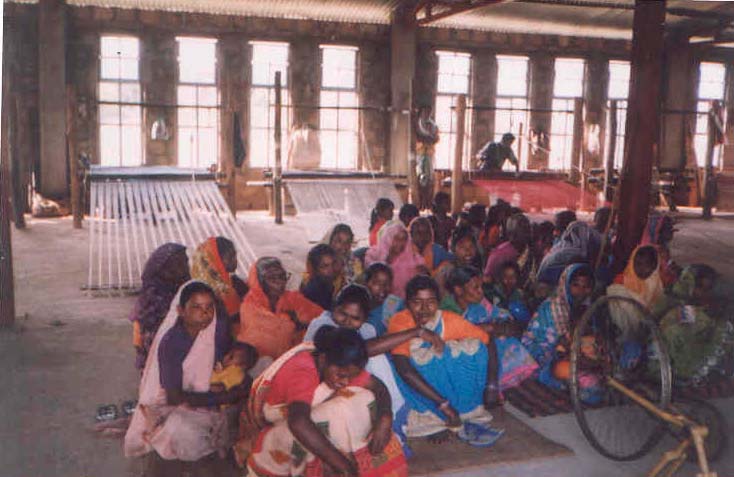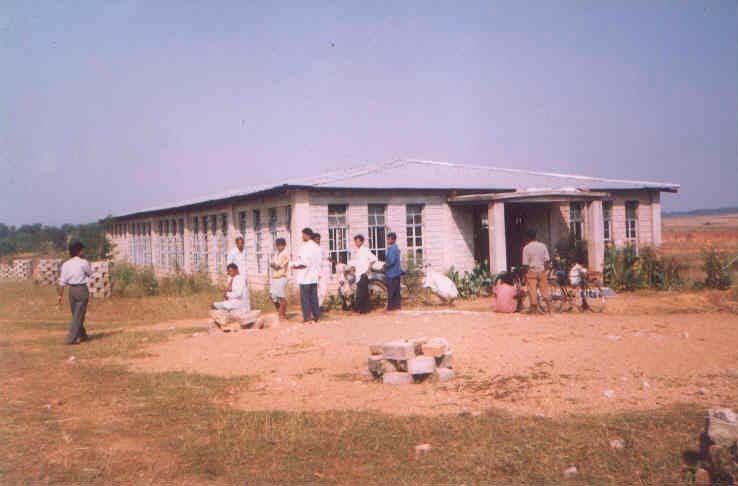 Thank you for visiting NIVUCHA Co-operative Society's site and we hope that you will visit again and refer about our site to your friends.
---
This site is developed by HOPE & Animal Trust as one of the activity to support this Co-operative Society (www.angelfire.com/pop2/hopeandanimal)
Email: praveenohal@yahoo.com