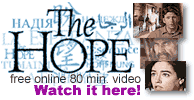 The Bible is the world's best selling book of all time. But for most, it remains a mystery.
Now, discover for yourself the overwhelming message of HOPE that God brings to man..
presented chronologically from the foundation of the world to our own time.
Watch it on-line, full-length motion picture.
Some of the above stories come in the following languages:
Dutch, French, Portugese, Italian, German, Indonesian, Spanish and Turkish.