SOUTHERN HOMESTEADERS LIVING HISTORY DISPLAY
SITE LAST UPDATED 23/6/04
Thank you for visiting our homepage. Please take a few moments to look through the following photos taken at various Living History events throughout the season.
We travel the country trying to show as authentic as possible how life was for civilians during the American Civil War.
Most Southerners did not live in white mansions or own slaves, the majority were just farmers trying to make a living.
We broke new ground in 2002 as we were accepted as members of The American Civil War Society.
The cabin has seen many changes over the last 5 years and now has a bedroom, kitchen and picket fence.
Further changes for 2004 have been completed over the winter.The group is now growing in numbers and new displays will be on show this season.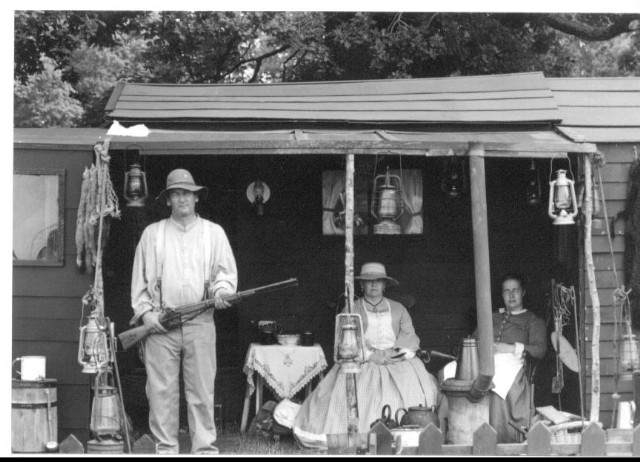 Winners of best living history display at 2001 Military Odyssey
CLICK TO ENTER THE HOMESTEAD,
LINKS
American Civil War Society
Lazy dog country band
Military Odyssey 2004
Americana International
Living Historian Registry
Berkeley Castle

Email: cp004c3383@blueyonder.co.uk