slovak version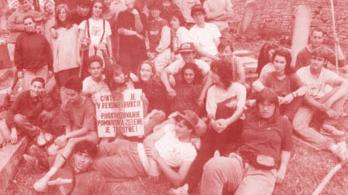 The Czecho slovak Union of Jewish Youth

WHAT IS THE CSUJY?
The Czechoslovak Union of Jewish Youth (CSUJY) was established on Kislev 27, 5750 (December 14, 1990) as a voluntary, apolitical and non-religious organization associating Jewish youth from 15 to 35 years of age in the Czech and the Slovak Republics. Its mission is to preserve and develop Jewish culture, tradition, customs and religion. The Czechoslovak Union of Jewish Youth is also a member of the European Union of Jewish Students (EUJS) and through it also of the World Union of Jewish Students (WUJS). The CSUJY is a member of the Youth Council of Slovakia (YCS) - an umbrella organization of youth organizations and associations in the Slovak republic.
The CSUJY is composed of two Republic Unions - the Czech and Slovak ones which associate regional organizations in Prague, Brno, Košice and Bratislava. Bratislava is also the main seat of our organization. Currently, our membership in both republics represents some 600 active members from 20 cities in Czech Republic and from 40 cities in Slovakia. The foundations of the CSUJY were laid down at the first meeting of young Jews since the end of WW II which was organized with the support of the EUJS in November 1990. The tradition of such country-wide gatherings combined with educational activities is successfully continued - they are organized at least twice a year, usually in spring and autumn. In summer the major activities are summer camps focusing on the reconstruction of one of numerous Jewish historical monuments in the Czech or Slovak republic. Each regional organization is a platform for regural meetings of our members and their joint activities (discussions, debates, dancing, sports etc.). Celebrating Jewish festivals like Purim or Chanuka together has become a well established practice. Moreover the CSUJY has estblished an annual tradition of a "Chanuka Run" through the cities of Bratislava and Prague. Each winter organized ski trip has become very popular. The CSUJY also organizes events for non-Jewish youth - they include lectures, discussions or seminars either in our facilities or at particular schools and clubs. Their objective is to give young people as much as possible information on the religious-cultural-historic essence of the Jewish ethnic and thus, to contribute significantly to the diminshment of prejudice and disinformation so common in our present young generation. For similar reasons the CSUJY also runs an Information Center with a library of books and videos on the above-mentioned items. Since 1992 CSUJY co-organizes the project "Bridges - Gesherim" which takes place each summer. Jewish and gentile youngsters reconstract together Jewish and christian monuments (synagogue in Liptovský Mikuláš, old church in Pribylina, roman church in Rusovce, Jewish cemetery in Liptovský Ján and synagogue in Šamorín). Program of such summer camps is always very rich on discussions, concerts, lectures and trips.
From the beginning of 5753 (1992/93) the CSUJY is also publishing the CHOCHMES magazine which has become quite popular at home and abroad. It is the only Jewish youth journal in the Czech and the Slovak Republics. The CHOCHMES journal is also included in the International Association of Jewish Prints. It was formely a monthly and now it is published every two month in 800 copies and has 40 pages. Besides publishing CHOCHMES, the CSUJY has published a Prayer Book including Jewish prayers written in Hebrew, with Hebrew phonetic transcription and a Slovak translation and the publication "Jewish Identity Yesterday, Today and Tomorrow". Activities arising from our membership in EUJS and WUJS are very important. Among them the most important was the participation in the Summer University 1996 in Prague, where the CSUJY made an essential contribution to the organisation of this pan-European project. Encouraged by this success we are planning to further develop our international activities. The CSUJY is a non-profit organisation performing no business activities and it is funded solely from membership fees, donations and subsidies.

CONTACT ADDRESS:
CSÚZM
Kozia 21/II
814 47 Bratislava
Tel: ++421-7-5318 714
++421-7-5314 018
Fax: ++421-7-5318 714
ICO: 17315379
BANK CONTACT:
Slovenska sporitelna a.s. Account number:1914744-019/0900
Please visit The Federation of Jewish Communities in Slovakia>