THE 2018 OIL CITY ARTS COUNCIL NOON WEDNESDAYS FREE CONCERTS IN PIPELINE ALLEY
SUNDAY--NOVEMBER 25, 2018
Part of the audience of a Pipeline Alley concert. The building behind them is the Transit Building Annex.
This year's concerts were excellent. I attended each one from the beginning to the end, and every one of them was entertaining. There was a variety of music, some of it original and written by the artist, and much of it "covers" of popular music, some recent, and some from decades ago. In fact, some of the bands, like Back Porch Gold, spanned several decades during their concert, and Winslow and Simpson played both classical pieces and very contemporary compositions as well. We are very lucky in this area to have so many talented musicians and singers. I'll describe a little of each concert in this entry. When I was able to find a useable photo of the singer or band, I did. There are also some descriptions of each performance along with links to aWeb site, when available, and YouTube videos of other performances.

SEAN CAREY: FIRST CONCERT ON JUNE 6, 2018
Sean Carey performing.
This first concert was very enjoyable with perfect weather conditions for a performance outdoors. Sean Carey has space in the Transit Building where he teaches guitar and some vocal coaching. Sean wrote most of the songs he performed at this concert, with my personal favorite being I Keep Christmas. I intend to get a copy of the lyrics to that song. I was unable to provide a photo of Sean during his performance, but the link to his Web site is below.
SEAN CAREY MUSIC

SAMANTHA SEARS: SECOND CONCERT ON JUNE 13, 2018
Samantha Sears, whose looks reminded me a lot of actress Anne Hathaway.
Ms. Sears has great, laid back rapport with her audience, inviting their involvement with clapping in time with a song. This was especially enjoyable for this concert, as it rained almost the entire time, so the concert took place in the Great Room of the Transit Building, which had just the right intimacy for Samantha to interact with her audience as she seems to like to do. Samantha used both guitar and ukelele during the concert, going for nearly the entire second half to the ukelele, an instrument that she seems to really enjoy playing. The hour went much too fast for this one.
SAMANTHA SEARS IN REVERBNATION MUSIC
SAMANTHA ON YOU TUBE

DENNIS GEIB: THIRD CONCERT ON JUNE 20, 2018
Dennis Geib playing sacred music at a local church service clipped from a You Tube channel
Dennis Geib's concert was also held in the Great Room as rain came down through about half of the hour. This enhanced the experience a lot, I think, as the chairs were arranged in a way that made it seem like we were gathered around a piano in a family member's recreation room to listen to a relative play the piano. This piano was an upright, too, not like the grand piano pictured above, but Dennis Geib made it sound as good as a formal concert piano. Mr. Geib has been performing throughout the area for many years. Below is an embeded video of Dennis Geib at the piano.

BACK PORCH GOLD: FOURTH CONCERT ON JUNE 27, 2018
The fourth concert was the third in a row held indoors in the Transit Building's Great Room because of sketchy weather. The three members of Back Porch Gold , Jim Ahrens, Gary Dittman, and Joyce Dittman are excellent musicians and singers. Unfortunately, I could not come up with a whole lot of information about them, but they seem popular among the local residents here as many who showed up for this indoor concert stayed around afterward to socialize with members of the band. This amiable and affable group of senior musicians made the whole hour most enjoyable. I had a really good time for a bad weather day. The group plays selections from Simon and Garfunkel, the Eagles, James Taylor, Harry Chapin, John Lennon, Bob Dylan, Dan Fogelberg, Jimmy Buffet, Garth Brooks, Fats Waller, John Denver, Eric Clapton and more.

JEROME WINCEK: FIFTH CONCERT ON JULY 11, 2018
Jerome Wincek at one of his many local live performances.
There was no concert on the previous Wednesday as it was Independence Day. This concert broke the streak of three in a row having to be played indoors because of the weather. Jerome Wincek is a veteran of appearing in concerts and music festivals in the area. In 2013, his name was the first among the performers on the poster for the sixth annual Oil City Indie Music Festival that occupies the several blocks of downtown Seneca Street during two days in June every year. Mr. Wincek played a lot of his own compositions along with covers of popular tunes. He is relaxed with his audience, makes playing the guitar look easy, and has a fine singing voice.
JEROME WINCEK IN REVERBNATION MUSIC

SUNNY JAMES: THE SIXTH CONCERT JULY 18, 2018
Sunny James grew up in the Northwest Pennsylvania area. The years she spent in Pennsylvania inspired some of her original compositions, especially The Hills of Pennsylvania. In addition to her original songs, Ms. James very ably covered such classic songs as some of Credence Clearwater Revival's of the late 1960s. A group of us stuck around after the end of the concert to chat with Sunny James. My contribution was to suggest that the next time she sings some Credence Clearwater Revival old hits, she ends such as set with the words, "The Dude abides," in honor of Jeff Bridges' character in The Big Lebowski. What I liked about that was, I didn't have to explain it to her. Anyone who can sing and play a guitar like Sunny James, and knows who "The Dude" was is a special person.

RICK SABOUSKY: THE SEVENTH CONCERT JULY 25, 2018
Rick Sabousky is a fine guitarist and singer who frequently entertains at venues and events all over this part of Northwestern Pennsylvania. I found a YouTube video of one him singing at a local winery's celebration last year.

THE BILL HUBER TRIO: THE EIGHTH CONCERT AUGUST 1, 2018
The Bill Huber Trio performing in Pipeline Alley.
Bill Huber, Jr. is the leader of the Bill Huber Trio. Mr. Huber has been playing the guitar since he was 13 years old, just as his father still does to this day. He has played with this father and other members of his family, and several different bands for more than 20 years. Bill Huber Jr.'s sons, Patrick, Preston, and William are also musicians.

ANDY & STEVE: THE NINTH CONCERT AUGUST 8, 2018
Andy and Steve are on the extreme left and right in the photo. In the center are, from left C.J. Hurley, a local artist and singer, and Marcy Sopher, who sang at this concert.
This was the biggest Pipeline Alley concert this summer. A lot of great music was jammed into sixty minutes between noon and one o'clock for this one. The photographer from the Oil City Derrick showed up for this one, and one of his photos of C. J. Hurley at the microphone made the front page the morning after. Dan Feroz, who hosted the concert, told the Derrick that this concert had the largest crowd so far in this weekly series from June through the end of July. People also watched and listened from the windows of the Transit Building.

THE PORTER HUBER JAZZ COMBO: THE TENTH CONCERT AUGUST 15, 2018
The Porter Huber Jazz Combo performing in Pipeline Alley
The Porter/Huber Jazz Combo consists of members of Bill Huber, Jr.'s family, including sons Patrick and Preston along with grandfather Bill Huber, Sr. on guitar. Nelson Porter, the leader of the band, plays trumpet. The band played a lot of old standards like The Girl from Impanema along with film and Broadway music.

THE ELEVENTH CONCERT WAS CANCELED AT THE LAST MINUTE--AUGUST 22, 2018

WINSLOW & SIMPSON: THE TWELFTH (SCHEDULED) CONCERT AUGUST 29, 2018
I haven't found anything on the Internet about this duo, a woman playing the violin flawlessly while her partner plays the electric piano. They played classical, popular, and sacred music pieces while a gusting wind forced host Dan Feroz to help keep their sheet music in order when the binder clips holding the sheet music in place on the stands failed. The choice of music made this concert the perfect way to end the annual season of these concerts. A long-time married couple danced a few times to some of the appropriate numbers, and others joined in. This was likely the second largest audience for any of the concerts. It was a fitting send-off to a summer that left us so quickly.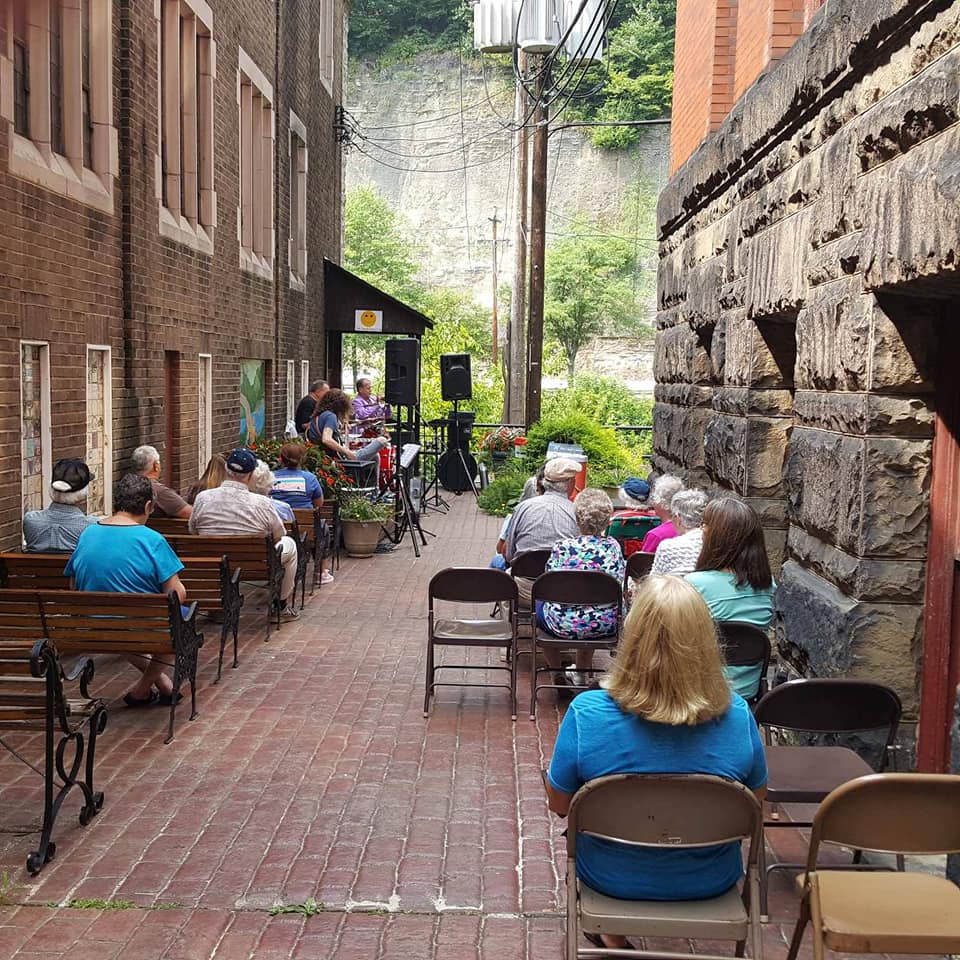 Another view of the Porter Huber Jazz Combo at concert. Find me in this photo.