Ticha Penicheiro Fan Page
This page is for fans of Sacramento's tough point guard...coach Sonny Allen called Ticha a "warrior".
Ticha Update--The Sacramento Monarchs won the 2005 WNBA championship, and our Ticha now has a "ring"! See photo of her celebrating! See link for my Monarchs Fan Page Below for more photos of the celebration!
Ticha was smokin'long before she became a Sacramento Monarch, as you can see from this "baby picture" of our "T" from ODU.
Muscle photo from 1997 article in Sports Illustrated and a recent fan appearance in Sacramento.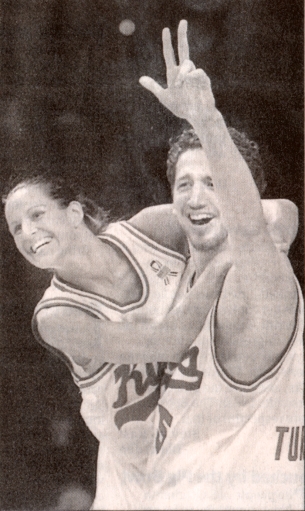 Ticha celebrates with Kings teamate Hedo Turkoglu after Sacramento's "3on 3" win at NBA All-Star Saturday 2002.(photo from Sacramento Bee)