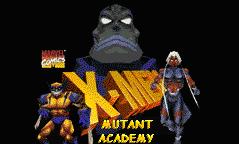 Hi everyone to my web site as you may already figured out this site is dedicated to the up coming X-MEN game for the NINTENDO 64 and PLAYSTATION! On this web page you will be able to see many pictures and animations that I have gotten from all sorts of places and I will continuously bring you new pictures every week and you can E-mail me and tell me what I'm missing on my site. I have a link to my X-MEN: the movie page near the middle and at the bottom of the page(enjoy)!. Plus an added bonus for you X-MEN the cartoon goers There's a link to the X-MEN intro theme at the bottom of my page so if you got the time and you really want to listen to this great theme music then click away(I wouldn't suggest anyone with a 32200 or lower modem to try this feature but if you have the time go ahead but I do have a shorter version of the theme just below for you 32200 and lower modem users)! So just go around and make your self at home at my unofficial X-MEN64 web page!
Click here to see the codes and tricks that are in X-MEN: Mutant Academy for the Playstation and the Game Boy Color!
This is a picture of WOLVERINE in two of four time lines in the game! Click here for more screen shots!
O.K., what can I say about NINTENDO and fighting games? These two things aren't exactly the most compatible in the world but with enough hope, praying and encouragement X-MEN 64 or X-MEN: MUTANT ACADEMY (as some people have come to call it) might actually bring up the N64 system rating in the field of fighter games! And now just to make this column more enjoyable to read here are some things that I have have recently found out about the game play and other features of X-MEN 64 from my friends at ACTIVISION: First; There will be character voice overs from the X-MEN animated series! Second; there are going to be character's 'home' stages in the game ex: Cyclops's home stage would most likely be the Danger Room (like in; X-MEN: Children of the Atom), Third; My friend at ACTIVISION says that they will have a large selection of characters (10 to be precise) and all the characters will have two diffwerent story lines one from the comic book that will lead to the climactic battle with Apocalypse and the second story line will be from the movie where you go and fight the Brotherhood and eventually Magneto, Fourth; When you beat up on a enemy enough, and one of your four power bars gets fully charged you can do a special move to unleash your Ultamate abilities, Fifth; There are going to be about four different energy/power bars; the main one is your life/energy next a yellow is your energy build-up(for the Ultamate abilities) next is a red that tells your Signature move meter(this tells you how many you have left and what the streghth of it is depending on how badly your enemy is beaten up) and the last meter is your victory meter once you beat an opponent one of the 'X' symbol gets coloured in and you go on to another round, Seventh; You can even train your favorite character to gain more stregnth ,enrgy attacks, speed, and other abilities, Eighth; actors that did the voices for the cartoon are doing the voice overs for the game! Ninth; there will be an added bonus of movie and cartoon trailers, Tenth; When you completely train your mutant you get to graduate with either an A, B, C, D or the dredded F! But if you graduate with an 'A' you get a secial ending! And now I have to ask you, what do you think of this game?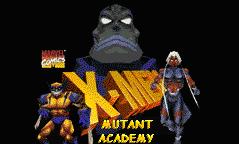 This is the title of the game (in game)!
Finally my Friend at Activision said this will most likely be the "working"(official) title of the game and that their almost finished the game(and truth be told I already pro-ordered my copy of the game from our friends @ IGN.com)! So all you X-fans get ready to get your socks knocked off because this game will be the best there is, the best there was and the best there ever will be in N64 and PSX fighter games!
Click here for the Quick Time X-MEN: Mutant Academy mini Movie!
Click here for the newest pictures from the X-MEN movie!
What I can gather from the X-MEN "script" that some people said that they have gotten leagally from the X-MEN the movie web site is that the story revolves around Professor 'X', Magneto, Wolverine and Rogue. The story revolves mainly around Wolverine and Rogue as they just became members in the X-MEN mean while the villinous Magneto gathers a few allies to overthrow the X-MEN and their mentor Professor'X' and if possibly gain Wolverines' trust to join the Brotherhood of Evil Mutants, any way as the story progresses Wolverine and some of the X-MEN do battle with the menicing Sabertooth and some of the other Brotherhood join in the fun and at the end the X-MEN eventually go in to an all out battle with the Brotherhood atop of the Statue of Liberty where Magneto's Menacing 'Mutant machine' is ready to transform all of New York Citys' citizens in to deformed mutants, just like you may have seen in the commercials on T.V., I don't know about you but that was a very cool commercial and I advise even though you don't like X-MEN that much you should still see this movie! Another thing you should watched FOX29 on July 11th at about 7 or 8pm there was a "X-MEN: Mutnat Watch" this was looking at the making of the X-MEN movie on Fox29, so I hope you got your socks knocked off! Also I have seen the movie it is Xcellent! You WILL definatly love it! The opening scene was very well acted and had alot of dramma to it! You won't even look away for a second!
Yeah! This is the May 2000 issue of "Wizard magazine: the comic magazine" it has 12 pages of blissful info of the X-MEN movie do you wanna know how I know? well cause I bought this magazine(this is the best issue yet!)it will tell you about all the costumes and other cool stuff about the movie, so you should have gone out to you local book/magazine store and picked up a copy when it was May, and not only does it have info about the movie it also has info about the upcomming game as well!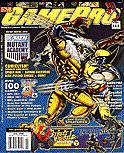 Here we have the July 2000 issue of 'GamePro' magazine and this is possibly the best image advertizing X-MEN: Mutant Academy, not only that but they show detailed pictures of all the characters that have a costume from the movie as well as, it also has all the up-coming super hero games for N64, PSX, and Dream Cast and those previews include Spider-Man!
Here's another good magazine that had good info on X-MEN: Mutant Academy was the June 2000 issue of "Official U.S. Play Station Magazine" not only did it have the title page advertizing X-MEN: Mutant Academy, five pages of info on X-MEN: Mutant Academy and previous X-MEN games it also had tonnes of info on the Movie and the magazine also came with a playable demo of X-MEN: Mutant Academy and if any of you have this disk you must know the 'X'treme joy that this brought to you because this demo just blew me away, even though the camera need a little work and some animation but this was the greatest fighting game I have played in my life and alot of the moves were amazing, for example: Wolverine's back throw is like something out of the movie "Matrix" and some chaotic specials really made this game something for me to remember for a long time to come!
This is a first look at Wolverine's movie (in game)! Click here to see more of the movies of the different characters!
You people that have come to my web page and I really thank you for visiting me but the really special thanks goes out to the people that keep coming back to this site to get their X-MEN: Mutnat Academy and Movie fix for the day and now the moment you've been waiting for the Official, truthful, greatest day in all of X-fan history!!! the day when X-MEN: Mutant Academy has come to the PSX on July 9th, 2000, X-MEN Mutant Academy for N64 has been bumped back to late August/early September(August 20-September 20, to be prcise)due to some of the bugs that were found when transfering the data from PSX to N64 and even though the Game Boy Colour version was hardly mentioned on this site it has come out July 20th, and X-MEN the Movie has come in to our local theaters every where; *June 14 2000*!!! and that's all for the releases! But if you don't have time to go see the movie(you cavemen, and women!)click HERE! for a FREE trailer download of the movie(This is a leagal down load from the official site) or you can click HERE for a compressed version of the X-MEN: Mutant Academy movie(but you need to have Quick Time 4.0 to run it)! Here are the 10+ characters that will appear in X-MEN: Mutant Academy(S=secret):

First X-MEN: Wolverine, Cycolops, Gambit, Beast, Storm, Pheonix/Jean Grey.

Second Brotherhood of Evil Mutants: Magneto(S), Sabertooth(S), Mystique(S), and Toad(S).

Thanks for visiting my site and hope you come back for my weekly updates!

Sincerly

WOLVERINE N64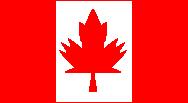 This is a Canadian owned and operated site!
You can E-Mail me at WolverineN64@aol.com
Here are some links to some well known X-MEN game, movie and music web sites!
This is the official MARVEL movie site!
This is the official NINTENDO X-MEN: Mutant Academy site!
This is the official ACTIVISION X-MEN: Mutant Academy site!
This is the official X-MEN THE MOVIE.com site!
This is the unofficial X-MEN 64 site at IGN.com(and the best place to pre-order it)!
This is the unofficial X-MEN 64 site at VIDEOGAMES.com!
This is the unofficial X-MEN movie site at CINESCAPE.com!
This is the official long and un-cut version of the X-MEN cartoon theme!
Here's the shorter and smaller X-MEN theme!
Click Here for the latest X-MEN: Mutant Academy Screen shots!
Click here for the Latest X-MEN: the movie pictures!
Click here for the latest X-MEN: Mutant Academy animations!
Click here to view the X-MEN movie action figures!
Click Here to buy X-MEN: Mutnat Academy from UGO.com!
Click Here to buy X-MEN: Mutnat Academy from MicroPlay.com!
You are X-FAN #
to come to this site!
banner ad exchange 1:1