Welcome to SuperCell.com
Tornado | Hurricane/Tropical Storm | Flood | Lightning | Earthquake
My name is Laura Gosnold
I am currently working towards a bachelor's degree in physics and meteorology
Through this page, I hope to introduce you to weather phenomena, facts, and how to handle severe weather situations.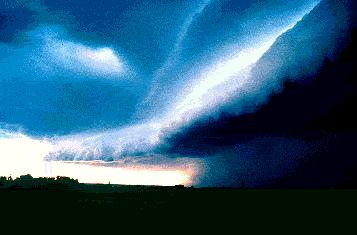 This is an excellent example of a supercell in North Dakota.
This page is always under construction...Be sure to make frequent visits!
What is Meteorology?
The science and study of the atmosphere and atmospheric phenomena. Various areas of meteorology include agricultural, applied, astrometerology, aviation, dynamic, hydrometeorology, operational, and synoptic, to name a few. A meteorologist is a scientist who studies the atmosphere and atmospheric phenomena.
Weather occurs every minute, of every hour, of every day, EVERYWHERE in our world.
Whether it is raining, snowing, storming, or shining, weather is happening!
Air is always moving, water is always flowing, and heat from the sun is always circulating. These three factors make up what we know as weather.
The sunset illuminates these boiling clouds.
My favorite types of weather to study are severe storms. They are a fascinating mixture of air, heat, and water that boil in the sky. To learn more about severe weather, follow the icons.
A special thanks to Adam Frederick at http://www.severewx.com for allowing me to use his storm chasing photos.
Check the site out! It has great storm chasing photos and excellent information!
THANK YOU FOR CHOOSING SUPERCELL.COM! I HOPE YOU ENJOY!
If you have any severe weather photos to share or just want to send comments please e-mail me at Lauria33@aol.com
Tornado | Hurricane/Tropical Storm | Flood | Lightening | Earthquake