Barney Quarles - Confederate Body Servant
Remembering Barney Quarles
b. 1825-1834 - d. 1906-1910
Written by Linda Durr Rudd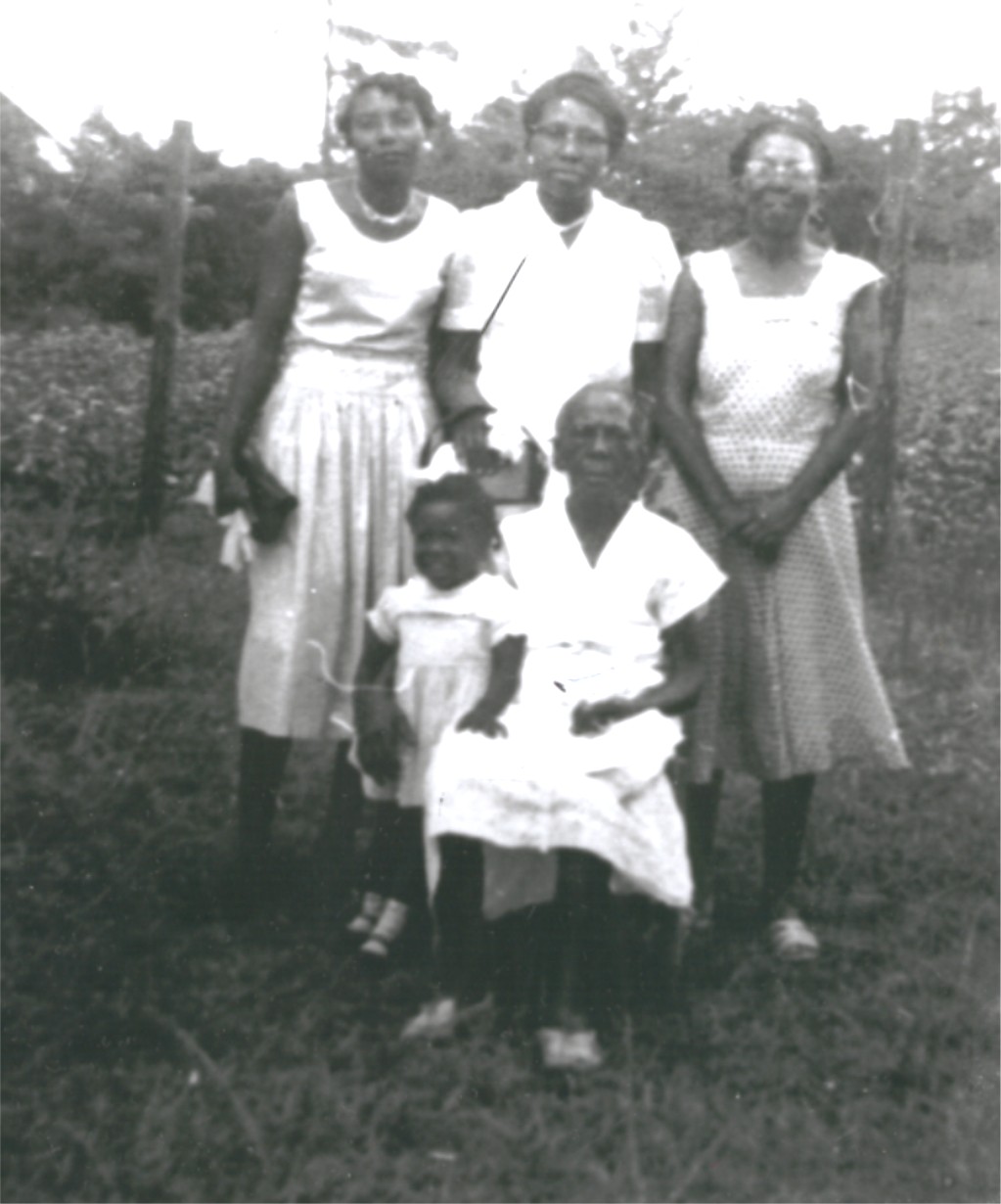 Generations of Quarles in Lincoln County, MS
Photograph Courtesy of James Scott
Barney Quarles was a body servant to James Alexander Lee of Companies A and E, 7th Regiment, Mississippi Infantry. Company A was known as the Franklin Rifles and Company E as the Franklin Beauregards. James enlisted in Franklin County May 04, 1861.
James I. Lee made a deed of gift January 1st 1856 to his son James Alexander Lee, " give, grant and confirm unto the said James A. Lee my negro boy named Barnaby Quarles aged about twenty two years."
Barney was born between 1825 and 1834 in Virginia. He was a slave of the Lee family in Franklin County, Mississippi. Barney had at least three wives, Caroline, Patsey and Laura. Caroline and Patsey were probably the slaves of James I. Lee. Caroline, 19 years of age was given by deed to James A. Lee, and Patsey, 15 years of age was given by deed to James I.'s daughter Sophronia Lee in 1856. In 1906, Barney filed for his pension in Franklin County for service as a body servant. He was granted his pension. Barney died before 1910.
CENSUS RECORDS FOR BARNEY QUARLES
1870 - Franklin County - Meadville - Page 24
Barney Quarles, 36, VA
Patsey, 30, MS
Caroline, 12; John, 4; Frank, 2; Leah Hall, 8; Georgiana Hall, 6
1880 - Franklin County - Beat 3 - Page 64
Barney Qaurles, 57, VA
Patsey, 40, MS
Leah, 18, daughter; John, 12, son; Frank, 11, son; Frances, 7, daughter; Walter, 7, son; Jose, 4, son; Ella, 2, daughter; Mary J., 1, daughter
In the 1880 Lincoln County household of Charles Roundtree, Barney's former wife Caroline was the wife of Charles Roundtree. Caroline and Barney had a daughter, Hannah, born about 1856. Hannah married Cupit Coleman, Jr.
1880 - Lincoln County - Beat 5 - Page 128
Charles Roundtree, 65, MS
Caroline, wife, 44, MS
John A. Quarles, stepson, 17; George Ann Johnson, granddaughter, 17; Henry Merchant, other, 15
1900 - Franklin County - Beat 4 - Page 113
Barney Quarles 75 MS
Laura, wife,, 50, married 8 years
Charles, 20, son
---
---
SOURCES

Barney Quarels' Confederate Pension Application - Microfilm Number: 5024
James Alexander Lee's Compiled Service Records of Confederate Soliders - Seventh Infantry, J-Mi
Microfilm Number: 968
James I. Lee's Franklin County Deed Records - Microfilm Number: 9337, Pages 232-233
Caroline Roundtree's Death Certificate - MS1924-8796
Hannah Quarles Roundtree Coleman's Death Certificate - MS1915-7019
1860 Franklin County Federal Census
1860 Franklin County Slave Schedule
1870 Franklin County Federal Census
1880 Franklin County Federal Census
1880 Lincoln County Federal Census
1900 Franklin County Federal Census
Microlfilms found at Mississippi Department of Archives and History

James I. Lee's Deed of Gifts - 1856