Welcome To My Newest Bit Of Nothing!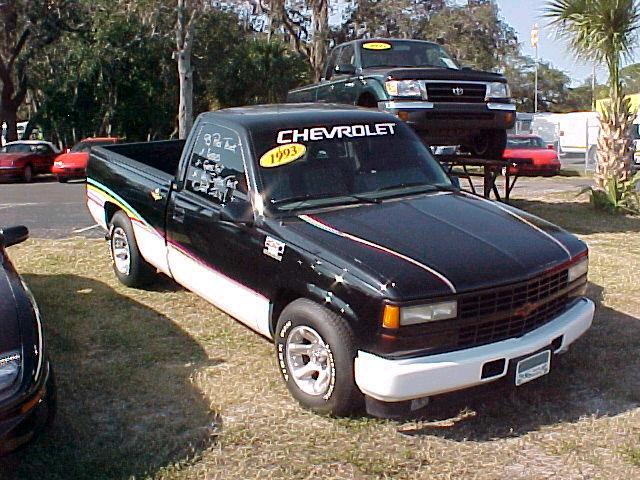 Here's my 93 Chevy C1500 Indy 500 Pace Truck. It's got 113000 miles. I bought it 12/20/2000. See my links for more photos.
Modifications by the previous owner include American Racing wheels, dropped front control arms, Hotchkiss front swaybar, lowered rear (3 leafs removed), Flowmaster muffler, rolled rear pan with ZR1 lights, taillight and front turn signal covers. The power sliding rear window was destroyed by a lowlife stereo thief while on the dealer's lot. It now has a manual slider.
I have just replaced the wheels with Centerline Billet "Web" wheels in 16x9.5 w/5.5" backspacing, carrying 255/70/16 Dunlops. It's bitchin!
Any info you have about these trucks, or any owners you can hook me up with, I'd appreciate a whole lot! I'd also like to contact owners of other year Indy trucks.
Here are the option codes on my truck. I'll get a decoder book and name them, but I already know what a few of them are, and if you know any, please tell me.
AE1 AU3 A31 A82 B32 C5G C60 C95 DR1 E63 FWI GT4 G80
J85 KC4 K34 K60 L05 MXO M30 NA1 NA5 NK3 NRQ N33 N90
K85 K98 SZM SUA TR9 UF2 UX1 U16 U66 VK3 VP6 VT5 VWF
VX5 V02 V22 V73 XFN X88 YD3 YD6 YE9 YFN ZFN ZQ2 ZQ3
ZY2 15D 15Z 13D 13I 41U 556 50L 6WN 7WN
Color codes are L8624 and U8555.
C60 is air conditioning
GT4 is 3.73 gears
G80 is positraction
L05 is the 350 TBI engine
MXO is the 4L60E trans
NA5 is federal emissions
YE9 is Silverado
XFN, YFN and ZFN are the 235/75/15 tires
Factory options I can see are rear ABS, AM/FM stereo, tilt, cruise, power windows and locks, front spoiler and fog lights, cargo light, retractable underhood light.
It does not have the sport package (code BYP) that I expected. And I assumed they had 275/60/15 tires. I was wrong.
Here's some cool links:
MORE PICS OF MY TRUCK!
Bill's 93 Indy Truck page
Central Indiana Camaro Club and Pace Car Reunion
Indy Pace Cars.com
Pace Cars.com
Hemmings Motor News.com
SS 454 Truck Club
www.pickuptruck.com
Chevy Talk.com
Syclone/Typhoon page
Auto Trader.com
my Ford Fairmont and Honda VFR page

Email: vfr700f2@hotmail.com