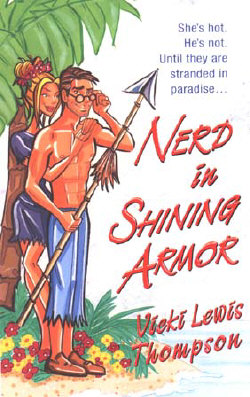 Dell © May '03
ISBN: 0440241162
I was very thrilled to have the honor of featuring this book on my Romantic Comedy page. And with the fun cover, and book plot, I knew I had to have a special graphic set to showcase this book. I created the page before I actually read the book and thought that was lots of fun but then I read the book.......
Genevieve Terrence is invited for a weekend alone in Maui with her sexy boss and eagerly packs for her trip with seduction in mind. Then the company computer geek Jack Farley is scheduled to travel along on the plane ride for his expertise to save a business account. When the boss's true plans are revealed Jack becomes Gen's knight in shining armor when he crash lands the plane successfully. Then the fun truly begins!! Jack and Gen are now on a deserted island and their true natures surface for survival. And the sexual currents start to simmer. It's sex, sand, sharks, guavas, and laughs a minute!
"Nerd in Shining Armor" is one of the funniest books I have read. I don't want to spoil it for readers too much but let me tell you....the heroine, a true hillbilly, will keep you in stitches. And the hero Jack may be a true nerd but he is the sexiest nerd I have met and if I am ever deserted on an island I pray he is with me. *g* Vicki Lewis Thompson's first single title is too much fun to miss. It's definitely headed to my keeper collection!!


Fancy Free- Carrie Alexander (HT)
The Virgin and the Vagabond- Elizabeth Bevarly (SD)
Manhunting in Mississippi- Stephanie Bond (HT)
Wife is a 4-Letter Word- Stephanie Bond (Harl L&L)
Mr Xmas- Linda Cajio (HAR)
Dates and Other Nuts- Lori Copeland (Harl L&L)
Fudgeballs and Other Sweets- Lori Copeland (Harl L&L)
Getting Rid of Bradley- Jennifer Crusie (HT & reissued)
Strange Bedpersons- Jennifer Crusie (HT)
What The Lady Wants- Jennifer Crusie (HT & reissued)
The Harder They Fall- Trish Jensen (Harl L&L)
Baby by Chance- Elda Minger (HAR)
Wooing Wanda- Gwen Pemberton (Harl L&L)
Her Best Man- Lisa Plumley (Zebra Bouquet)
A Man in Demand- Cheryl Anne Porter (Harl L&L)
One Mom Too Many- Vicki Lewis Thompson (Harl L&L)
Hannah's Hunks- Bonnie Tucker (Harl L&L)

Be My Baby- Susan Anderson (Avon)
Baby, Don't Go- Susan Anderson (Avon)
Baby, I'm Yours- Susan Anderson (Avon)
One Lucky Lord- Kim Bennet (Dorchester)
Born to be Wild- Patti Berg (Avon)
The Last Male Virgin- Katherine Deauxville (Dorchester)
Stephanie Plum series- Janet Evanovich (St Martins)
I Got You, Babe- Jane Graves (Ivy)
Mr Perfect- Linda Howard (Pocket...serious plot but gives many laughs!)
Against His Will- Trish Jensen (Dorchester)
The Love Potion- Sandra Hill (Dorchester)
Viking series- Sandra Hill (Dorchester)
Always- Lynsay Sands (Dorchester)
Bliss- Lynsay Sands (Dorchester)
The Deed- Lynsay Sands (Dorchester)
The Key- Lynsay Sands (Dorchester)
What She Wants- Lynsay Sands (Dorchester)
A Perfect Fit- Sheridon Smythe (Dorchester)

I will be adding more titles ASAP....I have read so many fun romances that I can hardly keep up with the titles. :-)
page created 4/24/03