Kristen DuChein is a former Olympic gold metalist and a businesswoman desperate to save her hockey team from being dissolved by powerful owner Brian Corrigan, whom is her late husband's arch enemy. When Brian gives her an ultimatum, marry him or he will shut down the team, Kristen is forced to agree to the marriage of convenience. Their union will provide her with the finances to keep the team afloat and Kristen is determined the team will win the Emerald Cup this season.
Brian's motives for marrying Kristen are based on retribution for the wrongs done to him by Kristen's late husband. He has the upper hand going into the marriage and he forces Kristen to give in to her sensual nature time and time again but soon he finds himself ensnared in his own web of revenge when his lust takes a turn he did not expect.
Power Play is an explosive story set in the high energy world of professional hockey. The hero and heroine's sexual intensity is sizzling which left me breathless at times. The Alpha hero is smoking hot and even though he goes to the extreme at times, I dare any red-blooded woman to deny his appeal. I was totally engrossed with the passionate battle waged in Power Play....it was an awesome reading experience that gave me quite a rush!!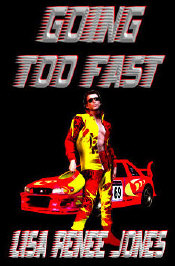 Liquid Silver Books © Oct '03
Josie Montgomery is an executive of Macom Beverages who has devoted her time to the company, leaving her sex life severely lacking. She books a tropical cruise hoping to give her aching body some sexual relief. Then she is given the difficult job of bringing one of their clients to heel, a job she greatly abhors.
Kyle Patterson is the hottest thing NASCAR has seen in years. He has a playboy reputation and a bad boy attitude, thanks to the press, but Kyle is not exactly what the media portrays him. Kyle's brother Ryan is following in his footsteps and Kyle is devoted to furthering Ryan's career in the racing world. Then when Macom Beverages decides to pull Ryan's contract based on his first few races, Kyle vows he will leave if Ryan is dropped.
Josie is ordered to track down Kyle to make him adhere to his contractual agreement with Macom Beverages and she is determined to bring him to heel. However, she does not expect the impact he has on her, he is arrogant, maddening and way too sexy for her peace of mind. Then Kyle persuades her he will meet his contractual agreement if she will go on the road with him for one month and she finds him way too sexy to refuse.
Their month together is fantastic, Ryan has never felt such feelings for any woman and falls for her hard. But Josie's father had been a pro-athlete and she had watched the way he had mistreated her mother for years. Josie does not want to give her heart to the same kind of man but Kyle storms her body and her heart.
Lisa Renee Jones pens a fantastic, fast-paced, tale of high-speed romance with "Going Too Fast". I never knew a race car driver could be as sexy and audacious as Kyle Patterson....here's a hero no woman could not resist. This story is sports romance at it's finest with delicious sex scenes and a beautiful ending, making it a definite keeper. "Going Too Fast" is a wild, exhilarating ride!
Liquid Silver Books
Nascar's Official Site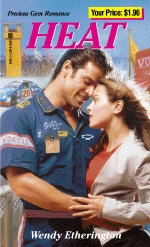 This HTF Precious Gem by Wendy Etherington is another Nascar sports romance that I enjoyed very much!

The Man Upstairs by Pamela Bauer (HSR...hockey)
Fire and Ice by Tori Carrington (Harl Blaze - hero hockey player...hot book!)
The Aristocrat by Catherine Coulter (hero is football quarterback..great keeper!)
See Jane Score by Rachel Gibson (hockey...fantastic book!)
When Nick Returns by Dee Holmes (hockey)
Everybody's Hero by Tracy Kelleher (Harl Temptation - hero soccer player)
Looking for Lacey by Linda Francis Lee (hero pro football player)
Body Check by Deirdre Martin (hockey...fantastic book!)
Fair Play by Deirdre Martin (hockey...also fantastic!)
You're the One by Lynn McKay (PG#228 hero baseball player)
Be My Baby Tonight by Kasey Michaels (hero baseball catcher)
It Had To Be You by Susan Elizabeth Phillips (football)
Heaven, Texas by Susan Elizabeth Phillips (football)
Nobody's Baby But Mine by Susan Elizabeth Phillips (football)
Dream a Little Dream by Susan Elizabeth Phillips (football)
Kiss Me Once, Kiss Me Twice by Kimberly Raye (NASCAR racing..fantastic book!)
Summer Light by Luanne Rice (hockey)
The Quarterback by Trixie Stilleto (football)
The Words of the Pitcher by Kei Swanson (hero is baseball pitcher...actively seeking this book)
A Grand Passion by Samantha Winston (soccer)
The Argentine Lover by Samantha Winston (polo)

Thanks to everyone that has sent me recommended titles....I am eager to read them. Also, please take the time to vote in the new mini poll. I am interested in what the readers have to say..thanks for your time!
If you can recommend other sports related titles for me to read please email me..thanks!